Surface Pro 4 launch events to be held at many Microsoft Store locations on Oct. 26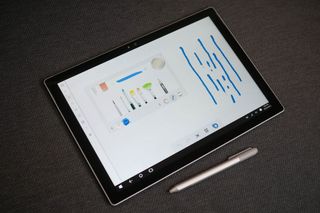 The Surface Pro 4 tablet officially goes on sale Monday, October 26 and Microsoft is celebrating the occasion with launch events at many of its retail store locations.
Microsoft has listed which stores will participate in the Surface Pro 4 launch events on that day, which it says will include "demos, giveaways, food, music" and more. One store, the upcoming flagship location in New York City will have a Surface Pro 4 event on Tuesday, October 27, the day after it officially opens on Monday. All of the events will allow the first 200 people to get tickets for a "meet-and-greet" with an NFL football player.
Here's the list of stores, and football players, at each Surface Pro 4 launch event:
October 26
The Fashion Mall at Keystone, Indianapolis, Indiana with Indianapolis Colts quarterback Matt Hasselbeck
Dadeland Mall, Miami, Florida with Miami Dolphins wide receiver Greg Jennings
Lenox Square Mall, Atlanta, Georgia with Atlanta Falcons wide receiver Devin Hester
Fashion Centre at Pentagon City, Arlington, Virginia with Washington Redskins quarterback Kirk Cousins
The Shops at Prudential Center, Boston, Massachusetts with New England Patriots cornerback Malcolm Butler
Baybrook Mall, Frienswood, Texas with Houston Texans wide receiver DeAndre Hopkins
Lakeside Shopping Center, Metairie, Louisiana with New Orleans Saints running back Mark Ingram
Fashion Valley Mall, San Diego, California with San Diego Chargers running back Danny Woodhead
Bellevue Square Mall, Bellevue, Washington with Seattle Seahawks wide receiver Tyler Lockett
October 27
677 Fifth Avenue, New York, New York with New York Jets quarterback Ryan Fitzpatrick and running back Chris Ivory
Check out our review of the Surface Pro 4
Pre-order the Surface Pro 4 from the Microsoft Store (opens in new tab)
Source: Microsoft Store (Facebook)
Get the Windows Central Newsletter
All the latest news, reviews, and guides for Windows and Xbox diehards.
Are they giving one away? That would be great.....

That would be nice,but no.

Nothing in Cincy? Are the Bengals too busy? Isn't the Halo launch event the next day. Or at midnight?

Halo launch events are the same day. At my store the Surface Pro 4 event is one hour before the Halo 5 event. Looks like I will be going in to work early on Monday to make sure I can get over there on time.

Ahhh. I want the 950XL launch date in India. With Dual Sim version

It will be before Diwali.

Oh wow. Any official link of this info plz bhai?

Ummed pe duniya tiki hai ;) That's the rumor that was associated with India launch on multiple tech sites. What I'm worried about though is the price. If it is inclined towards 50k, I'll probably have to wait longer before I get it :(

Hmmm, thanks for that info bro :) yeah me too worried about the price. If we convert 650$ to Rupees we will get about 42,300₹ and I want it to be less than 45k₹

Prices out. 38000 for 950. And 43000 for 950XL.

Bhai this rate is before the Great Indian taxes. After the tax the price will be higher

I think even this time, the surface won't come to India :(

Got to twitter and FB and ask MS account and Surface account to bring the Surface to India

Man, no STL, and those are some weak guests, other than Hopkins. I mean, seriously, Kirk Cousins?

What, no Christiana Mall in DE with Mark Sanchez?

Nothing in Chicago??! Not that I'm there right now, and their store is sort of just an open area in the lobby of a big building. But it's really really nice. And Chicago is a bigass city. Posted via the Windows Central App for Android

I'll probably try to stop by the Pru in Boston. Dan or Mark, will you guys be there?

What?! No MOA launch event? I guess that is what I get for not pre-ordering :)

TWO Microsoft Stores in the Phoenix area and NO launch events with the Cardinals? o_O

Majority of those in line will not buy a Surface, but there will only be one line. Sucks that those of us who want to buy will probably stand behind people who don't give a damn about the Surface.

I just might be at the Indy store. Which ninja cat T-shirt should I wear, The original or the T-rex one?

Launch Surface, Wen in India?