Surface Pro and Surface Pro 2 get new firmware updates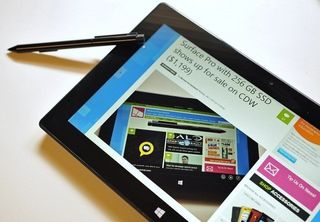 Owners of the Surface Pro and Surface Pro 2 tablets have apparently not been forgotten by Microsoft. Both devices have new firmware updates that were quietly rolled out this week,
Here's what is included in the Surface Pro firmware update:
Surface Pro System Aggregator Firmware update (v2.84.450.0) eliminates instances where the device wakes randomly.
Surface Cover Audio driver update (v1.0.360.0) improves system stability when detaching the cover
Surface Pro 2 owners can download these updates:
Surface Pro System Aggregator Firmware update (v2.4.450.0) eliminates instances where the device wakes randomly.
Surface Cover Audio driver update (v2.0.306.0) improves system stability when detaching the cover.
Microsoft Surface ACPI-Compliant Control Method Battery driver update (v1.2.0.2) ensures correct surface driver is installed.
Intel HD Graphics Family driver update (v20.19.15.4331) improves color calibration and system stability.
Intel Display Audio driver update (v6.16.00.3189) supports compatibility with the updated HD Graphics Family driver
Thanks to averes for the tip!
Source: Microsoft (opens in new tab)
Wow SP1 is like 5 years old and it's still getting firmware updates

SP is 4 years old and still as good as SP3 or SP4!

Actually it's just about 3 years old, the RT version was released first in late 2012 and the Pro released early the next year.

3.5 years old to be exact.

Nah, my bad. 3 years to the month.

It's still a capable device. I still use mine.

I'm still rockin' the SP1 and use it daily! I'll upgrade when I need to =)

How is the battery holding up?

My SP Pro 1 dates from August 2013 and I use it daily in preference to my Thinkpad and iMac. Battery life is pretty stable, around 3.5 - 4 hours, and no noticeable decline since it was bought.

I wish there was an update that stopped my SP3 from waking up randomly (of course, overall I'm very happy with it)

Glad these are still getting updates. That being said, with W10 out, they really need to make sure their older, compatible products still work well. I think they are doing just that.

My surface pro first gen got a firmware update. I'm HAPPY, HAPPY, HAPPY, HAPPY!

Surface RT getting it to? Posted from Windows Central for Windows 10

How's it working these days?

Surface RT is staying on Windows 8 RT so it doesn't need any updates. Plus that platform is discontinued. Better buy a Surface 3 Posted via Universal Windows App on Windows 10

Awesome! Good to see MS have not forgotten about us SP2 owners! Still loving my SP2!

the fixes are for issues that only appeared recently (probably due to W10 updates).
My SP has been freezing during boot and the keyboard sometimes stopped responding requiring a reboot. I think it should be good now. It has to, since Microsoft doesn't sell the Surface line here, so I'm stuck with the SP1 until I can travel abroad again to upgrade.

While my SP2 at the time was fantastic, nowadays its starting to run slower on W10 and that screen is way too small...and its so damn heavy. Still, as a companion device its excellent...but once i tried the SP3/4, theres no comparison.

That's what we get for being early adopters.

I'm pretty sure it was just as heavy and the screen was the same size when you bought it :-). Did you not think that newer devices would be thinner and lighter? You shouldn't by a SP3 or 4 either, because I'm pretty sure the SP5 will be even better!

But you shouldn't buy the SP5 because the SP6 will be able to fly and will be as thin as paper! Posted from the new Windows Central app for my Lumia 830!

I hope this isnt indicitive of a problem but my Surface Pro has been sitting at the "Please wait while we install a system update" screen for over a half hour. Debating on if I should power cycle it or not at this point.

Try the 15 second volume up + power button press trick, wait 10 then restart windows update. Then applied successfully... Amazed it's finally fixed after 3-years but a little disgusted it took this long. I've got two of these and both going strong. Cheers

Sp2 owner here. Great to see Microsoft still supporting their older devices with Windows 10. Mine still running great

Thumbs up Microsoft for surface pro 2 Posted from Windows Central for Windows 10

I had this Intel graphics driver (4331) downloaded from Intel's site and installed a month ago, on my SP2. Solved system freezing completely on Skype video. I guess the Marvell adapter wifi transmitting @2.4GHz band + bluetooth problem will never get fixed... Ah well, it still is a good laptop.

This will fix your wifi issues: http://www.overclock.net/t/1516289/how-to-enforce-5ghz-or-2-4ghz-usage-o...

Now that I have a Surface Book, I just use my Surface Pro as a "desktop" computer. It sits in its dock 24/7. Still, glad to see its getting some attention. I like to see support for an aging product. This makes me believe that Microsoft will properly support newer and future products as well.

SP is "Old but not obsolete" :) still work amazing fast, just the battery gone fast but for now you can get one for $250 (like new). When the money is a problem this Surface is a good solution...

I Love my SB2 Pro. It's replaced my laptop and pretty my desktop. It's a great for games especially titles from the early to mid 2000's. It's been rock solid for everything I do on it. I don't think I'm ready to upgrade yet.

Nice update! No need to upgrade my Surface Pro, I use it daily with no problem and Windows 10 gave new life to it.
Sometimes I find it a bit heavy compared to Surface Pro 3 and 4.
But I can't complain, I bought it second hand with warranty left at ridiculous price.

I bought a Pro as soon as it was available for purchase. I replaced it with a Pro 3 last year for everyday use on the job but the Pro is in a dock, hooked up to a monitor and serves as my home desktop. It's a good computer Posted via the Windows Central App for Android

How do we get or check if we have these,already?
Windows Central Newsletter
Thank you for signing up to Windows Central. You will receive a verification email shortly.
There was a problem. Please refresh the page and try again.