Surface RT pre-orders are now live (US)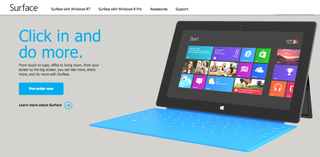 Microsoft is now sending out emails alerting people to the pre-order time for the Surface RT, which was just announced this morning for pricing and details.
Starting at 9AM Pacific and 12PM Eastern time, if you head to the Surface.com (opens in new tab) you should be able to place your pre-order today for a guaranteed delivery on October 26th. [Edit: And we just checked, preorders are now live and happening]
Windows Central Newsletter
Get the best of Windows Central in in your inbox, every day!
Daniel Rubino is the Editor-in-chief of Windows Central, head reviewer, podcast co-host, and analyst. He has been covering Microsoft since 2007 when this site was called WMExperts (and later Windows Phone Central). His interests include Windows, laptops, next-gen computing, and for some reason, watches. Before all this tech stuff, he worked on a Ph.D. in linguistics, watched people sleep (for medical purposes!), and ran the projectors at movie theaters because it was fun.
(Edit) Nevermind, hopefully everyone who whats one can order!
And my roommate still waits for his iPhone 5... ;)

Tell him to get a real innovative phone.

Does anyone know if Citrix can be used on Windows RT?? I need Citrix to connect to corporate servers. All I need is Citrix and Office, then I can be sure I can buy this thing :) Don't want to wait for the Pro.

ARM has a Citrix Receiver app that I believe lets you do this.

I guess Citrix needs to put a receiver app in the Windows Store in order to install it for Windows RT. I hope one comes out sooner than later! Submitting my preorder now.

The official Citrix Receiver app is in the Windows Store. I have it installed on my Windows 8 PC at home.

really? That's great! I knew it would work on Windows Pro, but if it's already in the store, it should work on RT as well....I think

It does. The details for the app state that ARM processors are supported.
http://i.imgur.com/Ak8AB.png

Just preordered mine! 64gb with black touch cover. Also ordered the cyan one.

I just sucesfully pre-ordered mine. I can't wait!!

I paid $499 + $120 (red)...yey

Actually...my wife paid for it, not me :P

Just bought a 32gb with cyan touchcover.

And my real first name is Wade. But I'm not a Vagrant!

Yep, that was the sweet spot for me too. Cyan cover to match the 920 - hope they are the same shade of Cyan :)

somebody enlighten me. i have to pay more for a different color keypad?

Basically it's $20 more for a non black one.

Actually, if you buy it separately even the black one costs $120. You'll only get it for $100 if you buy it bundled.

Preordered with no cover. I'm making a trip to my local Holiday store before deciding on a cover.

Same here. Someone can get me a cover for the holidays.

Did the exact same thing. I want to feel the difference in the covers before I purchase.

Me too! Pre-ordered my 32 GB without a cover. I'm not sure I'd even spend the money on a cover. Most likely just buy a nice case with a screen protector.

https://www.windowscentral.com/e?link=https2F%2Fclick.linksynergy.co... UK link =D

Yes - ordered. Glad to see UK has not been forgotten...

Wanted the Red cover to match Red Lumia 920 ... but only Black/White/Cyan available :(

WP Central clearly has forgotten about us UK folk =(
lolz =P

Great, well, if I was going to get one with RT (I want the Pro more) then I'm SOL since I'm not in one of the 8 additional markets that will sell it.

Gonna have to wait for other retailers to get the green light to sell this and the Pro otherwise I'll only be able to get one if I visit the US at a later time. Amazon did the same crap with the new kindle paperwhite which I also want to get but can't since it's US only.

anybody try using a gift card they received from the smokeby windows phone challenge online? is it even possible to use online?

Anyone else having a porblem with the website. It only shows coming soon and no option to pre-order. Maybe I'm doing something wrong.


So you can't get the 64 gb model with a colour keyboard unless you pay extra on top to get another keyboard and basically have 2 keyboards... wtf?

With the MicroSD slot, I don't see the need for the 64gb really.

Exactly. If need to put some movies or whatever it will be dropped on a USB.

I agree with you on this why the hell would I need 2 covers. Why not have the option to pick what colour you want. Stupid Microsoft stupid.

Very disappointed by the pricing...

I feel your pain. Just pre-ordered the 32GB with black touch cover. So Psyched!

I think it's as expected.

Yeah, it's people like him/her that was expecting a $299 pricetag for something this well built and comes with Office pre-installed.

I'm still getting one, but I have to agree. Not hitting the magic "$500 for tablet and cover" seems shocking to me. I think it's going to dramatically hurt mass market adoption. People may say iPad 3 is at that point, but iPad 3s retina display sorta sticks out given the fairly standard res of the Surface.
MS needs to make it $500 with keyboard during Xmas sales.

For a better device with larger AND proper (IMO, for video) ratio (16:9) screen, SD slot, USB, keyboard/cover, office included you pay about 20% less than an iPad..

I'd say MSFT delivered big time here..

Just ordered my 64gb. I was a bit bummed I couldn't pick my kb color. It is what it is I can't wait!

Can I install win 8 Pro on this unit? Who will be the first to post a YouTube video doing this. Let me know if it works without killing the battery too much =D

Awesome. Preordered a 32gb with Cyan cover. It sucks that the colored covers cost $20 extra and people that want 64gb are stuck with black.

Same here, and its no fun at all! Almost in physical pain over here.
Damn I want one now.

Tell me about it, I've tried convincing myself with excuses like, "I'll order one for my wife", "Do I really need the pro version". So far I haven't pre-ordered, but I suddenly feel like sh*t and need to go home sick

All the "I just pre-ordered mine" comments are killing me. :(

I didn't get a colored cover...waiting until some discounts or promo codes later on in the lifecycle of this thing. Maybe Amazon might do a promotion closer to Black Friday or something. Just holding out for now. Black will work. I want to see how the touch cover feels too.

Just ordered a 32GB with White Touch Cover!!! These 10 days are kill me, waiting!!!


Lucky people. I only have enough for a new WP8 phone. HTC 8X or Nokia 920, im lQQking at you.

I'm in the same boat, anyone want to buy my left nut? I don't really need it.

What about the right? :-P

Use your Credit Card and live the American Dream :)

LOL.. just kidding dude. You got to budget. Proud of you for controlling your urge.

Thanks brother. I will s be kissing a lot of ass to my gf. Hopefully she surprises me. Lol @ selling my left nut. Made my night.

The website is slighting confusing in their pricing. For example the 32GB has prices listed with and without a cover but reading the "In The Box" (I had the 32GB with a cover selected when I did this) it lists: Surface with Windows RT and Office Home & Student 2013 RT Preview2 Black Touch Cover Power supply QuickStart Guide Safety and warranty documents So according to this the cover should be in the book. I'm guessing this is a mistake on MS's part

599 for 32GB with black touch cover. 499 for 32gb and no touch cover. It explicity says in the title "32gb without black touch cover".

I guessed you missed the part in my post where on the web site, under the "In The Box" section, it says a black touch cover is included. I was pointing out a mistake on the web site. Thanks for playing.


Did anyone read the "Help me to choose" section under the Surface pre-ordering page? It says "Your purchase of Surface with Windows RT includes a sleek black Touch Cover". So I asked an MS rep if this was true for the $499 version and this is what he said:
"
You: Because I looked on the pre-order page, and it says it does not, but when you go down to the how-to-choose section, it says "Your purchase of Surface with Windows RT includes a sleek black Touch Cover"
You: I'm confused about that, I wanted to know if the $499 version comes with a black cover or not
Matt: Yes it does come with the black cover.
You: thats the $499 version correct?
Matt: Yes it is.
You: Ok, thanks for your time!
Matt: You're welcome!
"
I'm super confused.

I think they are confused...because it clearly says;
"32 GB without Black Touch Cover"

I just pre-ordered a 32gb without the cover.
What I'm hoping Microsoft really meant was $599 and $699 with the black TYPE cover. I guess we'll just have to wait and see on the 26th.

I noticed the same thing and sent an email to MS asking for clarification.

I'm guessing he's confused as well and they'll correct the "Help me to choose" section

Does anybody know from past preorders of other products what time (roughly) it will arrive on the 26th?

How would we know what time your local delivery guy gets to your place?

it depends on the local delivery time of your neighborhood. My UPS/FEDX truck typically comes between 2-4pm. I know this b/c I work from home most of the week

yeah mine is between 12-3

They ship on the 26th not arrive the 26th they should arrive 2-10 days after

No it says preorder now for it to arrive by the 26th.

No it doesn't it says DELIVERED not arrive

JUST PREORDERED MINE!!!! The 26th is my birthday :)

Wow,,, I will be so busy... Windows 8 upgrade on 2 of my computers, new surface... Then in the next few weeks new Lumia 920. GO MICROSOFT!!!!!

Sadly they ship the 26th not arrive :'(

when i was on the preorder page and it said 499 what would that be with tax for anyone that has already paid it?

Add it to your cart and find out. It differs from location to location.

i'm getting a blank screen. is the site down or is it cause i'm from australia?
EDIT: I TAKE THAT BACK. WE CAN PRE-ORDER FOR AUSTRALIA!!!!!! YEEHOOOOOOOO just go to www.microsoftstore.com au version!!!!!!!!

Blank screen? Hmm... Monitor is off? Computer is off? Power cut? haha :P

Nice one with the link BTW. I'm confused by the pricing being more than a straight 10% higher than the US

That's standard. Surprised it wasn't more.

Just bought 32gb with black touch cover in UK at £479

Where from? Microsoft UK Store doesn't show surface and Surface.com directs to Microsoft UK Store when selecting international buyer.

There ya go:
http://www.microsoft.com/Surface/en-GB/surface-with-windows-rt/home

Cheers, will have to hold off for 4 days till I think about ordering it and payday. Hopefully in the meantime more light is shed on UK pricing of W8 laptops and hybrids. Gagging for a new piece of hardware since my HP Touchsmart fried itself in Greece while working, working on another laptop which hasn't been cutting it either.
This and my new WP8 and winter holiday will be the end of me :|

pre-ordered the 32gb with magenta cover! O___O

After I sell my first gen iPad 32GB wifi model I'll pre-order my Surface RT :-D.
My Pro desires will be managed by my Windows Vista laptop running windows XP, 7 Pro and 8RTM until January or February when I purchase a new laptop!
Can't W8!

Just ordered a 64GB with both black Touch Cover and Type Cover. Oct 26 can't get here fast enough now.

Can't preorder in the Netherlands. Such a shame

Snagged a 64GB version in Canada w/black cover (opted for larger storage vs Yellow or Cyan cover). Total $812.47 or about the same price as an iPad of comparable storage space (no cover/keyboard). So glad to see that the pre-orders where not limited to the US...for once. And now I play the waiting game.

Alot of preorders going on today just tweet in Samsung Ativ S Now Available For Order In Australia https://t.co/IbVSEIqi

I'm a 1st-time poster but long-time windows Phone and Windows user and I have a question for you guys: I'm interested in the Surface Pro, however, in the official website, among its specs, it does not state that it includes any version of Microsoft Office, not even a trial version; Is this accurate? I see that the RT version does include Office 2013. If it does not include Office, I wonder how much extra would I have to pay to get it?
Thanks in advance for your comments

The Pro version does not come with Office 13 built in (maybe there's a trial, I'm not sure). You would have to purchase it yourself or download it however way you like :).
Dont forget that the Pro version is true Windows. You can download older versions of Office if you like.
Hope this info helps.

@ daveiops: Thank you very much for the prompt reply, it sure helps

If they'd really converted the $ to £ properly it would be just over £300 for the cheapest which would be irresistable.
I guess at least they made an effort which is beeter than some companies.
In the UK the Surface with a touch cover is exactly the same price as an iPad without so still very good value.
Oh sooooooo tempted! :)

Ordered! Cyan to match my Lumia 900

I just got mine (32G with black touch cover). Fortunately, I love my gadgets to be in black and that saves me 20 bucks on touch cover.

It's also available in Germany. You could get directly there on microsoft.de or use this link: http://www.microsoftstore.com/store/mseea/de_DE/pdp/productID.257922600 Prices are:64 GB with Black Touch Cover: 679,00 € (incl. VAT)32 GB with Black Touch Cover: 579,00 € (incl. VAT)32 GB without Black Touch Cover 479,00 € (incl. VAT).

I'm more concerned about whether or not the cover/keyboard that comes with the RT will also fit the Pro when released. Anyone know?

Yes it will. It was said by Microsoft.

I think it will. In the technical specs page, they list "cover port" in the port section. I believe Microsoft is making it a proprietary standard connector.
I guess the "cover port" is electronically compatible to USB and hopefully Microsoft will license the mechanics to 3rd party manufacturers.

Yep, no question. It'll fit.
It's shown and mentioned in this video:
http://youtu.be/un28Z7ulVtA


Thank you. Maybe I'll grab an RT and a Pro.

ordered 32GB + cyan touch cover in UK. Can't wait!

I ordered the 32. Had to opt for no keyborad so that I could get the cyan TouchPad. I also opted for the TypePad as well. Can't wait to get my hands on it!! :-)

preordered! waiting for a touchcover but for now at least i have my surface!

FYI, if you go through fatwallet.com, you'll get 4% back, which equals about $20 bucks on the $499 model.

I don't see the fatwallet $ symbol for the Surface RT purchase, so I'm not sure if you do get the 4% cash back on it...
However, on MyPoints.com you get 2 points per dollar spent, which you can then use to get free gift cards for a variety of places... (ie. Amazon.com to buy a MicroSD card).

Just preordered mine in the UK

I want to order one so bad, but first I gotta try one first at a Microsoft Store.

My main concern is that i wanted the pro version because of x86 applications , but how well the apps will work on touch input, and also pricing how it will be compared to an ultrabook, is the rt good enough? Can it compared to the pro version? Also consider how many apps are available?since te rt wont have flash player while the pro will probably have it will the experience on the pro will be closer to a pc experience, shed some light for me guys i did preorder the 64gb rt and i am thinking of cancelling for the pro version let me know.

i would say if your trying to run legacy applications on it no the rt is not close to the pro in the sense that the rt is not backward compatible.

Ok but my question is the x86 apps available on PC that might work on the pro right? How will it be affected by touch input? Will it be able to run like a pc? Or just someapps wont work, i just need to make sure the RT which is running an arm processor will be string enough like an ipad and not lke an android tablet, plus the adobe flash player will be great, but i know everything is moving to html 5, so it isnt mayor. My second concern is how many apps will work on the RT will it be able to compete with the ipad? Whats more apealling about it compared to the pro version, i guess besides internals, and price which pro version is unknown and likely to be almost or over a thousand.

I personally would not preorder. I will wait for the reviews and a chance to hold it in my hand. I won't buy a $500 item based on a picture and a promotional ad. I saw microsoft's demonstration and it looked good but it really wasn't enough to make a full decision. I don't get people who have a need to be the first to have something. If I have to wait a few weeks to get it later, so be it.

Honestly that's what everyone should do when buying an "untested" product.

I believe like with all Microsoft store preorders, you can cancel the preorder prior to release date. I'm assuming reviews will be coming somewhat soon and you can always return the device if you don't like it.

Something to note. MSFT has a pre-order price guarantee the says the price of the product may increase or decrease between pre-order and official release but people who pre-order will be charged the lowest price before release. So couldn't the price still be changed when this baby is released on the 26th? Maybe I'm grasping at straws...

If the price changes you'll be charged accordingly. That's pretty much how all pre-orders work.

My point was that the price could still be lowered before it's official release and the prices they have listed for pre-orders could be a little bit more general

And... Ordered! Although, I really do wish you could just order the thing with your choice of keyboard color (at the discounted bundled price). Would that have really been so hard? Otherwise, stoked!

Just bought mine....RT 32 with touch cover...be here in 10 days...excited

They say they will be shipped the 26th not arrive

My email confirmation says my order will be delivered BY 10/26....

Yea delivered from Microsoft on the 26th should arrive by 29th

No, "delivered" means to your house. I've ordered things like this on the internet all the time (not as expensive) and they're "shipped" from the company and "delivered" to your house. You've now written this 10 times, you can stop now :-)

Got mine with magenta touch cover yayyyyy!!!

I would never buy an ipad because of the price and I'll never buy a surface for the same reason. I'll wait to see the pricing on the surface pro and then decide if it's worth the money over a standard laptop.

People who consider the Pro version 'just better' need to factor in weight and battery life.
I wonder if Surface Pro was delayed to coincide with Haswell's release date? I can't help but thing that might be the case. Battery life on any Intel-powered tablet is going to be an important factor with me.
If you think what you'll be doing with a tablet will be served by Metro apps, I can't help but think you'd be better off with Surface regular.

I'm waiting on the pro, and i think I've decided on red HTC 8x phone. i really like Nokia, but i just want try out 8x this time, and i will keep my unlocked l900 for backup..

Just ordered two 64GB version for my parents. One with White and one with Cyan cover.

I am gonna wait for Microsoft Surface Pro to order two 128GB for my sister and myself since we use Photoshop, and other softwares.

Finally a real tablet with power of real PC! Exciting times...

Pre-Ordered mine. RT 64 GB with Black Touch Pad. Woo Hoo... Can't be happier.

The easy part is done. Now comes the hard part of figuring out, how to slowly inform the lady of the house before the shippment comes though...

you and me both brother and i got the cheapest version lol

LOL, same. I got an iPad3 for my birthday (which he uses all the time) but I don't want him to be offended when I pull out my Surface....

Anyone tell me what the tax is in CA? The $499 version is £400 in the UK so trying to work out how much cheaper if I get a mate in the US to buy it for me and ship over.

the tax rate varies in california based on your county. los angeles is 9.25% and orange county and the inland empire are a bit lower (i want to say 1% lower, but i don't remember)

i only know those since that's the area i live in. :)

Tax in CA is between 8.25% to 9.25%. It depends on where in CA you are located. Hope this helps!

You can use this: http://www.zip2tax.com/z2t_lookup.asp to look up local sales tax by zip code in US.
In general sales tax in CA is among the highest in US, you may want to find someone lives in other states to buy it for you. You can also refer to this: http://en.wikipedia.org/wiki/Sales_taxes_in_the_United_States#By_jurisdi....

Just ordered mine in Canada. Wished it had a built in GPS, but I do have a Bluetooth GPS and hope it will work. Anyways looking forward to it!

A GPS receiver chip costs just a few bucks, I don't think Microsoft would save that cost.

i wonder if the stores are doing preorders or if it's only online.

i'd rather do it in store so i can control when i go pick it up on the 26th.

already called them ill save you some trouble you can have them preorder it for you but according to the manager at the boston store they said it will absolutely not come to the store.

order mine $499, will see the cover in person to decide. i'm sure there will be 3rd party cheaper covers out soon

Cover is different from the keyboard??? Im confused,,

Just FYI about software compability for RT versus Pro tablets. If it is NOT in the Microsoft Store (Microsoft marketplace for Windows 8), then RT devices cannot run legacy software (windows 7, Vista or XP compabitble software). If you need something like Citrix compability and you want an RT device it needs to be in the Microsoft store. Sorry to burst some bubbles.

good rule of thumb to remember. How do we know what apps are available in the Windows Store without having the preview installed? Is there a website just for the store? I just know of the phone marketplace.

Decided to visit microsoft.co.uk to see when I could pre-order a Surface and found to my delight that the answer is RIGHT NOW! Pre-ordered my 64GB Surface at £559 (basically the same as a 64GB iPad). Also ordered the VGA adapter so I can plug my Surface into video projectors when presenting seminars. Would have ordered the HDMI adapter too but it was out of stock :-(

Couldn't stop myself... Ordered 32gb without cover. Will decide on touch or type after trying in store.

Now the wait, I ordered a 32GB without black touch cover, a cyan touch cover and a HDMI adapter. I called Microsoft and found out the the 32GB without a black touch cover really does come with a touch cover, sooo I was told that I will be receiving two touch covers, one with the system and the cyan one I ordered. So if you ordered one without the touch cover you will be getting a touch cover. I believe that the other two 64GB with a black touch cover and the 32GB with a black cover really means that those will come with the type cover not the touch cover. Anhyway I guess we will see in 10 days.

Surface 64 GB with Black Touch Cover so i am guessing it is according to the website

You're telling me that you:
1. Ordered a Surface RT 32GB WITHOUT a black touch cover + a cyan cover + HDMI
2. Called Microsoft and they told you that the 32GB WITHOUT a black touch cover actual does come with a black touch cover and that you'd get two?
Why the price difference between the 32GB without and 32GB with? Wouldn't this irritate those who paid $100 premium for something that everyone is receiving? This doesn't make a lick of sense.

Yes, I was told that the $499.00 Surface RT does come with a black touch cover, but to get a colored cover you have to order it. Not sure if I believe them, but it does say that it comes with the black touch cover in the spec. page. Here's what I think all of the 32GB or 64 GB surface tablets come with at black touch cover. If you want the type cover or a colored touch cover you have to pay extra for those. The person I spoke with said that I will receive a black touch cover with my tablet and then a cyan one that I ordered extra. I wish they would put out a statment about what they are doing.

Under "in the box", the listing says that the 32 GB without Touch Cover doesn't come with the Touch Cover. Looks like you'll only be getting the cyan.

This sucks...i still have to wait until January for the pro...
Y couldn't Microsoft just sell them both now...

Just to piss you off I bet!


Well...it worked...coz am gonna be stuck with my shitty laptop till January...
I.really want this gorgeous hardware

So Windows Tablet RT doesn't come with GPS?

It appears RT (and quite possibly the Pro model also) does not. It does not have 3G/4G. But it has "location services" whatever that means. I'm just hoping it can generally locate you from WiFi for apps like Yelp where you want to find places to eat nearby.

...although, I suppose my WP7 (and soon to be WP8) can be used for those purposes....

I just asked a Microsoft Store rep., he confirmed that Surface doesn't has GPS hardware. Since Surface doesn't come with offline maps and cellular connectivity, it is supposed to be used stationarily anyway. I guess it's the reason Microsoft doesn't put GPS functionality in it.
However, it's pity, honestly.

Hmm, that makes it a tough buy. I didn't mind so much about the lack of 3G because it is cheaper for me to have one phone plan with more data than to have 2 plans. But I was planning on using my phone as a wifi hotspot so I can use the tablet as a bigger screened phone of sorts for things like GPS, music, etc on the go. This combined with the price is going to make me carefully consider atom-based alternatives instead.

I am pretty upset that you cannot get the 64GB version with a Cyan touch cover. Black only? Sooooo stupid.

With $20 more... you CAN get the Cyan.

Just ordered my 64GB Surface!

Same, now waiting for cyan 920 pre-order...

No GPS? No cellular data. No HD display. I'm gonna wait and see what else is out there.

My cousin, who is an IT guy, said the Surface would be a non-factor in the market when he first saw the demos. Unfortunately, I think he is probably right, now that I've seen the pricing. If something is going to be as expensive as an iPad, it needs the apps/capabilities of an iPad. High price and lack of apps killed the HP Touchpad and BlackBerry Playbook.

I have to agree. I was going to buy the RT but for the price it will never replace my iPad screen resolution. I do too much reading on my tablet for go down in clarity. I'm still going to get the 920 to replace my 900.

Limit 1 per order!!
Really MS ... REALLY?!?! How do you expect to 'compete' if you liimit customers to one per order.
What a complete and utter crock of you know what!
I honestly can't believe it ... what a truly stupid decision!!

Just preordered mine bundled with a black touch cover + HD video out adapter. $20 less and faster fulfillment did it for me (wanted a Cyan). The savings went to pay taxes.
I'm so happy! Hope I get it soon (has to get to MIA Oct 26th and then be forwarded to me down here in Panama!)
Cheers!
Windows Central Newsletter
Thank you for signing up to Windows Central. You will receive a verification email shortly.
There was a problem. Please refresh the page and try again.