Surprise! Leading media center solution Kodi has arrived on Xbox One
Kodi is a popular media center solution for PCs and other devices, and it's finally available on Xbox One.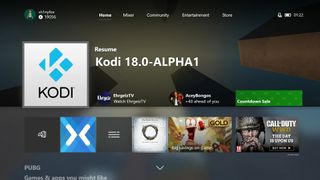 Kodi began life as Xbox Media Center (XBMC), owing its roots to the original Xbox console. It has evolved a great deal since then, becoming a favorite for cord-cutters and media enthusiasts everywhere.
Update December 29, 2017: Kodi appears to be rolling out on a region-by-region basis as of writing, with availability starting in Europe. Hopefully it'll hit more markets soon.
Update December 29, 2017: Kodi now seems to be available worldwide. Let the cord-cutting begin!
Kodi appeared on Xbox One today as part of what appears to be a soft-launch or alpha phase (thanks for the tip, Ross!), supporting what appears to be, a full raft of features from the Windows 10 Store version, including all those pesky add-ons everybody except the entertainment industry loves. It also means that Xbox potentially now has TV DVR finally, after being promised and then cancelled by Microsoft previously. A number of services can hook into Kodi for live TV and DVR features.
You can grab Kodi on the Xbox app store simply by searching for "Kodi" or by hitting the link below. For a full and comprehensive guide about what it is, how it works, and why you need it in your life, hit the links below. We'll take a more comprehensive look at Kodi on Xbox in the near future.
Jez Corden is the Managing Editor for Windows Central, focusing primarily on all things Xbox and gaming. Jez is known for breaking exclusive news and analysis as relates to the Microsoft ecosystem while being powered by caffeine. Follow on Twitter @JezCorden and listen to his Xbox Two podcast, all about, you guessed it, Xbox!
Oh yeah!! Been waiting for this forever. Game changer

Yeah finally a worth while piece of software available on Xbox app store, it's quite surprising it still has add-on support MS app store policies were more aligned with Apple than Google's which allowed full Kodi, whereas on Apple/Amazon only add-on free forks of Kodi like MrMC are allowed on the store. Pretty awesome after all this time, to see what started as a hack for the original Xbox come to it officially.

For me, it still says that it is only available for PC.

Same here in Canada. Probably just need to give it time to propogate out

I am in Canada and I just installed it on mine

Seems to be rolling out, starting in Europe!

Kodi is European. So, yeah, we're first for once. Hey, America ;-)

I guess we should toss yall a bone every now and then. :p

Fantastic start. At the moment I can not get Kodi to see a external hard drive that is set up as a media drive.

Another media player? Really?

Another ScubaDog comment moaning? Really?

Speaking of ScubaDog, we should be able to block WindowsCentral users.

Take a hint, bowser - give it a rest.

Kodi can act as a PVR frontend to a backend like MythTV or NextPVR. That's big, because the last Xbox to be able to do something like that was the 360's Windows Media Center Extender implementation (I'm intentionally ignoring HDMI passthrough as a terrible idea, and Plex because it works with such a limited selection of tuner cards). I'm not going to retire my htpc, shield, or LibreELEC rpi3 just yet, but having Kodi available on Xbox means I eventually could.

I can't understand why Windows Media Center cannot be put in the store as a desktop bridge.
Especially since all other classic Windows accessories like Paint are behind ported to the store.

Likely due to licensing issues with third party libraries and the fact they don't want a free app to compete with their video store. I paid $10 briefly to use it in Windows 8. Heck, they sold off their IPTV platform to Ericsson so their store wouldn't compete with their TV customers.

Windows Media Center isn't just a single app, like Paint or Calculator. It's a set of services, codecs (MPEG2 and Dolby AC3 being the big ones that require licenses, and licenses cost money), files (the extender binary for Xbox 360, for example, lives on your Windows 7/8.1 PC), and finally the GUI app that exposes an interface to all of that. I'm not aware of any other Bridge app that includes services (actual NT Services, not just UI-less background processes), though I could certainly be wrong about that.

As someone who uses their XB1 as a media hub, the more the better!

Cant install addons with a usb or any other media

Koki Add-ons do not work the same as UWP add-ons. They'd have to port them to the UWP method on a priority basis. It's possible, but convoluted from the documentation I've read.

I've been able to put my add-on zip files on my OneDrive and install them by adding my OneDrive into file manager. Hope that helps!

YAAAAASSSS! i can finally retire my core 2 duo HTPC

Try not to, it doesn't mention the word TV on the store disclaimer.
Its a Media player as scubadog said, not centre.

I tried the MythTV PVR frontend with my existing MythTV backend. Worked pretty well, though there was a little bit of slowdown and audio hiccups. For now I'm assuming that's because v18 is still alpha.

Most likely. Still a bunch of work to do on v18.

Huge moves for Xbox, and just like that can dominate the market

I wish they kept the name xbmc, kodi sounds so stupid

The name Xbox Media Center doesn't make sense on an amazon stick, or google device....

Available here in the UK - and showed up this morning as available on the xbox, as I have the windows store version installed on a PC, so no need to go searching.

Having downloaded it, and started it, I can't seem to be able to use it - normal controls fail. I just get stuck on the main screen, and can't move down the menu. Is it controllable for others?

It's a little buggy but controls OK here.

Issued solved - it works using the XBox controllers, but not using a remote. That will change as part of the alpha / beta testing no doubt.

This is the news I have been waiting for and checking on constantly!
Just had a slight nerdgasm!

This is great news! Next step: release something (Xbox TV?) that can compete with Apple TV and Android TV. Much more realistic with Windows on ARM.

Freezed mine xbone x. Needed to restart. Will stick with android box for now.

Yes, this version is still very unstable. Just give the devs time, they'll get it right.

This is soo cool.. only use kodi.. have tried plex many times but the transcoding in every app is killing it completely for me!
Kodi just works and always have..
Looking forward to the non beta release!

Finally got it downloaded in the States. Installed a NFS server to my PC, did some tweaking, and now my movies/shows are working fine. Can't wait to see what's next.

I am confused how this differentiates itself, at this point, from the media player on Xbox One? I am not trying to be negative, I am actually curious. I am able to stream my media from my NAS to my Xbox One without problems. Does this do anything else? My understanding is that none of the repositories are available?

Are we going to be able to play our media w/Atmos 7.1/True HD 7.1 audio, now? Or is that still a pipedream?

KODI is on a downward spiral right now. If you're using it to be a pirate, you're out of luck. They're cracking down on it hella bad. Otherwise, rock on.

There are more legitimate reasons to use Kodi than just piracy.

Why didn't MS just keep Media Center on the Xbox?

anyone try any builds on it yet?

I can't install it on my Lumia 950 xl. I don't know why it doesn't let me install it

Haven't had it crash on me on Xbox One X so far, works perfectly. I've installed my IPTV add-on and can watch all my TV channels, movies and box sets (mix of 4K 1080p, 720p and SD (HEVC and h.264) with mix of 5.1 and 2.0 audio codecs with audio passthrough working fine to my Dolby Atmos surround - though none of my files have atmos). Also installed the PureVPN add-on and it's working fine it seems (weekend EPL games will be the test for that). So far, all good my end. Just to test out my custom build, custom Renegades EPG port and profiles and my Kodi experience will be completely on par with my Nvidia Shield TV (though, I like how the android Kodi had the android apps in the "Programs" section, would love to see the Xbox apps appear in here so I can set up shortcut links to my Plex and Netflix in my custom build.

Update, all codecs except 4K work for video, audio it seems everything I've tested up to DTS works (not AC3 transcoding though - but this is irrelevant). It's seems as if 4K doesn't agree and turns off my Xbox One X. Note: In Kodi system settings, 1080p is the highest the resolution will go (though setting it as windowed looks funny). It also triggers the new OLED saving screensaver on Xbox when there's no input detected (even when playing video. If any of you know how to stop this, I'd be very happy.

It's known issue and has been fixed already but fixed version not in the store yet.

Ah, brilliant, thanks for this!

As someone who still has Windows Media Center on a dedicated PC (with a hauppage tuner card so i can record shows) and still have two XBOX 360s connected to my two HDTVs acting as WMC extenders, does Kodi potentially offer an alternative that could replace any of my existing DVR/playback infrastructure?

Yes, sort of. You need a backend DVR software like NextPVR, MediaPortal, MythTV, TvHeadend, etc. Then Kodi can act as a frontend to one of those.
Windows Central Newsletter
Thank you for signing up to Windows Central. You will receive a verification email shortly.
There was a problem. Please refresh the page and try again.