Survey shows Nokia Lumia owners more likely to recommend smartphone to a friend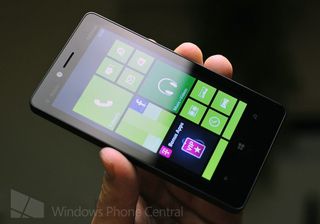 A recent YouGov survey shows 45 percent of Nokia mobile device owners would recommend the product to a friend and promote the hardware to others. The independent study illustrates an 18 percent climb compared to last year, as well as a 4 percent drop in those who would not recommend their Nokia mobile phone, down to 33 percent.
Forty percent of customers asked were using Lumia Windows Phones, up from just one percent from December 2011. While the rise in Lumia hardware is significant, it does show that newer models (or latest versions of the Windows Phone operating system) are swaying the minds of consumers, causing a positive effect when it comes to promotion.
It also shows the fall of Symbian, with Lumia hardware becoming Nokia's main fleet of smartphones. YouGov associate director Russell Feldman had the following to comment on Nokia's improvement:
Nokia is looking to continue rejuvenating the brand until consumers once again view the company as a strong competitor in the mobile phone war. With the next wave of Windows Phones approaching, we're looking forward to Mobile World Congress to see just what the company has up its sleeve for 2013.
Microsoft also plays a part with the Windows Phone OS. The batch of Windows "Blue" updates that will arrive later this year will help improve Lumia smartphones further on the software side, helping Nokia increase its customer satisfaction figures.
via: Mobile News
Windows Central Newsletter
Get the best of Windows Central in in your inbox, every day!
Rich Edmonds was formerly a Senior Editor of PC hardware at Windows Central, covering everything related to PC components and NAS. He's been involved in technology for more than a decade and knows a thing or two about the magic inside a PC chassis. You can follow him on Twitter at @RichEdmonds.
Anyone who wouldn't recommend the 920 is awfully hard to please. My only real feedback would be to thin it out some and reduce weight while still keeping quality up to speed. Outside of that hard to find issues....Skype and Xbox Music are another story, but that's MSFTs piss poor effort, not Nokias.

I don't even want it thinner or lighter, I like the weight. Microsoft definitely needs to show better support though, but I think that's mostly in the gaming department, rather than the music one.

Each to their own, but I love the thickness and weight behind it. It feels premium to hold. Not cheap and plastically.

I sure do recommend it far more than I did the iPhone I had. I have the Lumia 920 and am pleased with the phone. Now MS just needs to clean up the OS a little more.

Absolutely right. I hope this "Microsoft Blue" thing they speak of, a 'feature-pack', will address this issue.

I hope blue includes Zune for WinPhone8

You're joking right? They took it out for a reason. Don't get me wrong, I love Zune, but it had to go. We're better off having our phones as mass storage devices and just dragging and dropping files rather than syncing them with Zune which also converts the files. What I want to see with Windows Blue is that they make Wp and Win8 more consistent and parallel. Having your computer, tablet, and phone all look the same will be great. Also, I would like to see folders as part of the update. It will be a good 2013 for Windows users!

There is truth to comment...we are getting left behind and there is no sense of cohesion at the moment. I'm deep in the ecosytem and am truly lost.

Was supposed to be reply to first post. I use all 4 OS's for work. I chose WP for a lot of reasons, but things are not happening fast enough to keep up with the EXISTING offerings from those OS'

Then you don't know how deep you aren't.... The cohesion between products is great. It will get better, but right now its not even bad. In fact, I find MSFTs product lines quite cohesive.

Well I use Xbox music and Xbox video for all of my entertainment needs. With a desktop at home traveling around with a ativ smart PC. And using WP since pre launch seeing the disarray of things with. All three screens seem to be at odds with each other for folks that were using the services before. The most pleasant thing that has happened lately is the office 2013 integration. Because of work I have files and different media on all of the ecosystems. Our experience is rough. And right now its making a difference.

loving mine to bits and I've convinced couple of my friends to buy it :P

I love my lumia 920, i just can't put it down. I cant stop bigging up the selling features to my mates and random people in the street. One friend was shocked to hear it had less "power" than his nexus 4 and yet was still rapid and just as quick, if not quicker. Nokia have made a truly awesome piece of kit, its been a very long time since i actually wanted one of their phones... But now i have one... No turning back :D
As gizmo said its MS that need to sort the OS out better. Fingers crossed that "Blue" will be something truly special and just what the whole MS ecosystem needs (which im very stuck in... SurfaceRT, lumia920,xbox,win8 pc and laptop).
Keep up good work Nokia

I fall into that category. I'm responsible for 3 Nokia Lumia 920's in our household with a 4th on its way! :)

Just to add....the 920 is by far the nicest phone I have ever owned. When friends/family hold it, the automatically fall in love with it.

I get similar results from iPhone using friends. At the end of the day, it doesn't change the fact that their clueless minds have been imbedded with Apple stench. Most of them don't understand concepts such as live tiles, ease of use, facebook/twitter integration, office integration, cloud storage, Xbox, or pureview. They simply don't read up on products before purchase. Instead the masses decide for them. They don't ask the question why I'm I buying that phone? What is it going to do for me? Though I did convert my wife to the 8x from Android. Still like the rest of them, she's clueless of the concepts. Can you believe it, I had to set her home screen. Anyway she's learning slowly and loving it.

We all know wp8 has sum issues but in all my Lumia 920 is the sweetest phone I've ever had!

Is it me or is WPCentral turning in the lumia920 club lol. Seem to be alot of us :P

At least about lumias but that's cause there sweet
Lumia 920

You know, got an 822 and I love this phone. Thought I would be disappointed because Verizon didn't have the 920. But no, this is a very nice, capable phone

Until Nokia fixes the constant poping and skipping i hear over bluetooth audio I will not recommend phone. Oh and BTW, im on my third brand new 920 and the problem is still present. I contacted Nokia 920 @NokiaCare and they assured me they were working on a fix, when my phone stiops freezing up and cracking and skipping the audio while BT streaming then It will be easy to recommend.

Sounds weird, i got jabra street 2 bt device and its been amazing. I wasn't convinced on BT until i borrowed my mates and other that the phone having a minor fit once its been great. What BT you using? I'd generally say from experience that if you had 3 new phones and your having same fault then its probably not the phone at fault... Could be wrong though

No its a problem with the phone. Try this, use internet sharing while BT streaming audio. Then, walk away without disconnecting the IS. I have tried everything,, But thanks anyway. When I Bluetooth stream using my cars BT or my Jaybird bluebuds theres a constant popping and cracking and every once in awhile phone will freeze up. Very frustrating because other than that phone is awesome.

I replied to the first comment to the article confirming a whole list of complaints, but BT has never been one of those. The 920 BT range and connection quickness blows away the Galaxy Nexus o left behind.

Everytime I recommend WP I get reminded that I have two phones. My 8X and my old cracked screen Evo to take CC with Intuit GoPayment. If anyone knows of a good app to replace GP for my WP please let me know.

Save the intuit website on your phones homescreen as a tile.

https://gopayment.intuit.com/GoPayment/site/login


It costs a little more and you have to manually add the info but it works because GP is the only CC app to be able to take payments online.


It didn't work when I first got my 8X but that was back in November. I'll give it a try tomorrow. Thanks for the tip. I've also asked for BenThePCGuy to help me get Intuit onboard WP. Hopefully he can get something going as calling Intuit and requesting WP support does not work. I call twice a month hoping they will see users need this.

Works fine on my 920 and the best part is it dilays like an app! Just log in like you do with the app.

Just did a translation and works great :)

A couple of months ago, befor I got me 920, I would have been really happy about this. - now though, this jjust makes me all the more bitter.
I still havent't received the portico upate for my 920, my GPS doesn't work adn the buil quality is poor (light leaknext to buttons for example).
To make mattters worse for Nokia, my brother's 920 overheated and the battery leaked, it got sent back to Nokia (via EE) and they have replaced it with another defective unit with a loose top panel an serious battery issues (his doesn't even get throught more than half a day).
I'd be much happier if eople recommended boycotting Nokia at this point, but here's hoping they get their act together now that some cash is coming in and MS can improve WP8 and the way in which updates are distributed!

That is too bad. My first phone had a rattle in the speaker and AT&T replaced it on the spot and the replacement has been awesome. Neither phones had the issues you have seen. I haven't even had the FFC dust issue.

I love my Lumia 810 and couple of my friends converted also, they both love it.

I always recommed Lumia to all my friends and family :D

Oh yeah! I do this all the time. The only thing that is a little dissapointing is that where i come from - India - nokia is yet to release the budget 620 model. Most of my friends simply cannot afford the 820 or the 920.
My recommendations will only increase when 620 and 520 hits our shores.

Fix. Music. Syncing....then I'll recommend windows OS. Nokia is great I love my Lumia 820 if Nokia jumps ship I'll jump with them.

I just got the blue update for my 920. Wow!!! Is this amazing, simply the best, masterpiece, ages ahead of its time, breaking down barriers. . . Just practicing for the real deal.

I know im not a Nokia phone user, but I have an 8X with Nokia+ Drive Beta, and it is absolutely amazing. I was honestly shocked at how well it worked on my phone offline. Soo accurate and an amazing experience. Thanks Nokia for the support even to other WP users :D smart marketing.

I recommended it to a friend, he said he likes it but still waiting for the right time until he dreamed of it hehe so the next morning he got one

Aaah...i was doing the same with my Lumia 800 but after having so much problems with the phone....i wouldn't dare to recommend to any one than my enemy....my lumia was with service centre forore than 45days in last 10 months.....:D:[

When it was first shown to the public last year, i knew it was the phone i wanted..it is my first Nokia but wont be my last!!
Recommended one to a friend and both of us got it on launch day in India!! Love the phone but just wished that updates are a little more frequent..

I recommended about "8" people now --- each one does not know the other...each one has bought the 920 already...each one came from A) iPhone or B) Android....each one seems to love it so far. -(or at least no complaints except for ...no pandora) I myself have no 920, but in fact an HTC Titan and should be upgrading to the EOS later this year (hopefully). ...seems to be working out just fine for me atm.

As far as the no pandora thing I had that same issue and found that the Graffiti Radio app does a good job of linking up to your pandora account and allows for adding new stations or seeds to existing stations. It seems as good or better than what I remember the pandora app funtioning like on my old android phone

For those of us who are hoping that "Microsoft Blue" is going to fix many of the problems with Windows Phone 8, I wonder if that's a realistic hope. Reason is, the current issues with Xbox music (music, playlist, and album art sync) can likely be fixed by an update to the desktop client so therefore Microsoft, if they were so inclined, could have already resolved this problem by pushing out an update for the desktop client. The fact that they haven't doesn't bode well for consumers and fans of WP8. In my mind, its an indication that the Microsoft group responsible for WP8 is totally screwed up, and are intent on screwing their customers in the process.

Microsoft has me flirting with other options. The downgrade from Zune to XBox Music is so bad that I can't sell my 900 b/c I need to use it as a fancy MP3 player. The fact that Microsoft's own internal divisions (Photosynth and Skype) give Windows Phone, second class treatment, also lessens my confidence. Please note that I've been a sorta fanboy having had only Microsoft smart devices since my monochrome Compaq iPaq Pocket PC, to my HTC WM phones, including Tilt & Tilt2 & a few WP 7/8 devices. Sad that I'm considering a departure, but MS doesn't seem up to the task.

I'm always recommending mine! Lol!

With the current battery issue, i wouldn't recommend anyone for now.
Hope my week old 920 improves over time.

Well, to be honest, when I recommend Lumias to people, I'm doing it for the quality of the phone that Nokia put out and NOT because of the OS is comes with. Fact is, most of my friends to whom I recommend a Lumia, end up giving up when they realize the deficiencies on the OS and the lack of Apps. Two days ago a friend of mine decided to leave Blackberry (look, another one! Poor RIM...). I obviously tried to show her the virtues of the Lumias with WP. In the end, she chose an iPhone. When she asked about differences in personalization and Apps, I obviously had to tell her the truth: you can't personalize tunes apart from the ringtone and your volume is not separated between ringtone and video. And you don't have a lot of Apps that you have on iOS (she specifically asked for Instagram and a bunch of Apps from Portuguese companies that have produced Apps for iOS and Android but not WP).
In the end, while she likes the aspect of WP, she went with an iPhone because it offered her more. We sure are more likely to recommend Lumias with WP to friends. But we could use a little help from Microsoft. Namely by fixing asap those little basic aspects of the OS that make all the difference in the end (the Apps isn't really entirely in their hands, but they can help there too)

I agree with all the points you made. They're right on. You mention that Microsoft can help with the lack of app, so do I. I believe if MS were to approach the top 20 banks in the US and top 5 in each of Canada and EU countries, and offer to reimburse them a month's salary for one of their inhouse developers to create a Windows Phone app, Microsoft, for about a million dollars could get a hundred banking apps on the platform within a Quarter. For another one or two hundred thousand they could also have apps for the the top 2 insurance company in each of same countries. For all the money MS will waste on various ineffective marketing, using $1.2M or so in this manner could help the application issue on Windows Phone quite a bit, and also attract other developer applications.

With so many missing features entering its 3rd year I think no one can honestly recommend WP over competing platforms. And no one should really, till Microsoft get their act together.

If more Windows Phone owners open their eyes to Microsoft's apparent disdain for the OS's deficiencies, like you have, and begin to express our growing frustration, it MAY help to force Microsoft to react. I do wish that there were more frequent and honest articles on WPCentral detailing things like the Xbox music mess, the lack of independent volume control, lack of universal search, lack of ringer profiles, lack of features in Calendar, subpar Skype experience, etc. It's Shameful that all these deficiencies exist even while Microsoft continues to push out various software updates to iOS and Android.

What missing features are your referring to?

I love my 920 for myself, but I can't recommend Windows Phone to others either. It doesn't bother me to not have the 'cool' new apps that everyone else is getting on their other devices, but it's really hard to turn to someone and say "yes, all of your needs are going to be covered with this." I mean, quite frankly, there's even some of my own needs that aren't fully covered with third-party apps. How am I going to be able to say in good faith that somebody else's needs will be fully met?

In fact, this situation came up just a few weeks ago. I had to recommend that someone who was on T-Mobile get the Nexus 4, because they needed a seamless Google Talk and Youtube experience. Yes, Metrotube and Supertube are great, but when someone mentions Youtube as a priority, I again just don't know how I can recommend something that will break (due to API changes) on a pretty frequent basis.

Because when there's problems, then they're going to come to me and ask why I recommended a crappy phone.

I've got the 800, I have metrotube and supertube and a Youtube app but its just a link to m.youtube.com but that's fine, why would I need more YouTube?

And when Metrotube and Supertube get broken again by another Youtube update, you'll see what I mean.

I have many friends who loved my lumia 920 and all those here complaining about this and that on lumia hello iphone and android have more fricken problems than lumia 920. Wait until Mobile World Congress when nokia lumia 920 will announce more new features. All you complainers will suddenly like it now. Who Fricken cares of instagram. Just use your phone web browser to login :-P

Am I the only one who has poor voice quality when dialing out nobody can ever here me clear, buy if I'm on my headphones or speaker in clear as a whistle

Yea my shuffle all freezes everytime I thought it was just me , must be from all the songs but I have plenty memory left, and if u try to press a button or change volume during first 30 sec it will change the song and take it off of random, very weird yet I tolerate it

Feature wise and use wise I love my Nokia 920 just lack of simple game apps especially considering it is Xbox, the best games are third party so far, guns 4 hire and dredd, but they aren't even exclusives come on Microsoft I'm biggest supporter and u make me look dumber and dumber by the day. Owner of all Zune generations, surface rt, Samsung focus, flash,and Nokia 920 and windows 8 hp computer. Too invested to turn back, come one audiosurf that's is all I need really

I love Nokia, but had bad luck with their Windows phones. Lumia 800: bad camera, Lumia 900 bad camera, Lumia 920: shuts down randomly more than 3 times a day, overhyped camera that's not good in daylight, problems with proximity sensor, etc. had to return it. Now after HTC Titan went back to HTC again with the 8x and really satisfied.

My 920 is by FAR the best phone I've ever owned. Have zero problem recommending it to others. No hardware problems and the WP experience is a breath of fresh air compared to Android and the likes. Can, have and will continue to recommend to others. I honestly have no idea how someone else would refuse to.

Honestly WTH kind of survey is this? What's next? Survey shows Windows Phone 8X users prefer extra cheese in their cheese sandwich?

How do we leap to the conclusion that those are WP8 devices? the original report says nothing of the sort - all of the carriers have been selling the 800 and other wp7.5 dirt cheap for a while.

I have owned or used almost every nokia phone in existance, my first mobile was Nokia 3210 and I don't recall ever needing to send any of these phones to service until I got a Lumia 900 (Dark Knight edition) sent it for a random rebooting issue, the issue has been resolved but guess what ? they decided to take my limited edition cover and replace it with a regular black one, am still trying to sort it out with them but after that I would never ever recommend a nokia to anybody, am switching to samsung myself just waiting to see the Galaxy S4 to decide whether to buy it or get a note 2

I don't own a L920 but a L800.
I can say Nokia is always the legend at hardware making, but it always has been lacking in software side.
So, Microsoft has still a long way to go to be fully mature. With WP8 it still is immature esp, in apps side.

I think the Lumia 920 is an excellent device. That's what I tell people when they ask about how I feel it. But, the OS is what I warn them about. And that's because of the app development. But the device is beautiful. Its different from all other current devices on the market. Its sturdy and has a weighty feel, which I believe adds credibility to the device, the camera is amazing for the price point, and its deep screen resolution is a natural feel. WP8 is the only slight downfall to the device, but I tell people that's its growing. One day, the OS will be just as good as the devices offered and then... then we will see the domination of devices running MSFT product.

Recommending the 920 is simple. If a person values excellent video, photos, and built in integration wrapped in a fantastic device the 920 is the device for them. If they value Apps, then they will need to do their research to see if WP has them. If WP doesn't, I'd recommend an iPhone, and never an Android. Also, if the person is technologically challenged..iPhone or WP...never Android.

I bet you they people most satisfied have the 810, 820, and 822. I love my Lumia 810. The memory expansion made my day, the camera is amazing, and it works flawlessly. Xbox music kind of sucks, but googles answer is lame.

For those that use their smartphone as a destop PC or laptop, yeah they're probably going to be owning a Galaxy line. All of the people who I've recommended Lumias to all went out and bought Galaxy's. Didn't even think twice. Yes, Apple's and Galaxy's are a bit more polished and have more applications that the critical mass demand, but that's just the way it is. It's not worth it getting caught up in the race to marketshare, stock values, popularity and peer pressure. If Microsoft and Nokia both go bankrupt tomorrow or just drop their WP's all together someday, that's just the way it is. Instead, either enjoy your WP and be happy with it or go out and buy your iPhone or Galaxy phone. It's just that simple.
Sometimes we just have to stop fretting over which sport team will win and enjoy other things in life once in a while.
I've tried the iPhone and Galaxy line before. I didn't like them. I would rather go on my desktop and get work done or play AAA games on it instead of on a 4.5" screen. WP and Lumia does everything I want a mobile device to do and more. For everything else, I have a desktop PC.

Likely to recommend, or net promoter score, is a very big trend in the market research sector. That is becoming the top question to ask and base compensation off of now, so for Nokia to score high marks on it will catch the eyes of those who are trend watching.

I'm pretty sure I recommend mine at least twice a week. But, I also have people asking about it all of time.
Windows Central Newsletter
Thank you for signing up to Windows Central. You will receive a verification email shortly.
There was a problem. Please refresh the page and try again.