Sweating to your Windows Phone with these exercise apps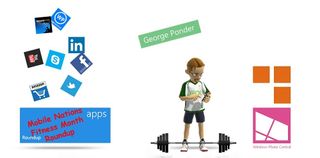 Windows Phone Central Fitness Month App Roundup: Exercise Apps
February brings about Fitness Month around these parts and there are plenty of Fitness oriented apps available in the Windows Phone Store to help everyone get fit and survive the month. You have apps that help you develop and track your exercise routine, apps that track your calories and apps that help you relax and recharge.
This week's app roundup focuses on the exercise apps for our Windows Phones. Apps that will track our exercise progress, give us a little motivation or simply lay out an exercise routine for you to follow.
We picked five such apps from the various Windows Phone Store "top" categories (top free, top paid, best rated, new+rising). The roundup is but a sampling of what is available. As always, if you have a favorite exercise app that isn't mentioned speak up and throw out your recommendation below in the comments.
Endomondo Sports Tracker (free): Using your Windows Phone's GPS the Endomondo Sports Tracker will track your running, cycling, walking, hiking or other distance based activities. The app tracks duration, distance, speed and calories burned. You can set distance goals, have your route mapped out, and access your workouts from Endomondo.com (opens in new tab). The app does require a membership (free) or you can sign up via your Facebook account.
The main pages for Endomondo Sports Tracker includes a Workout Page that details your current workout session, a History Page detailing your previous workouts, a Newsfeed Page with recent workout done by friends, and a Friends Page where you can get words of encouragement from friends.
The online portal will let you analyze your training, compete against friend and view your personal training diary. Endomondo Sports Tracker is a nice, fairly straight forward app to keep up with your distance based exercises. Endomondo Sports Tracker is a free app that you can find here at the (opens in new tab) Windows Phone Store.
6 Week Training (free): If you need an exercise routine, take a look at 6 Week Training. The app tests your current fitness level and selects an appropriate workout regiment for you to follow and track your progress along the way.
Every two weeks, the 6 Week Training app will put you through an Exhaustion Test to determine which level of the training program you should pursue during the next week.
6 Week Training concentrates on five exercises; pushups, situps, pullups, dips and squats. There is also a Super Set Mode that combines multiple exercises in on session. The goal is to get you to the point where you can do 100 pushups, 250 situps, 250 squats, 150 dips and 20 pullups.
Additional features include Skydrive support to backup/restore your training history, a Live Tile to show the next workout target, reminders and a Metronome to help you keep pace.
6 Week Training is a free, ad supported app that you can find here at (opens in new tab) the Windows Phone Store.
Zombies Run! (trial/$1.99): For those familiar with Zombies Run!, you'll know that the developer recently announced they are dropping support for the Windows Phone platform. While such news is never good, Zombies Run! is still a nice exercise app worth recommending.
Zombies Run! is a unique exercise app that has you base your runs or walks on a storyline. You play the role of Runner 5 and must out run the Zombies to collect supplies to help build up your base camp.
Zombies Run! has 35 missions and over 45 runs worth of game play. The app will track your distance, time and pace during the runs and afterwards you can use the supplies you've collected to fortify your basecamp.
While we won't see any new updates to Zombies Run! if you're looking for a unique exercise app, Zombies Run! is worth a try. There is a trial version that lets you tackle the first few missions and the full version is running $1.99. You can find it all here (opens in new tab) in the Windows Phone Store.
DeekFit Gym (free): If the gym is your cup of tea for staying fit, DeekFit Gym will help you track workouts, build routines, monitor your weight, set goals and calculate your BMI, BMR, and Wilks total.
DeekFit Gym's main pages include a Menu Page, a Weight tracking page, and a MyFitness Page to track your workout progress. The Menu Page is the primary page of the app where you can start a free workout, tap into your routines, view your workout entries, review information on the various gym exercises, view your stats, and access a timer and calculator feature.
DeekFit Gym has the option to create a free membership but you can use the app without the DeekFit account. The membership will allow you to sync/backup your workout data if you upgrade to DeekFit Gym Pro ($2.99) that you can find here (opens in new tab).
If you're content with ads and don't have the need to sync your workouts, DeekFit Gym (the free version) can be found here (opens in new tab) at the Windows Phone Store.
Pocket Trainer (trial/$1.99): Pocket Trainer is a nice fitness app for your Windows Phone that creates personalized and balanced exercise programs. A personal trainer of sorts.
When you first launch Pocket Trainer you establish a profile that includes your current height/weight, exercise experience and what exercise gear you have access to. Your profile will serve as the foundation Pocket Trainer uses to create your workouts. Once you created your profile, you are sent to the main page for Pocket Trainer where you select how much time you have to workout (20,40 or 60 minutes) and where you are working out (home/gym).
A workout will be generated based on the time and place selected that includes the exercise, reps and in tapping on the exercise you can view videos demonstrating the exercise. Pocket Trainer has over 400 exercises and workouts are automatically tracked. As you progress through the workouts, programs are updated accordingly.
There is a trial version available for Pocket Trainer with the full version currently running $1.99. You can find Pocket Trainer here at the (opens in new tab) Windows Phone Store.
Again, these are but a few of the exercise apps available for your Windows Phone. You also have Runtastic, RunSat, Sports Tracker, Gym PocketGuide and many more.
With February being Fitness Month here at Windows Phone Central and Mobile Nations look for more reviews and news on fitness apps over the next few weeks. In the meantime, if you have a favorite exercise app you would recommend, chime in below in the comments.
Windows Central Newsletter
Get the best of Windows Central in in your inbox, every day!
George is the Reviews Editor at Windows Central, concentrating on Windows 10 PC and Mobile apps. He's been a supporter of the platform since the days of Windows CE and uses his current Windows 10 Mobile phone daily to keep up with life and enjoy a game during down time.
I regularly use 'Gym PocketGuide'. Great app and it's free :) http://www.windowsphone.com/s?appid=18d49e32-6c1a-4029-9550-a591d1c28da2

Over 2300km on Marathon -- clever, motivating and extremely reliable. Ran two full marathons with bluetooth headset and still had 20% battery on an HD7 (1st one) and >30% on Lumia 900. Website is marathon-mobile.net

Cheers

1. It really does what a run app is supposed to do, and does it well.

Does anyone know of or use a heart rate monitor that dosen't go around the chest?
Not really a WP related question I know, but I hate the chest mounted heart rate monitors.
Does FitBit or any of the other workout hardware work with the above programs?

There are quite a few heart rate monitors that aren't chest mounted out there. Search for "strapless heartrate monitor", you'll get a lot of results to chose from.
Fitbit does share data with Endomondo, you can link accounts on thier page. Another good one that also works with Fitbit is MyFitnessPal. It's doesn't provide a guide or real-time tracking like these, but, it will let you track your meals (since Fitbit hasn't released on Windows Phone app) and you can add activities there as well.

There was an app that used the camera to measure the heart-rate... It used full-flash and was somehow able to see your pulse through the finger. It seemed to work okay. I don't recall what it was at the moment, but I'm fairly sure it was on WP

Runtastic. Review will be up soon. Edit: nvm, saw you didn't want the ones that go around the chest.

so these apps have been updated to work on the background on wp8?

DeekFit Sprint does cardio tracking in the background.

Marathon runs in the background now...

Marathon runs in the background. It was updated a month or so ago, as I recall.

I use Livescape its the most complete fitness/health app I've found and great looking

I'm still upset that Run Keeper felt they were too good to support their WP app. I have way too much logged in there to start over with information. Plus I wanted to get the Pebble Watch since it was suppose to be Run Keeper supported but they too won't support WP. I revert to using my Android when running. Which in realty is not a bad thing as I don't want sweat touching my 920. At all.
I also don't like the fact that Edmondo does not run in the background like RK does on Android. Not sure if that's OS limitation. I've seen to many say how they lost their tracking when leaving out the program. That happened before when I was using RK on the 900.
I do wish there was a decent p90x app. One of the downsides of WP market. I hate that I still have to resort to my Android OS for so many apps still lacking.

It's not full fledged but Caledos Runner uses the API for runkeeper and post to runkeeper, it's good and it works well. The only thing I can't get to work is the mile feedback.

dude, there is Caledos Runner for WP8, it taps into your Run Keeper account, and pulls all your activities onto your phone.

i was in the same boat as you, used RunKeeper on my wp7.5 but that stuff kept on freezing and sometimes even lose my workout. But with Caledos Runner, you get to connect to your RunKeeper account, all your activities, and you get a very amazing app..

Caledos Runner is the name, try it and let me know

Thanks I may check it out but I'd still not to get sweat in this phone. Too nice to be running with.

Zombies! Run! Is by far the most fun exercise app ever. Hate support has stopped. Especially thrilling if you enable zombie chase!!! If maybe more started using it, they would reconsider leaving windows phone...

To each their own I guess... I found it lame and cheesy. I didn't feel inspired to run any faster when events were happening, as it didn't matter what you did. I could just leave my phone on the table and it would all still transpire the same way.

I like it, but I run in the dark, and my mind wanders normally, having the noises going on in the background, just makes me run faster.

Interval trainer is excellent for managing your circuit training! Separates the boys from the men

I think a good follow up article would be mini reviews of armbands and sports cases that are good. I haven't had great luck find a cheap but good one for my Lumia 900, everything is iPhone! :(

How did you leave off Runtastic?! Arguably better features than Endomondo with the same type of online community. Runtastic has definitely been updated for wp8 and runs in the background.

Seriously I gave up with endomondo this week, switched to runtastic and will never go back.
Not only is endomodo's website actually less functional, their app is just as bad, and they don't update it at all. If you're using the app, it doesn't work in the background so if you respond to an email and forget to switch back to the app, all your gps data will be fudged up if you're running, walking, biking.
I was actually using runtastic last nite, and my phone completely froze. I restarded it, went back intot he app, and it actually said ''you are resuming a workout, do you want to resume, or discard" so when i went back to the website later, all the info was there. I'm almost certain on endomondo that wouldn't have been possible.
I wish endomondo wouldn't get any more coverage, their app, and their website are actually really really terrible.

I have a Polar H7 Bluetooth chest strap HRM. It sucks that wp8 doesn't support Bluetooth 4.0, idk why Microsoft keeps limiting the potential for the platform

I really need something like mapmyrun that lets me know how far I've booked on a walk/run

Have a look at Run.GPS... Not a nice UI but extremely powerful! Really worth the money... But free trial is available...

Thanks for including DeekFit, an awesome app that isn't getting enough attention.

For anyone wishing for a Strata app, there's Chaser. I had to try a few times to get it to upload the first time, but it appears to be working fine now .

I also suggest you try out my app Tracks http://www.windowsphone.com/s?appid=22609f31-dc7a-e011-986b-78e7d1fa76f8
It logs your gym workouts, maps your runs, and allows an unrivaled amout of user customization. You can add exercises, set up workout routines, and all of you settings and data can be synced online for free without buying a paid version, or getting a membership.
I'm biased, but it's much more powerful (and better looking) than most of the apps listed in this article. But try for yourself, it's a free download.

I use Total C25K. Excellent running app.

Most of the tracking apps like to track outdoor running, with GPS, maps, etc. Is there an app that can track running on a treadmill? I tried Endomondo and it notes the time, but always shows distance as 0. That naturally throws off other metrics like speed.
I know I can enter a workout manually, but that is a bummer if it is the only way to enter indoor workouts :-(

With Endomondo, when using a treadmill, I turn on the GPS function - although there will be no results on the map, it does track my distance. One caveat: this was when I used my N8; I have yet to try this using my Lumia as for whatever reason, I tend to lose the GPS signal on my Lumia when using anything, including Nokia drive :( But then again, I am not using a 4G sim, either.

Is there an app that does core workouts?

Please next time include QR codes to the apps in your post. Otherwise thank you very much!

Any chance of doing a follow up article? Where would you guys rate Runtastic/Pro, Adidas miCoach, etc.?
Windows Central Newsletter
Thank you for signing up to Windows Central. You will receive a verification email shortly.
There was a problem. Please refresh the page and try again.