T-Mobile Nokia Lumia 521 to launch April 27th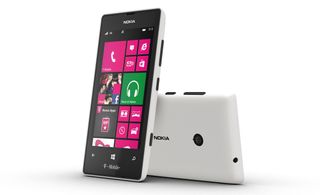 While early reports had the Nokia Lumia 521 launch over at T-Mobile on April 24th, that date has come and gone with no new Windows Phone in sight. The reason, T-Mobile will now launch the Lumia 521 on April 27th during HSN.com's (opens in new tab) Innovation Weekend. You'll need to check local listings for showtimes.
The Windows Phone 8 device will be bundled with a car charger and screen protector during the event for $149.99 with free shipping with a flex pay option available.
Following the HSN debut, the Lumia 521 will be available at Microsoft Retail Stores and Walmart beginning May 11th. The Lumia 521 will run $149 through the Microsoft Retail Stores (not sure about online availability) and available through Wal-Mart's exclusive T-Mobile no contract $30 per month unlimited web and text plans.
The Lumia 521, a custom variant of the Lumia 520, packs a mild 4" 800 x 480 display, 512RAM, 8GB storage,a microSD slot, 5MP camera with 720p video recording, 9.9mm thick and HSPA+ 21Mbps connectivity.
We are being told that the Lumia 521 will be available at T-Mobile retail stores soon. More than likely a few weeks after Wal-Mart and the Microsoft Store enjoy a little exclusiveness.
Here's T-Mobile's presser (opens in new tab) on the release.
George is the Reviews Editor at Windows Central, concentrating on Windows 10 PC and Mobile apps. He's been a supporter of the platform since the days of Windows CE and uses his current Windows 10 Mobile phone daily to keep up with life and enjoy a game during down time.
And where is Verizon in the "new WP device" news???

In due time my friend, in due time...

Thanks for news and if I look what T Mobile did with 810, Thanks but NO THANKS to TMO. We are not sure how long T Mobile will even sell it.

I know, but the 521 doesn't have LTE so no worries there...as far as updates, as long as it gets the major ones from Microsoft I'm content) . For me, this will serve as a gift, and for others it should make a great temporary device or even second work phone...

@ssapre My sentiments exactly!

agreed. I have some choice words for T-Mobile....

I'd assume this will sell for a long time on TMO.. Only 4g phone offered for under $200.. I hope this phone takes off and sells well, this is the market windows phone can dominate and take from android. And for those of us that really want the high end Nokia device, it will be announced in May, launched in June. Nokia was hoping to have 3 phones, but I don't think the higher ups at TMO like $350-$450 range phones imo, may leave an opening for 700 series devices if 521 does well because TMO loves $250 range devices

+1 owner of 810 who T-Mo and Nok bent over and fckd where the sun does not shine...I sold my precious Radar to stay in the game with fresh OS build and somewhat new device, and they instead abandoned it in 6 months. Should have stick with HTC and got 8X. Would pbly be better off with my Radar as well after not wasting xtra $300 on top of it. It ran 7.8 and actually had a fan base...my 810 does not even have fan base on eBay in knock off accessories :/...there's more stuff for sale compatible with N95 than with this 810 @_@. Phew, WTH (:

You think the LG Lucid 2 is getting a slew of accessories? What about the Motorola Atrix HD? What about the Blackberry Q10? I would say the vast majority of smartphones released nowadays don't have a huge repertoire of accessories at launch, or even throughout the life of the phone.

That's a pretty good price for $150.00.

Wow! The price is even better than I thought it would be!!! Perfect gift for a perfect someone! :)

No Kidding! $150???? This is my father in laws next phone for sure. It might even replace my wifes Lumia 920 since its too big for her. (And yes, "that's what she said")

Lol.. This will be a great device to recommend..

Hmm....this makes me laugh...

They already have a support page up:

http://support.t-mobile.com/community/phones_data_devices/windows/nokia_lumia_521

Glad they have a great option for such a wonderful price but what about us 810 owners? Accessories such as different color shells, also the wireless charging shell would be nice. I feel a bit shafted by both Nokia/T-Mobile here.... :/

Accessories? I am more concerned about future updates here

Yeah, looking at how they abandoned us 810 owners, unfortunately I'm not all that excited about this news nor would I be able to recommend it to anyone because they might be left to hang like we are. Boo Tmo.

Well I am concerned on updates as well. Hopefully its not a big issue since most are OTA and Nokia TENDS to follow through with support... At least that is what I am hoping...

Well its OTA but needs carrier approval

that right there is likely the crux of the problem

Accessories? You mean for the same 810 where it took 2 months for 3rd party accessories to show up after launch, where even now the choices are bare...and then they EOL the phone. You're asking for a lot here based on T-Mo's current stance.

the 521 is the exact same thing as the OEM 520, only difference being the added 1700MHz support. AKA: You can buy 520 accsessories for the 521. Same phone.

Sorry, from what Nokia told me yesterday, we did not pick up the different colored backs but Nokia will have them available to order online.

Seems every US carrier but At&t is content to have a low end Nokia to claim they "support" WP when they really dont.

They at least dont dump the WP in 5 months to show their 'support'.

Perfect lil phone for my daughter. She's going to be so happy. Now, fingers crossed for a Windows Phone 8 Phablet soon.

Anyone know the answer to this?: If I buy this phone, will T-Mobile let me just transition from my current phone to the 521, and still keep my exisitng $30 Walmart plan?

No I do not think so I just got my wife the Iphone 5 and they made me go to the unlimited plan. I am not happy about this either. Hopefully the Nokia Catwalk comes soon or I am going to ATT

Thanks, good to know. Does anyone have a ballpark on what Catwalk will cost and approx launch?

Cost I don't know and release date might be around first weeks of June..

The rumor mill thus far is aiming for a early June announcement so maybe end of June or early July availability on Tmobile? and the cost, well it's considered high-end like the 920, so Tmobile has been pricing their high-end phones at 99$ with 20$/month payments until you pay it all off.

Atleast read the article: "available through Wal-Mart's exclusive T-Mobile no contract $30 per month unlimited web and text plans."

could you just swap insert your sim. I thought that $30 walmart plan has a bring your own device option in it.

any sim phone could be considered "bring your own device" as far as T-Mobile networks are. doesnt matter about the plan. just insert the sim (or purchase a T-mobile sim kit online if its the wrong sim type), and youre good to go.

My sister just got the iPhone 5 and we didn't change our tmob plan at all. You pay $99 plus $20 a month and you pay the entirety of the tax upfront. You could pay it off upfront. If they give you any mess about changing your plan, just as a friend who is already on the plan to buy it for you.

Seriously tempting. The only downside is not having flash for the camera, but definitely not a deal breaker at this price.

Good to know that there is no carrier IQ.

Isn't that a bit expensive? The 810 was like $150 wasn't it? That had a camera flash, 1gig of ram, awesome camera and what not, while this is supposedly a lower end handset from Nokia isn't it but priced the same? I'd rather go unlocked 820 then just get a plan from T-Mobile.

I was thinking that was an unsubsidized price. Am I wrong?

Sorry but you may be confused. $150 is the TOTAL price (no contract!). I believe the total price for the 810 was at least $350 or $400 for off contract.

This is full price -_-.. 810 was $150 with contract..

This is $150 Off-contract, the lumia 810 price was on-contract pricing.

Will it be locked to T-Mobile? Would be great to just buy if other phones break

thats on contract price....the 521 costs 150$ unlocked....though in the US I guess the only bands it will work on are for t-mobile.

Unsubsided, the 810 was $450 at MS and $500 everywhere else. For the short period that T-Mobile was selling it under their new FU plan, er... I mean Uncaring, ah Uncarrier Plan. Whew.... Where was I? Uncarrier was $360.

Thanks for the clarification. That's pretty darn cheap then.

When this doesn't sell (which it won't...if no one bought the 810, they sure as hell won't be buying this), it will be abandoned by T-Mobile..just like the 810.

Good positive attitude sir.. High five!! 0/ \0

You'd be cheering as hard as the good Dr. if they EOL'ed your phone in less than 6 months after launch too...

Oh well.. I guess... Luckily I always buy unbranded/unlocked phones.. So most of the time I get my updates very quickly..

I have an 810, after having a HD7 and a HD2..T-Mobile will drop support quicker than a fat kid eating cake.

For $150 for a solid smartphone, if this doesn't sell I will loose a little more faith in my countrymen. It will prove that we americans are too hooked on the deceivingly low price of subsidized phones to notice the outragouesly priced contracts that come with them. I'm buying at least one of these for my father in law to replace his android that he hates. He was considering iPhone but when I told him he would have to pay $500-600 for one, and under $300 for a windows phone, he quickly changed his mind. Who knew there would be one announced for $150! For this price I might even get one for my wife to replace her Lumia 920 that is just too big for her.

With 512 RAM and still 8 gig of internal memory, and I am not sure about Clear Black or Gorilla Glass, the answer is no. $150 is really cheap though, so it does make a good entry level phone. I would bet that for most of us, this phone is a no. I have to say that if a phone is a carrier variant, and especially if that carrier is T-Mobile, the answer is no.......

$150 Off-Contract pricing is awesome!!

Anyone who is about to bitch about low end, please take a hike. This is an AMAZING price for a solid Windows Phone. $150??? I had expected this to be at least $250. If you respond with "But the Lumia 920 is only $50" I'm going to bash you over the head. This is off contract price. Imagine $150 for your phone on a $30 unlimited data/text plan. You cannot beat that price value. Of coarse T-Mobile coverage may suck in your area but thats a whole different consideration.

This phone will be extremely popular for buyers who don't need or can't afford a more expensive phone even with the monthly down payment plans T-Mobile offers. For a lot of people this is the way go.This phone paired with their inexpensive monthly service is a ridiculously smart deal.

Great price. May get one to try out and use as a weekend phone. Only thing missing for me is the flash, but I think I can make due for that price :D


Certainly at Walmart it will sell. $150 for a WP8 vs. similar prices (or higher) for Gingerbread Androids?
Then again, it might do better at T-Mobile stores than people think. It'll certainly stand out on the wall of grey slabs. And it'll probably be $10/month for the phone. Perfect for people who want to try WP without shelling out many hundreds

Wait...Mr. ponder...is this with a new contract or the full retail price? Did I miss this in the article?

Tmobile doesnt have contracts. got rid of them a month(?) ago. This is full, off contract, unlocked price.
Likelihood, if you do a payment plan (which isnt linked to your phone plan) you are looking at probably $10 a month.

Oh yeah....that's right! Completely forgot! Lol!

$150 for an off-contract smartphone is an amazing price, and further proves how OVERPRICED all those other smartphones are. Google set a high bar with their inexpensive Nexus 7 and Nexus 4 devices, now it's time for prices to come down from all manufacturers. Smartphones should not cost $400+. Get rid of subsidies, and price all smartphones under $300. And give us more internal storage! It's sad when an iPod Touch has 32 GB of storage for $300.

I am seriously going to switch my family (6 users) over to T-Mobile if I can get a $30 unlimited/user with a $150 phone. T-Mobile has good coverage where I live.

I am considering getting this phone and a freedompop hotspot. Yes that is two devices but for the price you can hardly complain.

I'm buying this for my son as soon as this comes out for T-Mobile!

Here it is -
http://www.hsn.com/products/nokia-lumia-no-contract-4-windows-8-smartphone/7162563

http://www.hsn.com/products/nokia-lumia-no-contract-4-windows-8-smartphone/7162563

I think it is already available to buy?

Doesn't T-mobile's HSPA+ network run at 42mb (theoretically)?

Hope this sells like the 710.

This was the phone I was looking to upgrade to (Dell Venue Pro) for cheap. I use my phone for all my music and the headphone jack has never worked that great but for the last couple months just doesn't work at all.

Guys, Can you tell me if this has tmobile 3G?

Yes, This has T-mobile 3G HSPA+
Windows Central Newsletter
Get the best of Windows Central in in your inbox, every day!
Thank you for signing up to Windows Central. You will receive a verification email shortly.
There was a problem. Please refresh the page and try again.