T-Mobile Nokia Lumia 710 makes an appearance on Ebay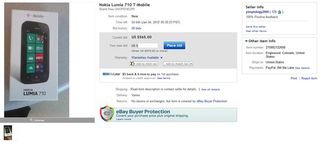 With about two weeks away from becoming reality, the T-Mobile Nokia Lumia 710 is making an appearance over at Ebay. The 3.7" screened Windows Phone is the all black model is listed as "brand new unopened".
We're expecting the Lumia 710 to run $49.99 after contractual discounts. At last check, after 28 bids, the current bid on the "out of contract" model is $565. You've got little over five days left on the bidding or you can wait just a tad longer and snatch one up directly from T-Mobile.
You can find the T-Mobile Lumia 710 Ebay listing here (opens in new tab).
source: tmonews (opens in new tab)
Windows Central Newsletter
Get the best of Windows Central in in your inbox, every day!
George is the Reviews Editor at Windows Central, concentrating on Windows 10 PC and Mobile apps. He's been a supporter of the platform since the days of Windows CE and uses his current Windows 10 Mobile phone daily to keep up with life and enjoy a game during down time.
Wow! What some people will do to get a phone.

sooooooo let me understand this. the phone comes out in about 2 weeks. It isnt a blow me out the water phone but it will sell double the full price on ebay? huh where can I get a wp7 before hand so I can make some stupid money?

Pathetic. Just wait for it to come out to retailers. I am sure it wont be sold out like the Iphone.

The HTC Titan sold out as did the lumia 800. Get your facts straight homes

Except this is a lesser phone than both of those...

It is so funny. The phone is out Jan 11th and eBay estimates the phone will get to you between the 10th and the 18th... SUCKERS
Howerver it does suck that T-Mobile changed the box... its different to the Lumia 800 and Lumia 710 boxes I've seen on YouTube.

Yep, and no doubt the ATT box will be branded with carrier branding as well. Perhaps, UK carriers don't want or require their brand all over the box (or device, for that matter).

The great thing about being able to buy a Nokia, unlocked at least, (this may also be the case for other oems as well) is that the integrity of the original boxing is kept intact; Nokia actually put some style/etching on the N8 box.

Oh well, welcome to the U.S. Nokia :)

i love hearing about all these super WP7 phones coming out for AT&T and then T mobile gets this and the radar...can we get a phone that isnt a downgrade from the HD7 in terms of screen size and memory???

I agree. I currently use an HD7 as my personal device, but I develop using the Titan... sucks that I cant use it on Tmo's bands. I also have a htc Mazza, Dell Venue Pro, and an htc Surround. It never bothered me until I seen devices that are better than the HD7 that will not work on Tmo (they work but will not get 3g/4g)

Only T-Mobile can answer that for you. T-Mobile, apparently, does not want any higher end WP devices; it's a wonder that they have WP devices at all.

At the end of the day, T-Mobile customers, who want a higher end WP devices, are simply going to have to switch to the carrier that supports the devices and the platform the most; and at the moment, that is ATT. I just don't see a compelling reason for anyone who has chosen WP as their platform, to stay with T-Mobile, unless there are serious signal coverage, EFT, or credit score issues.

I'm staying with T-Mobile because of the cost. Plain and simple. And it could be worse, it could be Verizon and Sprint who still haven't gotten new devices and in Verizon's case appears it will only get the 710 and not a choice between two devices like T-Mobile has.
I currently have a HD7, but will probably pick up a Lumia 710.

This has got to be one of the most ignorant comments I've read thus far. What are u butthurt that At&t didn't suck them up? Not all Tmo subscribers are poor or have bad credit, Tmo also has faster data speeds than At&t does. What an idiot

What we are forgetting is that the people reading and commenting here are not the target demographic for some of these phones. Society is in a transitional period right now. "Average" people are gradually seeing the viability of smartphones, as apposed to a device that just does voice and text. The carriers, especially the "secondary" carriers such as Sprint and T-Mobile, want to capitalize on that growing market. They won't easily do it my introducing enormous, complicated, super-phones. They will do it by selling easy to handle, stylish, and simple to use, quality devices. I personally think that the HTC Radar, Samsung Focus Flash, and the Nokia Lumias, both the 710 and 800, are very well-poised to be a great transition device for those people that are getting their first smartphone. They also are still very good devices for nearly anyone else who doesn't need an enormous screen on their device.
Nomia and Microsoft have a plan. We may not see every aspect of it, and it is possible that the plan is not perfect, but they are both big companies that have long-term goals that they want to achieve. I'll wait things out a bit longer before criticizing them too harshly.

Found two on ebay.co.uk for the English people out there.
http://www.ebay.co.uk/ctg/Nokia-Lumia-710-8GB-White-Unlocked-Smartphone-...

http://www.ebay.co.uk/ctg/Nokia-Lumia-710-8GB-Black-Unlocked-Smartphone-...
Windows Central Newsletter
Thank you for signing up to Windows Central. You will receive a verification email shortly.
There was a problem. Please refresh the page and try again.