T-Mobile Lumia 710 coming January 11 for $49.99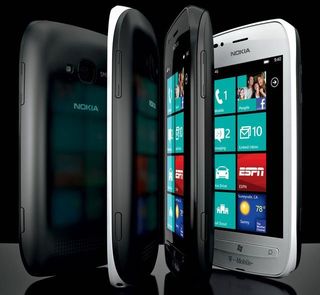 In anticipation of T-Mobile's event tonight in NYC, Nokia has posted a press pamphlet for the T-Mobile-branded Lumia 710, which will be available on January 11. The packet includes a full spec sheet as well as some press shots. Nokia has also revealed that the Lumia 710 will sell for a downright steal of $49.99. It will be available in black or white, with the option to swap out the backplate for something flashier. There is also a wealth pre-loaded apps:
Nokia Drive
The Weather Channel
ESPN
Netflix
App Highlights
T-Mobile TV
My Account
Slacker Radio
TeleNav GPS
Despite the early spoiler from Nokia, we are looking forward to tonight's event and will be there in full force. Check back here to get the latest tidbits from NYC and hit the jump to read the full presser from Nokia.
Source: Nokia
T-Mobile Brings Nokia Lumia 710 to the U.S.
Nokia and T-Mobile deliver a leading entry-level Windows Phone experience to the nearly 150 million Americans still to make the transition to smartphones.
BELLEVUE, Wash., and SUNNYVALE, Calif. Dec. 14, 2011 T-Mobile USA, Inc. and Nokia today announced the upcoming availability of the Nokia Lumia 710, the first Windows Phone from Nokia in the United States. Targeted at the nearly 150 million Americans who haven't purchased their first smartphones, the Nokia Lumia 710, capable of running on T-Mobiles 4G network, delivers high-performance hardware, Nokias best social and Internet experience, and access to popular smartphone applications and services from Windows Phone Marketplace.
Running on Americas Largest 4G Network, the Nokia Lumia 710 benefits from the unique people-first approach of Windows Phone, bringing together all interactions with family and friends in People Hub. The Nokia Lumia 710 also provides one-click access to popular services, such as Netflix, T-Mobile TV with mobile HD1 and a leading mobile Web experience with Internet Explorer Mobile, Bing Search with voice activation and Local Scout for locally relevant search results. The smartphone also brings access to signature Nokia experiences, such as Nokia Drive for voice-guided, turn-by-turn navigation and ESPN for exclusive sports content.
Were excited to team with Nokia in bringing its first Windows Phone to the U.S. with the elegantly designed Nokia Lumia 710, said Cole Brodman, chief marketing officer, T-Mobile USA. Windows Phone offers a compelling mobile OS choice for people who want a smartphone built around them, their family and friends. We expect it to play a more prominent role in our lineup and marketing efforts in 2012.
Today, people are increasingly upgrading to smartphones, and many are doing so for the first time. According to the NPD Group, U.S. smartphone sales reached 59 percent in the third quarter 2011, an increase of 13 percent since third quarter 2010. With an increasing demand for smartphones, the Nokia Lumia 710 offers a compelling experience aimed at addressing the needs of the nearly 150 million people in the U.S. who have yet to upgrade to their first smartphones.
Our research shows nearly everybody in the U.S. wants a smartphone, but many believe they cant afford it, Brodman said. Thats where T-Mobile shines. Our Unlimited Value and Monthly4G plans make it more affordable than ever to step up to mobile data on our 4G network.
The Nokia Lumia 710 is the perfect first-time smartphone: a well-designed product that delivers the most compelling Windows Phone experience in its price range and with access to great content and thousands of applications, said Chris Weber, president, Nokia Americas. This is the perfect first Nokia Lumia experience and the start of our re-entry into the U.S. smartphone market.
Available in a black or white finish, the Nokia Lumia 710 features a 3.7-inch ClearBlack WVGA scratch-resistant display for outstanding outdoor viewing and a Qualcomm 1.4 GHz Snapdragon processor providing speedy access to entertainment and information on-the-go. It also features a 5-megapixel camera with Nokias leading camera technology, enabling people to take pictures in almost any light condition and share on social networks in seconds. With the most integrated work-life solution of any mobile platform via the Windows Phone Office Hub and an interactive mobile gaming experience via Xbox LIVE, the Nokia Lumia 710 is the complete all-round first-time smartphone experience.
Availability
The Nokia Lumia 710 is expected to be available at T-Mobile retail stores, select dealers and retailers nationwide, and online athttp://www.t-mobile.comstarting Jan. 11. The Nokia Lumia 710 is expected to cost $49.99 after a $50 mail-in-rebate card, with a two-year service agreement and qualifying Classic voice and data plan.For more information, visit http://www.t-mobile.com/lumia.
For more information on T-Mobiles Unlimited Value and Monthly4G plans, see: http://family.t-mobile.com/phone-plans.
1 Mobile HD TV can deliver a bit rate of 800kbps and 16:9 resolution; the bit rate and resolution you experience will vary based on many factors, e.g., programming, network connection and device.
# # #
About T-Mobile USA:
Based in Bellevue, Wash., T-Mobile USA, Inc. is the U.S. wireless operation of Deutsche Telekom AG (OTCQX: DTEGY). By the end of the third quarter of 2011, approximately 129 million mobile customers were served by the mobile communication segments of the Deutsche Telekom group 33.7 million by T-Mobile USA all via a common technology platform based on GSM and UMTS and additionally HSPA+ 21/HSPA+ 42. T-Mobile USAs wireless products and services help empower people to connect to those who matter most. Multiple independent research studies continue to rank T-Mobile USA among the highest in numerous regions throughout the U.S. in wireless customer care and call quality. For more information, please visithttp://www.T-Mobile.com. T-Mobile is a federally registered trademark of Deutsche Telekom AG. For further information on Deutsche Telekom, please visitwww.telekom.de/investor-relations.
About Nokia
Nokia is a global leader in mobile communications whose products have become an integral part of the lives of people around the world. Every day, more than 1.3 billion people use their Nokia to capture and share experiences, access information, find their way or simply to speak to one another. Nokia's technological and design innovations have made its brand one of the most recognized in the world. For more information, visit http://www.nokia.com/about-nokia.
Forward-Looking Statements
This press release contains forward-looking statements that reflect certain current views of Deutsche Telekom management and certain current views of Nokia Inc. management with respect to future events. These forward-looking statements may include statements with regard to the expected development of revenue, earnings, profits from operations, depreciation and amortization, cash flows, markets, market demands, product offerings and personnel-related measures. You should consider them with caution. Such statements are subject to risks and uncertainties, most of which are difficult to predict and are generally beyond Deutsche Telekoms or Nokias control. Among the factors that might influence our ability to achieve our objectives are the progress of our workforce reduction initiative and other cost-saving measures, and the impact of other significant strategic, labour or business initiatives, including acquisitions, dispositions and business combinations, natural events, and network upgrade and expansion initiatives. In addition, stronger than expected competition, technological change, legal proceedings and regulatory developments, among other factors, may have a material adverse effect on costs and revenue development. Further, the economic downturn in markets, and changes in interest and currency exchange rates, may also have an impact on our business development and the availability of financing on favourable conditions. Changes to our expectations concerning future cash flows may lead to impairment write downs of assets carried at historical cost, which may materially affect results at the group and operating segment levels.If these or other risks and uncertainties materialize, or if the assumptions underlying any of these statements prove incorrect, actual performance may materially differ from the performance expressed or implied by forward-looking statements. Deutsche Telekom and Nokia offer no assurance that any estimates or expectations will be achieved. And, without prejudice to existing obligations under capital market law, we do not assume any obligation to update forward-looking statements to take new information or future events into account or otherwise.
In addition to figures prepared in accordance with IFRS, Deutsche Telekom also presents non-GAAP financial performance measures, including, among others, EBITDA, EBITDA margin, adjusted EBITDA, adjusted EBITDA margin, adjusted EBIT, adjusted net income, free cash flow, gross debt and net debt. These non-GAAP measures should be considered in addition to, but not as a substitute for, the information prepared in accordance with IFRS. Non-GAAP financial performance measures are not subject to IFRS or any other generally accepted accounting principles. Other companies may define these terms in different ways.
So, anything else to announce tonight or no?

so diggin the white front with black back

Is this still 8GB?
If so, How do you choose between this and that Radar? The phones are almost identical.


True. But anyone who's owned a Nokia will know it's a better phone. I guess it just depends on whether or not you want a ffc

I wouldn't just assume this is better. The radar is a super high quality phone. Nokia would be hard pressed to be "better".

This Nokia has a user removable battery. Additionally, Nokia GSM phones usually have GREAT RF perfromance. I may have to wait for reviews. I was thinking that I may pick up a Radar at the T-Mobile sale this weekend but I am not sure now.

I don't know how its RF performance compares to a Nokia but my Radar 4G is way better than my BlackBerry Pearl Flip was. It is certainly no slouch.

I'd hold off and test them both. That said, I have 3 friends with Radars and they love them - so even if you became impatient and jumped for the Radar you would still be fine.

Also though you can play the waiting for the next thing game forever. At somepoint you just need to jump.

Yes, 8GB.

The Lumia 710 has a ClearBlack screen, free Nokia Drive (turn-by-turn nav) software, and changeable back covers. It has a faster processor (1.4GHz vs 1GHz). It does not have a front facing camera.

The Radar 4G has a front facing camera, panorama and burst camera modes, and a bigger battery (1520mAh vs 1300mAh).

Just to add to the differences, the Lumia 710 has PHYSICAL BUTTONS instead of touch capacitive buttons. Do you know what this means???? No more accidentally hitting the start of back button while playing games. The radar has touch capacitive buttons.

Can you guys confirm whether this device really is pentaband? The press sheet seems to indicate so, with AWS and att 850 and 1900 WCDMA bands listed. May be an indicator that the 900 will be the same, in which case it can be bought and unlocked for use on tmobile.
Actually, just checked their site and it seems its quad band WCDMA. Hope the 900 turns out to be the same.

Why would you need to unlock it for use on T-Mobile? It's a T-Mobile phone.

I just don't understand the appeal of these. Nokia phones are nice, but there's no excuse for a newer WP7 device without a Front-facing camera.
Regardless of whether you use it or not, it's kind of a standard at this point. Otherwise, what are you really gaining over the previous generation Windows Phones?

If anything I'd consider these 1.5 Gen phones. They aren't really Gen 2. Just 1st generation that had a late start

I partially agree - most mainstream 1st gen phones have dropped in price, so a new entry level phone doesn't seem to have much appeal. But Nokia does make nice hardware and it does support 4G data. In addition, the camera could be quite good. That's the main reason I look to Nokia... my DVP was a nice flagship in some ways, but teething issues and a subpar camera leave me wanting! So now I must decide how much I want to spend... do I need a "flagship" second gen or will something like this suffice?

Oh good! It's 4G. I wasn't sure it was going to be. I wonder if that means the Lumia 800 will be too.

Its actually 100 dollars and you get a mail in rebate back. The gain of 4G is what when it still isnt covered in my route I travel. My HD7 is still better than this one and it was free when I got it. Only setback is a slower processor. Everything of mine is equal with more hard drive space. I would get a Radar 4G over this.

I would need a newer 16GB+ phone to entice me to upgrade from the HD7.


They're going for first-time smartphone buyers.

Well then the Radar selling good now, I doubt it will complete unless it is free.

This is rad. Will be popular.

I hope that wealth of crud can be uninstalled.

It can be. MS doesnt do uninstallable apps other than the required ones like IE.

Those are, for the most part, very good applications.

But yes they can be removed.

This is a "free" level phone. I bet within 2 months it will be free with contract.

ok now it is time to share. Show us the lumia 900 for att and verizon. stil waiting...

I can't wait until they start advertising this thing. I read the press release and could easily see them as a bunch of commercials showing off windows phone's features. Much like apple does with its commercials. Finally there will be some mindshare here in the US which will lead to increased sales.

Anybody else notice the lack of Nokia Music? Is it because they don't have rights in the states yet?

Or because a lack of necessity since Zune, Slacker, and Last.fm are available?

Question, why is this phone so ugly? Or rather, how do so many people not see it? The 800 is sexy as hell, but this looks like a fisher price toy, i understand people like physical buttons over capacitative but these are not just physical, they are ugly. (For transperencies sake I went with the Titan, the 800 is better looking but between the lack of FFC and the small screen, (I was on a focus) it stopped feeling like much of an upgrade)

i think it has to do with personal taste if you like the titan that is your liberty and right to like whatever you want but why question others peoples choices man i personally dont use a ffc because i think its useless and id never use it unless i was using skype which none of my friends use cuz they do that on their laptops and physical buttons are better for me because i dont like the capacative buttons being pressed by accident
Windows Central Newsletter
Get the best of Windows Central in in your inbox, every day!
Thank you for signing up to Windows Central. You will receive a verification email shortly.
There was a problem. Please refresh the page and try again.