T-Mobile pushing out update for the HD7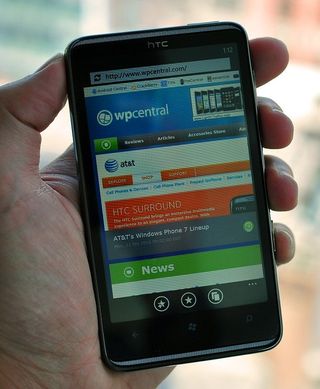 It's been a busy day for T-Mobile and Windows Phone updates. First we had the Dell Venue Pro update going through and now we are getting word that the HD7 is getting an update of their own.
According to AtomicAgeZombie, who tipped us on this, the updates deal with firmware and radio software. The old firmware (2250.09.12001.531) is updated to version 2250.21.30102.531. The old radio version (5.51.09.11a_22.31.50.09U) is updated to the new radio version 5.65.09.25a_22.45.50.21U.
T-Mobile HD7 owners should get the customary "There's an Update available" message on thei Windows Phone. If you miss it, simply connect to your Zune Desktop and check for updates under the Settings.
If you've already updated, feel free to chime in on the process and what effect the changes have in our comments section.
Thanks goes out to AtomicAgeZombie for the tip and update info!
George is the Reviews Editor at Windows Central, concentrating on Windows 10 PC and Mobile apps. He's been a supporter of the platform since the days of Windows CE and uses his current Windows 10 Mobile phone daily to keep up with life and enjoy a game during down time.
Well, I have mine on Mango. I assume I can't do the update unless I go back to nodo.

My update finally gave me the "banding" issue that I had been hearing about. I had a nice gradient as my lock screen, but now it just looks like a banded mess :(

Got mine this morning i was wondering when it would get a scream out

No update so far ill plug into PC and see what happens.

Ok i have updated and camera is better but that is all i noticed, oh well waiting to get a new win mo phone anyways with Mango.

Got the update. No significant changes. The HTC Hidden WiFi app now works for me.

That was quick. Mine's updating now!

I restored back to NoDo from the Mango beta...updated the HTC firmware. I noticed that the apps that installed while I was using Mango remained on my phone are work fine. So far so goood.

Can you install this while running the beta version of Mango?

I now get signal in my house which before I rarely ever did.

I've sent two texts without it telling me it couldn't be sent. This is either an improvement or quite a coincidence.

this is what I got from this update. I do get signal where I used get hardly any signal.. I get 2G instead of EDGE. The camera was improved, there is a "Scenes" option and the shutter now takes better picture in the dark. The Video recording is better and smoother. The scrolling of tiles up and down and left to right are alot smoother. The opening of apps are faster. The apps are very responsive. When I clicked on explorer, the screen opened up to: http://home.web2go.com/.. The FM radio is so much better now, it now picks up stations that were hard to pick up in my area and the stations sound a lot clearer. So far so good. I even used the internet with WiFi shut off and I get very good internet connection where I used to get no 3G. It's not bad in 2G. Pretty Impressive. I'm still looking for more..

Scenes has been there since launch. Apart from that everything else is accurate.

i'm enjoying the fix for the pink tint to indoor pics.. I have the banding issue with this update users were speaking of months ago. Several other small fixes have been added. Smooth scrolling and snappy apps.. Seems as if HTC is getting better use from the processor and memory on the phone.... I'm happy with the update but hate the banding on wallpapers..

I noticed the 2G instead of Edge, but I also noticed the 2G is faster than Edge for some strange reason. I am assuming before when I had 3G maybe it was really Edge? I also noticed the camera is a lot better and takes better, much better photos in dark places.

I have a 32GB card installed. NOw with this update, every once in a while it will tell me I have a non-compliant card and want to restart. Luckily, that takes less than 15 seconds.

Now phone keeps restarting...downloading from marketplace causes the unit to freeze. It may be related to the 32gb card.

So, it has come down to it...my phone is no longer useful. I don't have enough time to reset factory setting, as it keeps rebooting. I'll have to restore it the hard way.

I noticed the 2G icon versus Edge this morning and I do have signal in my office at work where I did not prior to the update yesterday.Also, I uninstalled Hidden Wifi I guess since it did not work, how can I get it back?

I thought I'd still get the firmware update even though I have Mango on my HD7, but I guess not. Oh well, Mango vs. firmware - Mango FTW.

i just loaded it - in addition to what everyone has mentioned, It seems to have corrected the horribly low volume on speakerphone now.

So far all that i have noticed is new in this update is tethering....which im using....right now.....on my laptop in the car. ITS NICE!
Windows Central Newsletter
Thank you for signing up to Windows Central. You will receive a verification email shortly.
There was a problem. Please refresh the page and try again.