T-Mobile Uncarrier 7 joins the mile-high club and takes texting to the skies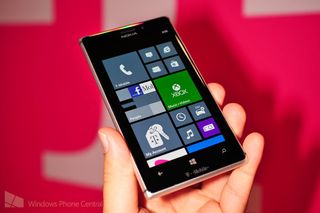 At T-Mobile's Un-carrier event today in San Francisco the company announced a new partnership with Gogo. As you know, Gogo is one of the world's leading in-flight connectivity services. The new partnership with T-Mobile will allow customers to text for free.
The next time a T-Mobile takes a flight with Gogo in-flight Wi-Fi they'll be able to send and receive unlimited text messages, picture messages and check voicemail.
This new move is thanks to an exclusive partnership between the two companies.
Are you ready to join the mile-high sexting club?
Windows Central Newsletter
Get the best of Windows Central in in your inbox, every day!
Texting club sir, you have a dirty mind

Yeah was jst thinking the same... Dirty indeed :D

He said that to fit in with the Mile High Club reference.

They didn't get it. Catholic girls

How better to pass the time on a plane...

Gogo means grandmother in my mother tongue.

Hit means "gogo bar" in America

You have tinder for that....

So, I'm guessing you'll need a T-Mobile phone with WiFi calling to do this? I'm just a bit confused on how this works if I'm running a 1020 on T-Mobile.
EDIT: Looks like the answer is "it won't". Awesome technology.

The title gave it away... Lol...

I don't fly often but this is nice.

This is fantastic! I hope more carriers will catch on...we want texting not calling in the skies

Well you can use tmobile wifi capable phone in any country and text via wifi so I assume you have to purchase inflight wifi service from gogo

Wish this was free inflight wifi but I am sure it will arrive one day

The sh*ttiest windows phone. Had to switch my lumia 925 6 times due to hardware problems. All of them either lost their headphone jack and couldn't play music on headphones or the speaker microphone went out. No talking to cortana or talking on speaker anymore. Switched to a nexus 5 for now. Checking to see whats new for windows in 2015 and if they can even catch up a little bit on their apps

They need to get the updates out for the phones
Windows Central Newsletter
Thank you for signing up to Windows Central. You will receive a verification email shortly.
There was a problem. Please refresh the page and try again.