T-Mobile updates Lumia 635 with better inflight texting support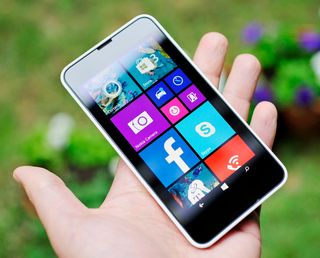 T-Mobile announced a small update to the affordable Nokia Lumia 635, bringing better inflight texting support. The update, which has a very short change log, will begin rolling out today, November 3 and brings the software version to 01061.00074.14391.37104.
Have you received the update yet? Let us know if you've used T-Mobile's free inflight texting before?
Thanks to Thomas for the tip.
Source: T-Mobile (opens in new tab)
Get the Windows Central Newsletter
All the latest news, reviews, and guides for Windows and Xbox diehards.
Chuong's passion for gadgets began with the humble PDA. Since then, he has covered a range of consumer and enterprise devices, raning from smartphones to tablets, laptops to desktops and everything in between for publications like Pocketnow, Digital Trends, Wareable, Paste Magazine, and TechRadar in the past before joining the awesome team at Windows Central. Based in the San Francisco Bay Area, when not working, he likes exploring the diverse and eclectic food scene, taking short jaunts to wine country, soaking in the sun along California's coast, consuming news, and finding new hiking trails.
I'll still get this if I'm on Dev Preview WP 8.1 right?

I spoke too soon lol... Update d/l'ing as I type this.

I'm on the 925 8.1 preview running Cyan, the in-flight texting didn't work for me

Lol...they don't have proper coverage on ground and getting 'better in flight experience ' !!! Anyways thats good for 635.

Lol agreed. I love how they boast their LTE. /rant No, they have a solid 2G network (branched off of highways), and HSPA+ scattered randomly and ungodly high frequencies that can't make it through a second paper wall. I finally shook Verizon and the whole CDMA side of the industry being I was tired of my two choices being VZW; a greedy company with blind, loyal, followers like T-Mobile's city users, barely any more coverage than AT&T in almost all areas, with terrible, inconsitant service where I live, and garbage CDMA phone quality, and Sprint; a network that finally has a good leader, plan, and money, but needs at least 2-3 years to build a useable network and an almost completley useless network in the meantime that has yet to make use of their low frequenices from Nextel, which will finally make them a third competior in a few years and a year or two for most. I went to T-Mo and luckily I did have 4G (HSPA+). My problem is although there were some areas I was getting good H+ speeds (10 down / 3-5up), I was otherwise getting typical Sprint 3G or "Verizon on a bad day" speeds of give or take 1 megabit down/up or simply nothing, then they light up LTE in two random portions of two random towns I, of course, don't live in or frequent too much, and that's it. Even Sprint did better still have many upgrade plans for my area. I'm north of NYC, not give or take Wyoming ffs. I then quickly realized they don't care about people outside of cities, they want to cater to not just any city-folk, but preppy, yuppie, hippie, and college towns and barely even surbanites (more my type). Then their CEO trash-talks AT&T constantly for no valid reason, makes stupid jokes about Sprint, and almost sucks up to Verizon claiming the only thing wrong with them is just being greedy duopolists. Then they try to draw attention away from their complete lack of low frequencies and horribly high ones by exaggerating the fact that carriers technically can't cover every area or has dead spots by over-promoting WiFi calling. I haven't needed it once on AT&T, and despite my terrible experience with VZW's data network, I didn't need it with them either. I think it's great it will eventually be available, but there's no reason it should be necessary. AT&T and VZW can wait 3 years to launch it and almost no one will notice they have it because they'll virtually never use it. /endrant I got this phone too from T-Mo (kinda wish I got the unlocked version, but was too worried about fleeing from Verizon I didn't care) and use it on AT&T. Good to see an update, but they better get me get the 8.1 update 1 soon; so worried about their own nonsense. I hate the fact I am reliant on T-Mobile updates just because T-Mo sold me the phone. I hope Microsoft scraps that nonsense in WP 10.

What about the 630 for Cricket. I feel left out!

This is a T-Mobile exclusive offer for in flight texting

635 att? Well, that's not necessary, but...

630 International version?

This is only for T-mobile's texting service. So basically it's probably not going to roll out to anyone else.

Does this also have better support for Wi-Fi calling to standard cellular handoff when leaving the house?

Meanwhile, the Lumia 521, T-Mobile's best-selling Windows Phone, is still waiting for the 8.1 update.

Force update it with dev preview. Today I did it to my 521.

I actually just got the update.

Oh how I wish t mobile would release the long awaited cyan updated for their 521 variants...

It's coming within the next week or so.

I've heard it's coming a million Times they should just release it now Trust me when I say no more t mobile phones for me....

I have used the in-flight texting on my 635. It didn't hold a steady connection and was unreliable.

Receiving the update now. Never used the in-flight texting. Guess I will have to wait until I actually fly to test this option...

After the update completed noticed I got a message stating that (live lock screen BETA can't be opened. An app update may be available in the store.) Had to reinstall Live Lock Screen BETA to get it working again. I also had to do the same thing to the Reading List App. Have not ran across any other issues.

Got it on my Developers Preview Lumia 635. Not that I will ever use it. I wish they would fix the problem that I have with texting when Wi-FI calling is active - sometimes I can text, sometimes I can't.

When is the 635 getting update 1?

That's up to t mobile. Just do developer preview. It's free and easy and you bypass t mobile

LUMIA DENIM?
DID EVERYONE JUST FORGET OR WHAT?
Man, they should just stop announcing shit they don't plan on really handling. It's waaay past the 'beginning of Q4'

Actually, what they said was "rollout will start during Q4".

What does that even mean?

Guys What is (In Flight ✈ Texting) ?

Overview of In Flight Texting http://support.t-mobile.com/docs/DOC-14943