T-Mobile will pay $90 million to settle "cramming" charges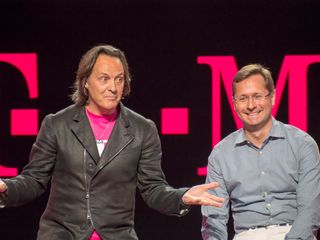 U.S. carrier T-Mobile has settled charges levied by the FTC and FCC that they charged customers for unwanted services, a settlement that comes to the tune of at least $90 million. The practice, known as "cramming", stemmed from third-party services from "premium SMS" providers for wallpapers, ringtones, horoscopes, celebrity gossip, and more.
Said FCC Chairman Tom Wheeler:
The $90 million penalty will be paid as restitution by T-Mobile. The charge for such services ranged up to $14/month, and was billed as non-descriptive strings of numbers and letters, obscuring what it was that the user was actually paying for. As you can imagine, the unknowing customer could see their bill seriously jacked up as a result.
T-Mobile stopped the practice back in 2013 and has agreed to honor all claims for refunds from customers. Of that $90 million, $18 million will go to the 50 US states (plus DC) participating in the settlement, and $4.5 million to the US Treasury. The rest is dedicated to resolving customer claims, though T-Mobile will pay more than that if necessary to refund all customers.
Windows Central Newsletter
Get the best of Windows Central in your inbox, every day!
Derek Kessler is Special Projects Manager for Mobile Nations. He's been writing about tech since 2009, has far more phones than is considered humane, still carries a torch for Palm, and got a Tesla because it was the biggest gadget he could find. You can follow him on Twitter at @derekakessler.
How much are attorneys getting?

US Treasury gets some? Lol

Yeah seriously wtf? Why would they get some?

I used to work for tmobile and we would see this all the time. Sales reps didnt know what it was, and customer care didnt know most of the time either. if you did manage to resolve the issue, it would often be on the next month's bill again. it was a huge pain.

I knew a guy who used to work for Verizon management recently. He admitted that they would purposely add anywhere from cents to a dollar of fees by "mistake" to millions of customers. Most customers wouldn't notice so in turn, extra millions of dollars for Verizon. These companies are all scum.

I cant speak for Verizon, but with tmobile, most of the time it wasnt the reps that added the charges. 99% of the time, it was the tmobile tv subscription. If you even opened the tmobile tv app, it automatically enrolled you into the $14.99/month subscripton.

I recall opening a TV app once when I was on Tmobile. Got a 14.99 charge. Took me many calls to get it off the bill. I think they have an option to block all these type charges, but its opt in.

What's worse, it was a paid service to block these paid services.

I initially read this as "T-Mobile will pay you $90million to solve their 'cramming' problem."

I thought I read a few months back that AT&T is under investigation for basically the same thing. All carriers have done it at some point. Bottom line is you need to check your bill every month.

If I recall correctly, AT&T paid over 100m. though, AT&T has att.com/db for customers to manage that stuff and request refunds. So, yes, check your bills people. It is easy to fix. (at least in my experience).

Now that's an un-carrier move.
Usually they charge b/s @ will using their little monopolies w/o worries as they seem to have good lobbyists in D.C. Kind of hard to see the diff between lobbying and extortion though. Maybe Pete Rose should have said he was lobbying vs betting.

This is bs - only the customers that had this happen should get the money not states and the US Treasury.... More political BS

I have T-Mobile's Simple Choice plan currently. When I was on the $60 (2GB originally) plan, I paid up to $8.72 in taxes each month. I'm now at the $50 (1GB level) and paying $8.30 in taxes/mo. Perhaps that's normal, but coming from (an admittedly terrible) MetroPCS where taxes are included, it was a surprise to me. Even with the high sales tax of 9% in LA, that would still only be $4.50/mo., so other parties like the FCC really run up the bill. What has your experience been?

My experience is currently Cricket, $55 (10GB) and all taxes and fees included.

Damm that's a lot of data. Where you found that deal?

The plan is available to anyone on their website or in store. It is $60 for 10GB, with a $5 auto pay discount to make it $55.

Simple Choice family plan. 5 lines; unlimited talk, text and data; 1st 2.5GB per line LTE. Total bill is $130.80 or $26.16 per line. $4.16 per line of that is tax and fees above the advertised plan cost of $110.

They act like: Oh 90 million thats not much! I'm like: Damn if i had 90 million i would buy a big house a boat..........

Why I prefer my prepaid plan. No weird charges or taxes on my bill. A flat $50 a month.

I wonder if we can get any restitution for failing to support a phone I bought after four months (Lumia 810).