Send messages in Lolcat and other fun languages with T3XT K1NG for Windows Phone 8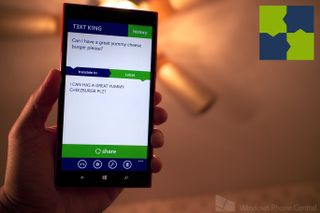 Need help writing messages in Lolcat? T3XT K1NG may be worth checking out. This app for Windows Phone 8 helps you translate and share texts to and from funny languages like Lolcat, Leet, Pig Latin, Tutnese and a bunch of others including local ludlings and flip and reverse of texts.
WE HAS VIDEO AFTR TEH BREAK.
To get started, just type text at the top section and click the right arrow. The translation appears at the bottom. The default language is Lolcat, but there are other free options. If you need more, there are translator packages for you to buy. For example, the Advanced Package is available as an in-app purchase for $1.29. It includes:
Faux Cyrillic
Leet Medium
Leet Extreme
Reverse per Word
Flip
Flip and Reverse
To give you an idea on some of the translations, let's convert, "WPCentral is the best Windows Phone site ever" to three languages.
Lolcat: WPCENTRAL IS TEH BEST WINDOWS FONE SITE EVR.
Izzle: WPCentrizzle is thizzle bizzle Windizzle Phonizzle sitizzle evizzle.
Leet Light: WPC3ntr4l 1s t3h b3st W1nd0ws Ph0n3 s1t3 3v3r.
Some of the translations can be reversible. If you have received something in Leet, you can translate it back to plain English. Unfortunately, Lolcat is not supported.
If you like, you can share these translations via SMS, mail, Twitter, or Facebook. The translations are also automatically copied to the clipboard for later use. Keep in mind that special characters may not display properly on all devices you share the text to.
There's a history button at the top corner in case you need to remember past translations. There's also random button at the bottom if you're running out of ideas.
T3XT K1NG is a free download at the Windows Phone Store with in-app purchases for extra language packs. Download it now and let us know what you think in the comments.
Get the Windows Central Newsletter
All the latest news, reviews, and guides for Windows and Xbox diehards.