Take home the Green Jacket with these Windows Phone golf games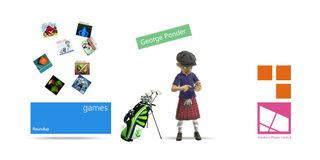 Windows Phone Central Game Roundup: Golf Games
There's a small golf tournament going on over in Augusta, Georgia this week where one golfer will take home a coveted Green Jacket (opens in new tab) (and a healthy pay check). In honor of this event, we felt that a roundup of golf games would be fitting. Plus the weather's getting warmer and if your a golfer stuck in the office, these games might help take the edge off the need to hit the links.
Sure you have Shotly Golf to help you keep score and find courses. Then there's Golf Live (opens in new tab) to help you keep up with all the golf news out there. This roundup deals with golf games for your Windows Phone. Everything from a wonderfully animated Xbox title to a challenging round of golf featuring a stick man. We even throw in a putt-putt golf game for those who prefer to putt around over dealing with fairways and roughs.
Golf Game (free): Golf Game is a relatively new game for our Windows Phone 7.x and 8 devices. The official title is Golf Game: The Game of Golf and it approaches things from a bit of a unique angle.
You set up your shot from overhead views of the hole by choosing your aim and club. When you have everything setup, you then go to a side view of your golfer (a stick figure) to initiate your swing. The golfer is surrounded by a swing path that you trace your finger along to initiate the swing. The swing screen launches in practice mode and after you've taken a few practice swings, tap the "step up" button to swing for real.
Putting is equally unique in that you view things from behind the putter and putt by tilting your Windows Phone.
Golf Game has three levels of difficulty, three different golfer types and six courses. It does support multiplayer, pass-and-play, games. While gaming controls take a little while to get used to and the transition is a little on the slow side, Golf Game isn't a bad golfing game.
Golf Game: The Game of Golf is a free, ad-supported (you can buy-out of the ads) game that you can find here in the Windows Phone Store.
Let's Golf 2 (trial/$4.99): Let's Golf 2 is the Xbox Live contribution to the Windows Phone duffers. It's an outstanding golf game for the small screen with nice graphics, smooth animations and challenging courses.
Let's Golf 2 has 108 holes of golf scattered across six global locations. You have your choice of golfers that have varying abilities and as you complete courses, more gear and clothing become available that will improve your game.
Along with the career mode, Let's Golf 2 also has an instant play mode that pulls holes from various course to let you jump right to the tee box. You also have a challenge mode (longest putt, closest to the hole, etc.) and a free hole mode for each venue.
Add Xbox Live achievements and leaderboards and Let's Golf 2 becomes a nicely rounded game of golf for your Windows Phone. There is a trial version available and the full version of Let's Golf 2 is currently running $4.99. You can find it all here (opens in new tab) in the Windows Phone Store.
Pocket Golf Lite (free): Pocket Golf Lite is a free golf game that has simple controls, nice graphics and uniquely challenging courses. The game is played from a side view of things with controls running across the bottom of the screen.
Pocket Golf Lite has 108 holes of golf spread across twelve courses. The holes have you shooting from ledges, over walls and bouncing off the sides of the screen.
You also have three game modes; free play, campaign, and pro tour with mini-games coming soon. As you progress through the courses, bonus items become available to help your golfer along the way.
While the game play and courses aren't very realistic, Pocket Golf isn't a bad little game to pass the time with. It is a free game that is ad-supported. You can find Pocket Golf Lite here in the (opens in new tab) Windows Phone Store.
Bonsai Golf (trial/$.99): Bonsai Golf may have some of the best looking putt-putt golf holes around. I still think some of the courses would make for great bonus feature as lockscreen wallpapers.
The 18 holes of play in Bonsai Golf are centered around, you guessed it, bonsai trees. Game play is challenging but the controls took a little time to get used to. Holes can be rotated by touch so you can judge all the angles.
The putting control sits across the bottom of the screen and you use it to aim and adjust your power. The further the directional arrow, the more power in your stroke. Once you have it all lined up, just tap the button to swing the club.
There is a free trial version available for Bonsai Golf with the full version running $.99. You can find Bonsai Golf here in the (opens in new tab) Windows Phone Store.
As someone who use to play a lot of golf, I've always found golf games to be a great way to pass the time with. These are just a few of the Windows Phone golf games that stood out over in the Windows Phone Store.
If you have a favorite golf game go ahead and toss it out in the comments below.
George is the Reviews Editor at Windows Central, concentrating on Windows 10 PC and Mobile apps. He's been a supporter of the platform since the days of Windows CE and uses his current Windows 10 Mobile phone daily to keep up with life and enjoy a game during down time.
No proper golf games yet then?

Desperately waiting for EA and Tiger Woods to bless my WinPhan soul and Lumia 920!!! Desperately...

EA is seriously overrated. One of the best golf games I've ever played was from a Japanese developers and featured cartoony graphics. In fact, I'm pretty sure Let's Golf is a knockoff. I know featuring real players and courses is a draw for some people but the quality of EA's games is decidedly average. And charging full price for yearly incremental updates is offensive.

While EA might be overrated with some of their games, Tiger Woods shouldn't be considered one of them! Far superior graphics and control than any other golf game out. In addition the courses are second to none. If you've been playing golf games for the 2 decades that I have been, anything less than Tiger Woods is a joke.

Youre thinking of Hot Shots Golf I believe. Great game series, but it does differ and play a bit differently than Tiger Woods.

It should also be noted that there an official PGA app (not sure if its available for those without a Nokia though) which I know I will be getting a lot of use out of this weekend.

#screenShotsWp8 use this hash tag on twitter along with your screen shot. Microsoft won't show off the features of this great device then I think we should.

I rather play Hot Shots golf on my vita

Don't forget Lets Golf 2 (Gameloft) has glitched achievements that they never fixed despite the usual promises!!! Sick of their LIES and glitched games

Hey, George, is your avatar wearing anything under that kilt?
Windows Central Newsletter
Thank you for signing up to Windows Central. You will receive a verification email shortly.
There was a problem. Please refresh the page and try again.