Taking control of your camera with ProShot for Windows Phone 8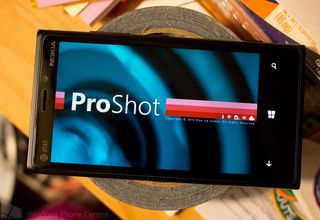 The other day we took a look at the Windows Phone 8 camera app CameraPro that gives Windows Phone users more control over their camera. We now turn our attention to another such app, ProShot.
Marketed as the first Windows Phone 8 lens specifically designed for the photography professional, ProShot adds a nice set of on-screen controls for your camera. As with CameraPro, there is some room for improvement with ProShot but it's a nice alternative to the native Windows Phone camera.
ProShot is laid out fairly straight forward, much like the layout of a traditional point/shoot camera. Settings and controls are scattered about the screen making them more accessible than when they are hidden under a three-dot menu.
At the top of the screen you will see your current ISO, White Balance and Flash settings. In the top center of the screen is your camera mode control which offers options for Auto, Program, Shutter priority and one Custom mode.
In a nutshell these modes break down as follows.
Auto: In Auto Mode the camera's white balance, ISO, and shutter speed are determined automatically by the camera for optimum exposure.
Program: Program Mode allows you to adjust exposure compensation, ISO, white balance and flash.
Shutter Priority: Shutter Priority is a little different than the traditional shutter priority mode you would find on a DSLR. The traditional shutter priority setting allows you to set the shutter speed and the camera chooses the correct aperture to achieve proper exposure. Since our Windows Phones have a set aperture, this type of shutter priority is not possible.
With ProShot, shutter priority is simply having the ability to adjust the shutter speed, exposure compensation, ISO, white balance and flash.
Custom Mode: If you have a particular group of settings that you use frequently, choose this mode, adjust your settings and they will be saved automatically for quick recall. So if you have the need to shoot at a high ISO with a flash and a -1 stop exposure compensation you can quickly jump to that settings group with the Custom Mode.
Along with the camera modes, at the bottom of the screen is your exposure compensation setting and if you are using a mode that allows you to set the shutter speed, that setting will be found to the left of the exposure compensation. To the right is the additional camera settings. They include:
Aspect Ratio: ProShot only supports one resolution and aspect ratio. It is 3264x2448 (7.99MP) at 4:3 aspect ratio. It would have been nice to have seen the full range of resolutions supported.
Focus: With ProShot you have the option to use auto focus or manual focus. Manual focus is achieved by a slider bar that is adjusted based on the distance to your subject. The Focus setting also allows you to turn off the AF Assist Lamp.
ISO: As with most ISO settings, ProShot lets you choose the ISO setting manually or let the camera choose the setting automatically. The ISO range is 100-3200 with the higher ISO levels being dependent on your camera. Most Windows Phone 8 cameras won't support ISO levels higher than 800.
White Balance: ProShot gives you the Auto White Balance setting and a nice range of manually selected white balance settings. The include Cloudy, Daylight, Flash, Florescent, Tungsten, Candlelight and a manual setting where you set the white balance yourself. When you manually set the white balance you have a slider bar to set the color temperature desired.
Flash: ProShot has the typical three flash settings to choose from; On, Off, and Auto.
Display: You have four display options. No display, a grid pattern, a level and a histogram. The histogram display is in beta and is used to evaluate your exposure. The histogram is a graph that charts the brightness areas of your photo from, moving left to right, the darkest to the lightest area.
ProShot has a nice level of settings and controls but you lack any scene modes, burst modes, time lapse, self-timers or bracketing capabilities. While ProShot supports screen tap shutter, it lacks any digital zoom.
In using ProShot, the user interface is very user friendly except for one issue. If you aren't careful, in adjusting the exposure compensation you can tap the slider bar and take a photo.
Overall, ProShot is a little scaled back and more user friendly than CameraPro but CameraPro has more features. I like the user interface of ProShot a little better but would have rather seen an the auto mode, a manual mode (where you can set anything) and a selection of scenes. The Shutter Priority Mode really isn't a shutter priority mode and the app can survive without it.
As far as image quality is concerned, look for a head to head comparison between ProShot, CameraPro and the native camera app tomorrow.
All in all, ProShot isn't a bad alternative to the native Windows Phone camera app. On the plus side, there is a trial version available but it really doesn't give you a good measure of the app. The trial will let you navigate around the app but it won't let you save (or preview) any photos. It's better than nothing but a little on the useless side.
The full version of ProShot is currently running $1.99 and you can find it here (opens in new tab) at the Windows Phone Store.
George is the Reviews Editor at Windows Central, concentrating on Windows 10 PC and Mobile apps. He's been a supporter of the platform since the days of Windows CE and uses his current Windows 10 Mobile phone daily to keep up with life and enjoy a game during down time.
Nice review, do you or anyone know of a decent panarama camera app for non Nokia phones?

Photosynth (best 1) when it finally comes back out

Yeah I have been waiting for that :/

Nice. Would like to know if these alternative camera apps do some post-processing (noise reduction etc), what the native app seems to be doing. So looking for the comparison pictures, I'll definitely check that out :)

All nice and all.. But does this camera app actually work with the 8X.. ? Since the other 2 reviewed here didn't and only the hdr camera app got updated.. Although nice review.. :)

16:9 should be supported soon. From the developer, "there does appear to be an issue with 16:9 not being available on the Lumia 920. We are working on a fix and will have it out in the next update."

I hate my HTC camera because it can't use the whole screen like normal phones can.....smh!!!

So which one is better , one from Nokia or this, I would like yo buy a decent camera professional app,
please suggest

The developer has been very responsive to bug reports and suggestions. Excellent app with potential to become even better.

I just bought it mainly to support app developers. It works on L920 but issues I see:

- it crashes a lot after taking a shot.
- It doesn't look like the manual focusing works.
- Exposure bias control bar is tiny and hard to adjust in 1/3 steps.

I think a fix for the first issue you mentioned is on the way. I reported the manual focus issue last week.

Hi, is there any camera apps that can use bulb mode? like for light graffiti or something?

I don't think bulb mode is good for any mobilephone's camera. Since a mobilephone's camera sensor is way smaller than DSLR's ,the longer its shutter stays open, the easier hot pixel issues will get worse. And if the hot pixel issues happen, you'll have mysterious bright dots in every picture you take.

how to shot on 920? Sorry i can't find the cap key

I installed both CameraPro and Proshot. On bugs, doesnt matter, because there will always be updates coming. I already have 7 lenses installed, since i use camera a lot. Former N8 user.

Can't wait to see the side-by-side comparison in these apps. I have frequent white balance issues and my photos seem to soft. I think these issues have been taken care on some Nokia platforms via a firmware update. Until then, I am looking at different apps. Thanks WPCentral...

Updated To version 1.1 with 16:9 capability

Kudos to the dev for being very responsive to the reported issues. This is one of the promising apps in the market for the time being.

Agree. I mailed them about some issues and they responded within a couple of hours. Next day, updated :)
Windows Central Newsletter
Thank you for signing up to Windows Central. You will receive a verification email shortly.
There was a problem. Please refresh the page and try again.