Talk Mobile App Week begins tomorrow; join us for daily Talk Mobile hangouts!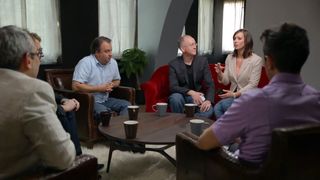 The second week of Talk Mobile 2013 kicks off tomorrow, and the discussion is going to center around mobile apps. With five days of awesome content lined up and sure to be some great conversations in the comments, we really want to expand your interaction with the whole Talk Mobile crew.
Starting tomorrow after fresh Talk Mobile content goes live we're going to do something we wanted to do for the last week of Talk Mobile, but couldn't thanks to everybody traveling for the awesome Talk Mobile launch party: we'll be holding a live video hangout with a rotating cast of Talk Mobile editors, developers, designers, our special guests, and everybody else involved in making Talk Mobile happen. You can expect the hangouts to go live a little bit after we publish the Talk Mobile articles. After all, they're pretty big hunks of text and video, we want you to have some time to digest it all first!
So tune back in to your favorite Mobile Nations site(s) tomorrow for more great Talk Mobile content. It's time to get the conversation about apps started!
p.s. We want to give you (just you, because you're special) a look at the full schedule of what you can expect from Talk Mobile 2013 in the coming months. Here's how the weeks ahead look...
July 1: Mobile Social
July 15: Mobile Platforms
July 29: Mobile Security
August 12: Mobile Carriers
August 26: Mobile Life
September 9: Mobile Creativity
September 23: Mobile Cloud
October 7: Mobile You
Derek Kessler is Special Projects Manager for Mobile Nations. He's been writing about tech since 2009, has far more phones than is considered humane, still carries a torch for Palm, and got a Tesla because it was the biggest gadget he could find. You can follow him on Twitter at @derekakessler.
A special guest should be Sam. The readers demand it! For real though, looks like a killer Talk Mobile lineup ahead.

When os gdr 2 coming loool :D

Hangouts... That's WPC ruled out then.

They'll be talking about apps, that's WP ruled out regardless of where they host it.

I kid I kid :p

Less news yaa awesome -_-

Good thing im a wmpowerusr reader,also :P

Now I really feel bad for you. Do you really need to be a "reader" there? Seems more like you just have to know how to use crayons..

Didn't think it was possible but you fell even lower after that post.

Lay off the negative pills. Your habit is starting to show more and more. Jeez...

My negative pills are delicious and candy coated though, very hard to resist. (Also Vb2012 trolls here often, so I can't say i really feel bad, sorry).

Sad to always read the negative comments about wmpoweruser from wpcentral staff whereas they always respect you and they use the words " Our friends over at WPcentral".

@KKRLessey Fun fact: Skype sucks for conference calls and hosting anything "hangout" ish where you want to interact with others. We wouldn't use Google Hangouts if Microsoft could come up with something similar that was as compelling, but alas...

This is a really super post. Must admit that you are amid the best writer I have read. I appreciate your making the effort to discuss this class of article minneapolis web design

Is there an archive available of today Hangout video? I wasn't able to watch the whole thing as it happened, got pulled away in the middle, and then the article disappeared from the WPCentral home page after it was over. If we miss it are we simply out of luck or can we watch a recording of it after the fact? I didn't see anything on the Talk Mobile 13 page for it either. It would be really great if we could view this content in some sort of central Talk Mobile 2013 Hangouts archive page. So there would be a separate page, outside of the articles, that would have all of the "hangout" videos for after-the-fact viewing. Just a thought. EDIT - Found it on youtube. Direct link for anyone else: https://www.youtube.com/watch?v=tDQANv9dRrw


Waiting an update for windows 8 mobile developers!
Windows Central Newsletter
Get the best of Windows Central in in your inbox, every day!
Thank you for signing up to Windows Central. You will receive a verification email shortly.
There was a problem. Please refresh the page and try again.