TapShoot is a clever photography app from the Nokia Future Capture contest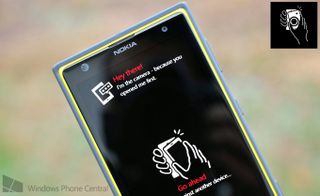 Remember the Nokia Future Capture contest? It was a contest announced in June that ended early last month. Entries asked for new app ideas around imaging, select participants flew to Finland to compete in a hackathon to make those ideas a reality. TapShoot is an app that was second-runner up in that hackathon and is now available in the Store for you to download. Let's check it out.
First off, congrats to Matt Cavanagh from South Africa. You may remember Matt as RogueCode around here on Windows Phone Central and Twitter. He's also the developer behind popular apps like FFFFound and plenty of others. He's also the guy behind TapShoot and it's a unique new app for Windows Phone.
TapShoot uses two Windows Phone devices to help you take a picture. One phone acts as the "viewfinder/shutter" while the other phone is the camera. Once both phones have the app installed, all you need to do is tap the two phones together to start the process. After that, the phone that had the app opened first is the camera while the second phone is the viewfinder. Put the "camera" down and walk away to where you want to be.
Photos are saved to the phone that is acting as the camera. On that phone you'll also get the option to apply a wide range of filters to the photo instantly. Clever app.
The uses of this app are only limited by your creativity. It's a great way to make sure you get in a shot if nobody is around to hold your phone for you or to get shots that might be tricky.
TapShoot is free for Windows Phone 8 users. Again, you'll need two devices to get it to work, but it's totally awesome. Grab it in the Windows Phone Store, use the QR code below, or swipe to the right in our app.
Cool, to bad you can't use a old WP7.8 as a remote. Probably alot of those lying around houses out there.

Yep, I wonder if that can be made to happen.

Did WP7 ever get native NFC support? Or just some basic hacked in Nokia NFC?

No, but through Bluetooth it should be able to remote something. That is if not MSFT as usually blocks there API.

My old HTC HD7 had Bluetooth, though I sometimes think it was just there to wind me up. Bluetooth never did work. Ever. Same sad story on my 920 now that I think about it. :'(

Really? I never had any issues with bluetooth on my 920

On WP7 (your HTC) there was no way for 3rd party developers to access Bluetooth. On WP8 there is - so hopefully you will start finding more uses for BT :P

Unfortunately this are no Bluetooth API's available on WP7x. :-(
However, this is really just a basic first version. The final one will have an open API and support for using multiple other devices as the viewer like iPhone/Android/Pebble/AGENT.

...yeah I couldn't figure out the point of this app either....

think sony honami killer (think those things are 500 extra)

520 is a cheap option !!!

But the 620 doesn't, and it's only a little bit more expensive

In the next version I will support standard BT pairing so you will not need NFC (although it will still be an option) - which means that the 520 will work :-)

I had to read this twice to understand wtf this app does. I think it's basically a remote control for your camera. If that is correct I like it!

It is...and its good for selfies.

The mother of all selfie apps!
Also, great for taking group pictures when you don't want to be the only one left out of the picture.

I love all of these photo apps,,, but man❕.. Lol,❕.. Get we switch it up a bit❔

That is really cool.
Now I just need to know another person with a WP.

The planned feature list includes support for other devices as the viewer too. From my comment above: "However, this is really just a basic first version. The final one will have an open API and support for using multiple other devices as the viewer like iPhone/Android/Pebble/AGENT."

Much like Sony Z1 and its QX lenses.

I was thinking the same thing

There is a problem with the app not reading the gyroscope/rotation correctly. Pictures taken in landscape mode are affected.

That is very cool! Nice for remote photography, or for when you need that really still shot. Or for when he perfect angle is somewhere you can't reach and press the shutter at the same time. Awesome!

I had not actually thought about that use-case. Thanks!

What 1020 case is that in the article photo? It looks awesome and I want it!!

I'll try to do a review of it tomorrow. Stay tuned.

hey! what about the review??

I'm eagerly waiting! I've been dying for a grey case in that style.

Weird. My wife and I both have Lumia 920's with NFC and WiFi enabled, but they won't pair up in this app. Not impressed so far...

Bluetooth and Nfc. Mine 920 and 925 Works Great together

Please try *disable* WiFi as it actually works over Bluetooth, and having WiFi enabled just messes it up (a bug in the SDK).

This sounds like a pretty cool idea. I'll definitely check it out.

Awesome! Now when we go out on day trips we can use my 1020 as the camera, and my girlfriend's 820 as the viewfinder! Bloody awesome app!

Awesome! Hope you enjoy it :-)

I'm predicting a spike in upskirt websites in the near future...

Great, simple idea. Gonna use it, when I travel to South America alone next spring.

This... Is actually a really clever idea. Nice job!

Hello, is there an alternative, please? Or does anybody have appk file or something to get it to my GF's phone?? I have the app installed, but it seems to be gone from the store 😞
Windows Central Newsletter
Get the best of Windows Central in in your inbox, every day!
Thank you for signing up to Windows Central. You will receive a verification email shortly.
There was a problem. Please refresh the page and try again.