TD Bank releases their Windows Phone app for Canadians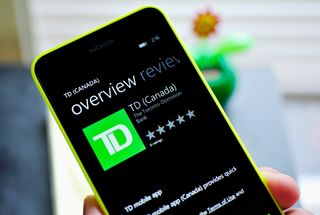 Back in June, Windows Central reported that TD Bank was working on apps for Windows Phone. At the time, we noted that the initial release may be limited to just Canada with a wider rollout coming later. Just as expected, this is exactly what is happening.
Today, Windows Phone users in Canada can download the official TD Bank app and get their bank on when they are out on the town.
The TD Bank app looks to be exactly what you would expect from such a high profile institution. From the app description:
Hopefully, those residing outside of Canada will get their shot at using the TD mobile app on their Windows Phone in the near future, we'll keep you posted. At least between the Lumia 830 getting a wide release and this app, Canada is finally getting some Windows Phone love!
Thanks, Anthony, for the tip!
Windows Central Newsletter
Get the best of Windows Central in your inbox, every day!
Daniel Rubino is the Editor-in-chief of Windows Central, head reviewer, podcast co-host, and analyst. He has been covering Microsoft since 2007 when this site was called WMExperts (and later Windows Phone Central). His interests include Windows, laptops, next-gen computing, and for some reason, watches. Before all this tech stuff, he worked on a Ph.D. in linguistics, watched people sleep (for medical purposes!), and ran the projectors at movie theaters because it was fun.
Wish I could tell you, but if not in Canada it you cannot download it.

It's not 100% wrap, but it is more wrap than app. It's well-organized and allows for easy navigation to common banking tasks, but the pages to which one is navigating are the same pages one would see on their mobile site(s).

Seeing as the mobile site currently is the same one bb users have im not surprised

It's a web wrapper for the most part although some parts of the app are native. All transactional stuff is a wrapper. I'm pretty sure the iOS and Android versions are also wrappers.

Well I honestly don't care for banking apps to be honest... I have Desjardins and their mobile site is extremely easy to navigate. I just wish they supported NFC payment but nooooo they stick with Blackberry and some Android phones... oh well.

Yay! I was just thinking about this app this morning... *keeps reading*.... SONOFA!

Awesome. Moving to Canada just for the app. ;-)

Scotiabank hurry up! Although it is nice to see another Canadian bank to add an app to the WP store.

Finallyyyyy...omgg thank you

Finally. seems like most of the account functions are just a web wrapper. I also don't see the option to deposit cheques via picture

Might want to update the link to the Canadian store. http://www.windowsphone.com/en-ca/store/app/td-canada/abcc69e3-9d19-41ef-b84d-1591a9d0c35f

Nice. Hope Scotiabank follows suit!

I just read it and got excited and then saw Canada only.. :'(

How hard would it have been to develop Canadian and us versions in parallel?

I'm sure the US banking division connects to a completely different database.

If they took time to create a real app and not a wrapper, the presentation layer could stay the same. The data access layer would be cake.

TD Canada Trust is a different database than TD Americas Most Convenient Bank, lol

Lol he edited the region barrier displayed on the store! Smart one Dan.

Installed and logged in. Works as expected. Very nice. I can pay bills, transfer funds, send e-payments, etc.

Driving me nuts. Wont open.

"not available in your region", is it phone specific? Cannot get it installed. Ughh!

Crashing on 1520 on dev preview

Same issue here... Also, why would they region lock the installation of the app???

Same here on my 930 with DP. Works great on my wife's 635.

Guaranteed it's because they didn't add 1080x1920 resolution support. Doesn't open on my L1520 either.

Same here, don't know how to fix it

I was just SO excited until I saw only Canada... I even wrote a letter to them asking when it was coming and got no response! :-(. This is still a good sign, though! All that's left now is for Discover to make one, and I will never need to leave my house again!

Back in June, Windows PHONE central converted it.

So all of us Canadian Expats living around the world can't use this to access our accounts. That sucks. TD: Common! Give us all love, even if we're not in the Canadian store!

Change your region settings to Canada and it will work.

So hack it to work, probably wont' get updates although it works. Why would you region lock it? That's just silly considering all of your Canadians living in the US that you bought TD Bank US to support in the first place!

Oh ya, and it won't run if you switch back to US after the fact. GRRR. Unlock this app TD!

I'm on dp and switched back to US and our worlds for me

crashes on startup for me. Nokia Icon Windows 8.1 developer preview no cyan because Verizon sucks.

Lumia 930; says its not available for my device...

As expected with TD it's little more than the mobile version and poorly implemented as it constantly logs me out because I pressed a key it didn't like. Once you figure out what keys not to press it does work so I'll give TD a small break but to be honest they could have done much better.

The updated mobile site is nothing but the bb version so it isnt surprising

A step in the right direction. Hopefully BMO get off their butts and make one now!

My app requirements for windows phone are met completely. :)

Mostly a web wrap but... Well, it could be better.

"App not available" "This might be because the app isn't available in you're country or region..." I am in Canada and yes my region is set to canada. Way to go MSFT. Try again.

If you used the link in this post, it's a link to the US WP Store. Just search for TD Canada on your phone.

The fact that cibc STILL has not released one is just sad -_-

To bad its 8.1 cause not even sgh-t899m has official 8.1 or Lumia 929

Now we just need CIBC to hop on board then I'll be a happy camper.

Looks like the app doesn't support 1080p resolution phones - hope TD gets on this quickly! I've been waiting for this app for ages...

HELLO PNC are you taking note........

Oh, so this is why my TD locator app got removed from the marketplace. Well, at least they actually came through and made an app for the platform. It's a start.

To bad its 8.1 devices only(can only hope the sgh-t899m will get 8.1.1 soon)

Here's my app. It works on 7.5, too. Just does branch locations, though. http://bit.ly/1s9zZZg

Hey, Canucks! Download the app even if you don't bank with them? Hopefully that would push them to develop for the US branch... =[

Better yet push them & the big 3 to enable NFC support

Well, at least the app/wrap remembers your card number. I ended up uninstalling the last one because it was so frustrating having to re-enter both my card number and password each time I wanted to check my balance. Far too time consuming so I started using Mint instead. Am willing to give this a shot.

Finally! Will try this. Wonder fow fluid this app for payment and transferring.

Why would a banking app require access to my media library, media playback, and phone dialer?

Hey, the have some branches here I the US.

Ok so i tried the app, a litfle laggy at start, some good menu list but looks like they just giving you access to the mobile site once you click :/

Nice it's about time my company put out an app

Anyone else not able to get the app in Canada, on 8.1 DP, Lumia 1020?

Not launching on unlocked Lumia 930 running stock 8.1 ​

Yes its an app like the other platforms... Finally. Now we need scotiabank. Great news.

It's about time!! Now for all of north America.

I have Lumia 1520 with latest software . The app doesn't open. Anyone experiencing similar issue. ​

Yep, I'm having the exact same issue. I have a 1520 running the developer preview.