Telegram Messenger Beta picks up tabs for custom stickers, privacy enhancements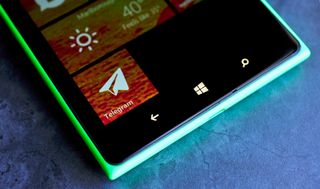 The beta version of Telegram Messenger for Windows Phone has been updated with enhancements to stickers, privacy and more. Version 1.12 of the beta adds a tabs for your custom stickers, as well as a free bot API, which lets anyone build bots for different games, services, and more.
There have also been some tweaks to Secret Chats, including the addition of Perfect Forward Secrecy. You can see what's new in Telegram Messenger Beta 1.12 in the changelog below:
Dedicated tabs for each one of your custom sticker sets in the sticker panel. Add custom stickers like https://telegram.me/addstickers/Animals
New bot API, free for everyone. If you're an engineer, create your own bots for games, services or integrations. Learn more at https://telegram.org/blog/bot-revolution
Perfect Forward Secrecy support in Secret Chats
Send files of any type in Secret Chats
The update for Telegram Messenger Beta is available for download in the Windows Phone Store now.
Thanks to Abhishek for the tip!
Download Telegram Messenger Beta from the Windows Phone store
Windows Central Newsletter
Get the best of Windows Central in in your inbox, every day!
It's almost two years now and this app is still in beta.

It still has many problems... for example the online status is unreliable and the emoji panel is quite slow. And it's not getting better apparently. They keep adding new things instead of fixing old problems.

And we can't download images in a secret chat, and no landscape mode support either :(

You do know that's how it works right. You add your features then squash bugs.

The problem is Telegram keeps evolving, so even on Windows Phone every update is just adding new features and never fix bugs. If you look on the Telegram blogs, there are new features every month or less.

Still sticking to WhatsApp. Installed and uninstalled telegram though. Got no one in it! Privacy and stuffs , theoretically may make ppl lose minds but in practical, messenger is almost saturated and not beyond WhatsApp

I think this app will stay forever in beta.

About 100 of my friends use it.... With last seen status of min 5 months ago.....

Luckily my group of friends can't get enough of it due it's desktop app... Being on watsapp though is now like a social commitment....or I should say necessity just like a phone no. Itself.. :D

Yup...! Everyone asks WhatsApp number instead of phone number.... WhatsApp has set a trend before anyone could.... Features doesn't matters , all it matters is how many of my friends use it...
.
.
But Hike intelligently managed with Natasha and Status section to compete with Whatsapp

Shouldn't wc now use a picture with the updated new telegram icon... Just saying ..

That pic of telegram Messenger is there since it got transparent tile capability...
No one uses it in WC i think.... Se the position of the Tile...

'see the position of the tile' HAHAHAHAHAGA

Awesome support from these guys.

Whatsapp is still the best...telegram can't send chat while no internet connection..whatsapp can send chat while no internet connection..next time we get signal whatsapp will send automatically send pending chat from the background..telegram can't do like that..

I used it and like it but all my friends use kik, fb messenger, or sms

Worth it for the stickers alone

Skype - Telegram - Whats app are great... 100% recommended

yeah! They are the basic and essential apps in any smartphone.

I just it to download messages in background like WhatsApp does. Also send and download files, videos, in background :(

Telegram is a solid messaging app for Windows Phone. I also use Viber, although it's a secondary messaging app for me. I'm waiting for Avaamo to release its Universal Windows 10 Mobile app and then I'll make a full migration.

apparently no other messengers are as successful as WhatsApp.. given now WhatsApp vooice is there.. in 5 years time I presume Telco's can stop offering voice minutes and it will be data only SIM cards.

Will add to my collection of apps.

Well I think in terms,of privacy BBM is still better,while that is a good and beautiful messenger app,the,push notifications are extremely unreliable.And about Telegram,yeah there are some,problems still!sometimes the keyboard disappears and I have to exit the chat if it dont get crashed.HTC8X

Telegram has 10 out of 10 points for its secret chat on EFF's scoreboard. BBM? Privacy? Read this.

For all the minor bugs I still like Telegram. Desktop sync and sending any files, any format.

I still can't reliably upload images in telegram..

Been using for couple weeks now, this app drains my battery like no other app does, I use a 1520, when I use this app my battery drops 40 per 1 hour of usage.

get stickers for telegram app as well as WhatsApp from https://www.windowsphone.com/en-us/store/app/stickers-free-for-whatsapp-...
Windows Central Newsletter
Thank you for signing up to Windows Central. You will receive a verification email shortly.
There was a problem. Please refresh the page and try again.