Telegram Messenger picks up doc and video sharing in latest update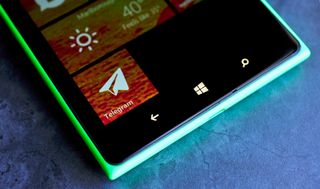 Telegram Messenger for Windows Phone has a lot going for it, especially after today's massive update. Competing with WhatsApp, Skype, and Hike is no easy task but at least Telegram brings some new features to the table for those who utilize the service.
This morning, version 1.1.3.40 of Telegram Messenger was pushed to the Store. Although the app still maintains the 'Beta' designation, the list of features, fixes and improvements are impressive.
Telegram Messenger Beta 1.1.3.40
New Features
Send all types of documents from your phone storage or OneDrive (wp8.1)
Share videos from Gallery or OneDrive (wp8.1)
Save documents and videos (wp8.1)
Improvements
Full emoji support in chats
Improved chat headers
Improved chat settings
Improved forwarded messages
Bug Fixes
Fixed bug with key generation on sign up
Fixed Authorisation error 408 while scrolling chat list
Fixed returning to the chat list and multiple notifications
Fixed problem with in-app notifications from muted chats
Fixed problems with emoji keyboard height on some devices
Fixed problem with keyboard covering the input field
The ability to attach any document or video from either your phone or via OneDrive is a noteworthy feature, something we know many who use WhatsApp would enjoy.
Telegram Messenger continues to impress us with their refinements and frequent updates. Still, it is not clear if it is enough to overcome the Facebook Messenger/WhatsApp world domination that seems to be occurring. However, at least for those who use Telegram, enjoy this update.
Thanks, everyone, for the tips!
Daniel Rubino is the Executive Editor of Windows Central, head reviewer, podcast co-host, and analyst. He has been covering Microsoft here since 2007, back when this site was called WMExperts (and later Windows Phone Central). His interests include Windows, Microsoft Surface, laptops, next-gen computing, and arguing with people on the internet.
Among the other massengers I guess this is the one with the best features, no?

Best features? Yes. Most users? No.

Mp3 file attachment still missing.

Mp3 attachment is there. Just select doc go down to sd card and then browse your mp3 file which you wanna select. That's it

Does it have voice calling? If it does, then it is. If not, line is the best for me. Maybe it doesn't have as many features, but voice calling is a key feature.

this and hike messenger are the best IMs in WindowsPhone ecosystem.

Still got no background agent as against WhatsApp. They all ignore background agents for some reason. WhatsApp stays most reliable: You write a message with no signal, it will send it later. You receive a push, you can read a message later even with no internet. Just like android with no Tombstoning.

This is how all change logs should be.

Definitely. I should push my friends so they start using this.

I've tried, they say noooo
What I really like is that I can have 200 members in my groups

Ah. Fed up of those Microsoft changelogs. Seeing this seems so unfamiliar. "general fixed and improvements" seems so fitting. \s

So whats Microsofts excuse for Outlook on WP still not being able to directly attach docs to emails?

Directly not but we have a file manager. Search for your files. Select them. Share them. There is an option for email so we can attach Documents... Users asked for a file manager so use it now. :)

I didn't know about this. Thanks

Try that while replying to a mail... It doesn't work, it can only do that for new mails so we need a fix...

Maestro email can do that :P

Outlook is built into the OS before they can update the app the OS have to be opened up n updated to remove outlook and make separate app same reason we don't have the new Office.

I am changing my stars to 1 in WHATSAPP now. its such a crapppppp. Fb dont listen............ BC

Stop doing that crap, WhatsApp is great

R u crazy? I hv done that. Relax!

I love WhatsApp with the latest update. Smooth and look great on my L1520.

You cand send mp3 files through "send documents". Btw Telegram & hike > whatscrap

i was talking about telegram not hike. :P

Well, the problem with many services like those is the fragmentation. People do not want to change the message app every week. I hate trying to get friends to adopt every new app. If I could use one app and send to the other ones it would be great.

Now they can remove that ugly 'beta'

Hulu also got updated btw

Just multiple photos sharing lacking.

Complains... Complains everywhere...

Yes its a complain. And if we don't complain, it would remain stagnant. I should have said "They have done a great job just multiple photo sharing to go"

I don't know a single person that uses anything other than Kik, Skype, or WhatsApp. So terribly unfamiliar with Hike, Telegram, Kakao, Viber, Line, etc etc etc and probably will never use any of them. e3e

Telegram is not like Line or viber or others. Its different. Its a great messenger. They donot hack into chats.

I killed several of my group chats in whatsapp and moved to telegram. That's about 30 new users. So far, after a month, no major complains. It works great. Most of us run it on all OS and devices. it WP, Note, iPad, PC etc cos we like the sync Of late I'm getting notification/sync lags. Sometimes the row of buttons at the bottom goes missing.
Hope this update fixes it.

Telegram is THE essential app installed on all our phones, Android or WP. Great so see continued WP development.

I don't have it installed on my phone :)

God these guys are awesome, I've managed to make some friends and family install Telegram.
They have all my support since they are so committed with Windows phone :)

Many of my friends using android to whom I suggest telegram complain that it uses more RAM so wouldn't switch from WhatsApp. I pity them(I'm yet to own a Android phone)

Tell them that the problem is not with the app, but with tha OS

Still have some bugs running around inside.

Emoji bug. Takes time to open up

YAY! yes yes yes yes yes yes!! Yeah!!! Been waiting for this feature since the official telegram app came out. Thank you telegram thank you thank you thank you!!

Now that's the changelog...

Telegram for me does not show any toast notifications for about two months and is not listed in the 'notifications+actions' menu in settings. I hope this update fixes it

Much awaited features... Better late than never

Hopefully this prompts Skype to add document sharing.

How does it compare to Viber?

I wish they would do something about the text boxes. I know WhatsApp allows backgrounds but I wish we can change the text boxes to different types of speech bubbles as the generic messaging boxes are so old and dated.

Telegram is still owned by Google right. ? :v

How is this on battery? Whatsapp kills my 920.

I have it on all day, in 2 chat groups. It is great on battery.

Thanks. I might transition over to Telegram now then. I tried it before but it was missing a lot of features Whatsapp already had but this update adds what I wanted.

Among WhatsApp, telegram and hike, hike scores above 2 in every aspect...love those stickers...with latest update it is even better...hope just like telegram hike adds document sharing support...

They are already working on it and they are also working on religion stickers. For example Gujarati, Panjabi, Telugu etc....

Yeah.. Hike is much better than whatsapp for windows phone. Also it has a lot of users in India which is a big benefit. But it seriously needs that mp3 and documents attachment features.

Yeah bro. Hike needs that badly Hope they do it soon..

Maybe in the nxt update..

Hey everybody here, this is not only a messenger! It's a SECURE Messenger. there is the ability to chat end-to-end encrypted without using servers! its called secret chat! Ans yes its feature rich, too! 5star

I'm not familiar with Hike, so can't comment on that. But...Kik,WhatsApp, Viber, Line all lacking what I find is really good feature in Telegram. It support more that one client connected to specify account. It is more like Skype. I have it running on my phone, my PC, Mac, etc...all at the same time if I want to. I could chat and send files on the big monitor. And recently it works as webogram, basically via IE or Chrome. This is HUGE.

Next to hike telegram is way awesome

I use this, and wish others would as well, esp my few friends left that still use hangouts... Scores fairly decently as well: https://www.eff.org/secure-messaging-scorecard

Yeah, now please get the iconic tile already

What phone is that in the pics of this article?

Myself, I'm waiting for Threema to be available on WP.

Nice update. Would be great to have a full 1080p support like WhatsApp now.

Does anyone know if it allows you to attach a video file regardless of its size or its the same as whatsapp, with a limit?

telegram is dead now for me coz no one uses

By the way , when u choose to attach documents u can choose mp3s and send it , it works for me , finally

Give me accessibility features for larger font size and I will delete WhatsApp. Please this is very important for low vision people such as myself. Everytime I see an update I get excited that it might include accessibility features but then I find nothing. Please do it quick. Thank you

You can even send mp3 in WhatsApp. There is a workaround ;-)

Wish more could use Telegram, its lovely with the living background pics. Surprised WhatsApp haven't got that.

Anyone know why the application require so much permission like phone dialer, appointment ...?

Time for WhatsApp to implement file picker...right.

This app is buggy! Smiley picker is totally broken and secret chat still sends messages into black hole when the app is not in focus.

I'd love to be able to read received messages even without connection, after I've received them. You receive a message, the notification pops, then you go offline and still be able to open the app and read the message. With whatapp you can, with telegram nope. I do understand it's a minor thing and nobody cares, but it's so useful for me D:

I cant downland telegram??it said my phone not up to date but its already wp 8.1..please someone help me
Windows Central Newsletter
Get the best of Windows Central in in your inbox, every day!
Thank you for signing up to Windows Central. You will receive a verification email shortly.
There was a problem. Please refresh the page and try again.