Telltale's The Walking Dead Season One among October's free Games with Gold for Xbox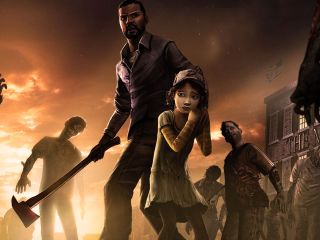 Microsoft will offer some more free games for paid Xbox Live Gold members to download in October for the Xbox One and Xbox 360 consoles. Both consoles will be able to download the first season of The Walking Dead episodic game series from Telltale Games.
Xbox One owners with Xbox Live Gold will be able to get The Walking Dead Season One for free from October 16 to November 15. They will also be able to get Valiant Hearts: The Great War for free for the entire month of October. Xbox 360 owners will be able to get Metal Gear Solid V: Ground Zeroes for free from October 1-5 and The Walking Dead Season One from October 16-31.
Buy a 12-month Xbox Live Gold membership at Amazon for $44.69 (opens in new tab)
Source: Major Nelson
Windows Central Newsletter
Get the best of Windows Central in your inbox, every day!
Sweeeeet! Two games I've heard a lot of good things about that I don't actually have. Kudos to you my dear friend XB1!

Nothing for me....got all :(

The Walking Dead is a pretty good game.

Probably in the minority in that I dont like making choices in games. Prefer a linear (ala old jrpgs) experience with a cohesive and tight story as opposed to sandbox or choice AorB type gameplay. I think thats why I stayed away from walking dead. But ill give it a try since its free

You make choices, but the overall story is still pretty linear. It's always point a to b, but between the points you can alter small factors.

Walking dead is great, and I've heard Valiant Hearts is an incredible game.

Ah man. I have all of these already. Oh well. There's enough retail games coming out in October, I'm sure I'll be fine!

So Walking Dead will be on 360 and X1? So if you own both systems thats one less free game than usual...

Good. With Halo 5 coming out, I'd rather get GWG offerings I don't care about.

Now they're starting to repeat the same games across consoles? Lame.

Walking dead is the best story game out there. But I'm still sad about how it ended.

Have this on my PC will be fun to replay on my Xbox one.

I've always wanted to play the walking dead game. Sweet!

Dang would of been great if I didn't already own the walking dead

Glad I waited on both, I just knew they'd come to GWG.

Wow - free games and people still complain.

The Walking Dead is excellent and worth every penny I paid for it. Not many games I can say that about.

Still can't buy Xbox 360 games free with gold subscription via browser. I don't have this console (have Xbox one) and whenever I go buy Xbox 360 game free with gold, says ' seems it is your first purchase, go login in console to buy this'. Not sure what the f** Microsoft has build here.

Very weird. I don't own an XB1 yet, but have been able to 'purchase' all of the free games so far.

I have the same problem, but for some 360 games it works, some not... example Crysis 3 not working, but Battlestations Pacific was no problem... (Also previous months I had some games working, some not)... I have a Xbox One, no Xbox 360... But tried to activated all Xbox 360 games :-)

The Walking Dead Season 1 feels like a cheap indie game. It is a good game, I can't argue that, but still the graphics are poor, the game is short and it's decisions are not game changers... That is just an illusion repeated in all telltale games. By the way, even between telltale games, tales from the borderlands and the wolf among us are the real jewels, not TWD Season 1. And to all the people who says these are free games and we shouldn't complain, you're all wrong, the subscription is not free and in the moment you stop paying for it you are not able to play them again

Already have The Walking Dead, so MGS V is going to be my big treasure next month, too bad it's the Ground Zeroes version.