Telstra officially announce HTC TITAN 4G Windows Phone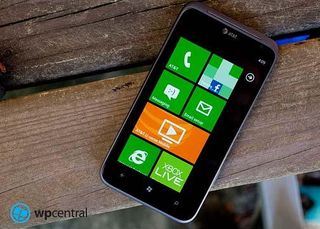 It's official, Telstra has announced the HTC TITAN 4G, which will be the first Windows Phone to make use of the faster network speeds. After weeks (if not months) of speculation and anticipation from Australian Windows Phone fans, the carrier has finally released details surrounding the HTC monster device. It's actually the HTC TITAN II that launched in the U.S., but will be branded as the HTC TITAN 4G.
This is great news for those who are awaiting for a 4G Windows Phone as this beast of a smartphone not only packs 4G speeds, but a 16MP camera, which we positively reviewed. Will Irving, Group Managing Director, Telstra Business comments:
So we know it's the bees-knees, what about pricing? You can get your own for free on the $79 Freedom Connect plan (after using an included MRO bonus), which includes $800 worth of voice calls and MMS, unlimited SMS and 2GB data. The phone will be available outright for $888, should plans not be up your street.
Business customers can pick up the TITAN 4G for just $8/mo after using their MRO bonus on the $70 Business Mobile Advantage plan (24 months). This includes unlimited SMS, free voice calls to eligible mobiles, and 1GB data.
Source: WPDownUnder
Windows Central Newsletter
Get the best of Windows Central in in your inbox, every day!
Rich Edmonds was formerly a Senior Editor of PC hardware at Windows Central, covering everything related to PC components and NAS. He's been involved in technology for more than a decade and knows a thing or two about the magic inside a PC chassis. You can follow him on Twitter at @RichEdmonds.
$79/month sucks... Although they're basically hiding the "free phone" in a typical $55/m plan + $24/m phone repayment. I can't see the Titan selling very well at that price-point. As much as I like HTC (I have the HD7) it's a shame they couldn't bring a 4G Lumia 900 to the table instead.

And why's that? Especially when the titan is clearly the better phone overall

The cost... A $79/m plan or $888 outright will deter a lot of people. I have a HD7 so I don't see much benefit in upgrading to this myself...

Incorrect mate, the usage limits between Telstra's $59 and $79 plans are massive... As is the amount of the "Device Credit" or Subsidy that you recieve... $79 plans are what most people STILL get iPhones on, since the plan requirements are based on the outright cost of the phone.

"massive"? $59 plan: $550 calls + unlimited text + 1.5GB data. $79 plan: $800 calls + unlimited text + 2GB data. I don't see much difference at all - Just extra call credit most people won't use.
You can get iphone on $59+$10=$69/m or the $79/m plan. On vodafone it's $39+5 but that's 8GB model. Anyway, my point is that I hope they offer it at a lower price-point otherwise they'll put off a lot of people.

the extra call credit won't seem much to people who don't use it but i know people who do need that much and so this will appeal to them. it's a shame though cause people like you and i who don't need it won't want to go on a plan that high. i'll probably end up with optus anyways and getting the 900 if that's on a decent plan.



Yeah, agreed. Ah well here's hoping that it having 4G will be a big drawcard, especially as there's only the Velocity to compete with.

I have the HD7 too & its rock solid!

which is better as a music phone....titan or lumina 900

Titan, the SRS enhancements cant be beat

Lumia, it has Nokia Music..... Simple really...

Um no titan is better because of the SRS enhancements

I have a HD7 and used the SRS enhancements for a while... Initially it sounds pretty good but overall I prefer Dolby Mobile, Bass Booster, or No Effects (in that order). I don't really see SRS as a key selling point between the phones, but each to their own. The Nokia suite of apps (especially Nokia Drive & Music) are extremely tempting.

OMG!! Where is T-Mobiles Titan 4G???

It's an expensive plan, but not unexpected comming from Telstra, however if coverage and performance is a priority then it's reasonable, and it is a great phone.
Would it be reasonable to expect the Lumia900 at some point in the future. Telstra already have the Lumia800, so it would seem nonsensical for the Lumia900 to be added to the inentory.

AFAIK the 900 is exclusive to Optus, but can also be bought outright at the usual retailers.
Windows Central Newsletter
Thank you for signing up to Windows Central. You will receive a verification email shortly.
There was a problem. Please refresh the page and try again.