TELUS Lumia 800 Windows Phone now available from just $49 with contract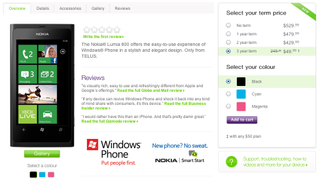 The Canadian carrier TELUS has an interesting deal currently active for the Lumia 800 Windows Phone, which is priced at $49.99 (dropped from $249) when purchased accompanied by a $50 (three year term) plan. The Nokia handset is present in black, cyan and magenta.
The device has been anticipated by those who have been awaiting for the carrier to launch the Windows Phone, but should a contract not be up your street, a no term option is available for $529.99.
Source: TELUS (opens in new tab), thanks Ryles for the tip!
Rich Edmonds is Senior Editor of PC hardware at Windows Central, covering everything related to PC components and NAS. He's been involved in technology for more than a decade and knows a thing or two about the magic inside a PC chassis. You can follow him over on Twitter at @RichEdmonds.
Three years is a long time to go without a FFC, NFC, and the rest of the features that are to come in models at the end of the year just to pay $50 for a phone. I'm just saying....

Then pay full price or wait for a better phone?

Some actual advertising or shelf space at the local stores would be nice ... Maybe a poster or something 'crazy' like that. Sheesh.

Wow. I'd rather pay full price.

i can't wait to try this out in stores

The thought of being locked into a contract for three years is awful! Who would do that!? I thought two was way too long. If technology didn't change so fast it wouldn't be a problem but it does and in three years you would be holding an antique in your hands.

The contract is mainly used to pay the price of the phone over time, So if you get a $500 phone on 3 year contract after two years you have to pay about $160 for the rest of the phone if you want to switch.

That sounds pretty close. You can cancel anytime but the penalty is something like $20 per month times the number of months remaining in the contract to a maximum of $400. That's not bad considering the cost of the phone outright except that there is also a data plan early cancellation that is also added which is a maximum of $200. So in reality you're better off buying the phone outright.

But the plan price doesn't decrease if you buy the phone outright, so you might as well take the discount for phone.

No advertising No hype I dont know about this launch what is Nokia Canada doing?

I was just at a local store and they have a beautiful display advertising at the store. They have it front and centre enclosed in a glass cube with all 3 colour phones in the cube. They have 2 of these in the store. It looks really impressive actually. So far no tv ads but in store advertising looks awesome. This is at Markville Mall by the way

Yeah the two stores I went to today had those as well, one was hidden behind a Nexus display (this store didn't have stock till next week, pffft) and the other had it as soon as you walk in the door. You couldn't miss it. As well as they had all three colours as dummy phones. This store had four phones in stock and I quickly bought one. A little effort goes a long way.

Sweet saving up for this :):)

Does Telus use the same frequencies aas ATT?

Yes, exactly the same. All of Bell/Rogers/Telus use the same UMTS frequencies as does ATT. Wind and Mobilcity use the same as T-Mobile USA.

im pretty sure it does. I have an AT&T Samsung focus S unlocked and i use it on TELUS

Actually it definitely does

As mrolympia74 stated it does. AT&T phones will work with Bell & Telus and T-Mobile phones work with Rogers.

No. T-Mobile USA deploys the AWS 3G spectrum which coincides with those deployed by Wind and Mobilcity. T-Mobile does NOT work with Rogers (on 3G/HSPA+). Rogers, like Telus and Bell, use the 850/1900 UMTS bands- the only US company that does so is in fact ATT. So There are many option to use ATT devices in Canada, but if you get a phone from Rogers, Bell or Telus, with the sole exception of the pentaband Nokia 710, it will only be usable on 3G on ATT.

That's "Mobilicity," not "Mobilcity." Carry on.

I'm so torn between getting a lumia or waiting till win 8/ Apollo comes out on the next gen phones. If I didn't love my focus as much as I do I would just get the lumia.

Such a good deal...:(. But I like my carrier too much to leave

Got a magenta one for the girlfriend this evening and man is she super happy with this phone. I was blown away from the screen, everything was so BLACK! I knew to expect it but to see it was another thing. I'm pretty impressed with Nokia's first effort. The design and feel of this phone is pretty awesome.

check out my new website i have any phone on layaway.... www.thebaltimoreconnect.com

Well I went down to the store after work and I think I may have sold the Lumia 800 to the sales girl that was helping me.. It didn't have a Live ID so I couldn't do too much with it, but she was blown away. She has an Iphone and she said she keeps playing with the Nexus because of how nice the screen is. But I think in a sincere way, she was totally impressed with the Lumia 800. The BING music search did it for her. She uses Shazam all the time she told me and I told her to search for #smokedbywindowsphone. I'm pretty sure she'll walk up to this lone WP7 device in their store and show it to people now. She actually thanked me for coming in and showing her all about this phone. She thot it was made of "metal".
Windows Central Newsletter
Get the best of Windows Central in in your inbox, every day!
Thank you for signing up to Windows Central. You will receive a verification email shortly.
There was a problem. Please refresh the page and try again.