Temple Run 2 for Windows Phone gets bug fixes in latest update, but still no 512 MB support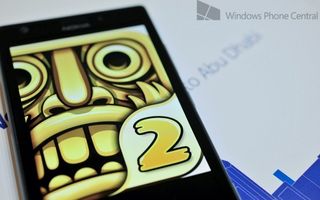 For those looking to run Temple Run 2 on their 512 MB Windows Phone, you still have some waiting to do. This morning, version 1.6.1.0 of the app went live in the Store, bringing with it some small bug fixes, but no new features are present that we have noticed.
Released exactly 30 days ago, Temple Run 2 is one of many 'must have' games for Windows Phone that are slowly making their way over from other platforms. The game is free and even comes with the vaunted Xbox Live support, making it even more of a lust worthy time killer for endless runner fans (see our roundup of such games here).
The game, like a lot of ported versions, initially lacked 512 MB support. Microsoft's Joe Belfiore tweeted that this was being worked on and support will come in a later update for Temple Run 2. The Windows Phone ecosystem is a little off balance with the low-cost Lumia 520 from Nokia making a surprising dent in internal market share. As a result, developers are having to play catch up by optimizing for that hardware instead of shooting for more high-end optimizations.
A few readers have noted that with today's 1.6.1 update, the "review bug" is now fixed. We have only seen this intermittently, but for some users after each run, they were greeted with a "review this game" nag screen each and every time. Hopefully that's the not case any longer. We're also going to guess that there are a few other under the hood changes, but developer Imangi Studios is usually not too forthcoming on details.
We'll keep an eye out for that coveted 512 MB update in the future, but for now, if you're a Temple Run 2 fan, you can pick up the latest edition here in the Store. Windows Phone 8 only.
Thanks, Himanshu C., for the tip
Windows Central Newsletter
Get the best of Windows Central in your inbox, every day!
Daniel Rubino is the Editor-in-chief of Windows Central, head reviewer, podcast co-host, and analyst. He has been covering Microsoft since 2007 when this site was called WMExperts (and later Windows Phone Central). His interests include Windows, laptops, next-gen computing, and for some reason, watches. Before all this tech stuff, he worked on a Ph.D. in linguistics, watched people sleep (for medical purposes!), and ran the projectors at movie theaters because it was fun.
Luckily I sold off my Lumia 520 and bought the Lumina 1320 with 1GB RAM so I don't need to worry about the 512MB support. :)

lance again congractulations ;)

congrats dude, unafortunally i don't have a lot of money so i bought a lumia 520, in spain the economy is a shit, so the best device for my pocket is the lumia 520. i hope gta sa will be compatible with 512MB of RAM devices

I am having broken menu graphic on my 1320 before and after update. It is super annoying.

I don't care about the delay but i hope it comes for 512mb devices without the unable to save progress bug...been reading about it a lot

Easily can circumvent this bug by changing ur region to download the USA version.

and Slovakia/GB/German too :D :D

False, I have USA version and the progress doesn't save

Try changing Regional Format to United States (English). It works for me. Hope they make a fix for it, because the US settings are annoying for the rest of the world.

daniel, about the non-saving issue, is this solved?

game is unplayable with this, stupid...

What a great update! It fixed NONE of the bugs I had! :D

Sorry to hear that. To contrast, it seems to have resolved the only bug i had which always wanted you to rate the app after you died.

That's the only bug I ever encountered as well, so glad to hear it has been resolved. Sucks for other people encountering any other bugs though.

I actually have these bugs:
• The energy bar doesn't fill up. It just stays empty all the time, no matter how many coins I get.
• I get millions of power ups every two seconds, it's not even funny. I start a new game, and after a couple of seconds: gem, gem, magnet, shield, shield, boost, gem, gem, coins, magnet, gem...
And I mean, all of those one after another, I can't even skip then, they're too many ahahahah
That's crazy...

Ok, yes... the only bug I had, was winning all the time

i dont have any bugs but now i want this bug on my lumia 920 lol you must completed all the achievements as of now ?

The only bug I habe is that my score shoots up to 200,000,000 immediately on startup. And I hope it never gets fixed. :D

Same bug here. The worst part was trying to achieve the "Spartan" objective (1 million without power ups). Very annoying.

Rating bug was fixed, here.

After finishing the game....do I need them?

Imangi is sick. Update tr1. And i don't need tr2. Surfers is coming in Feb and we have many endless runners games in which minion rush is the best.

are you sure about subway surfers coming in Feb ?

lol, where have you been living? Subway Surfers has been out for a couple months now, at least here in the US.

The user is referring to the Mumbai update, probably...

Subway surfer coming means for 512 Mb ram device....

The save bug is still on my 920...

yeah, same story on ativ s

For me too. I cannot play it like this...over and over again from the beginning. S # ! t !!!

Wtf I need these game for 512mb

my progress is still not saved... :(

the update rebooted and hung my phone on a screen with lighting and a gear lumia 920

Yep, still not saving progress on my 925

It still doesn't save progress and settings for me neither. After it took them a month for this update. Makes me wonder what the hell these guys are actually doing.

Hmm... Great news but I've completed it now

Hopefully it gets updated to support 512 devices. My 720 wants to do some temple running in the sky!!

Any idea when is this coming with 512mb support? And Is it really coming or just talks in air? Anyone?

still no support for 512 mb device :'(

This is driving me nuts!.. What's stopping these guys from developing for low ram devices?? They have all the money, resources and have got enough time but still they look like impotent.

Still doesn't save my results!

Uninstalling. First It crashed my phone and now still not saving anything. The most incompetent developer I've seen. And why the hell it passed certification?!

What makes it even more ridiculous is the fact that the issue that neither settings nor progress is saved is caused by the unsupported regional format that countries like Germany use. It's working perfectly fine if you set the regional format of your device to US (English). Great job, Imangi Studios for not being able to provide a fix in one month that takes 2 minutes.

Actually no, it affects US (English) devices as well; I have a Lumia 920 and I tried to install over and over, multiple reboots but no luck.

Are you 100% sure your device's regional format is set to US(English)? Because when I changed mine to that setting and rebooted, Temple Run 2 saved progress and settings. Once I changed settings back to German, it stopped working again.

Still doesn't save. This game is crap. But I guess we could all email Imangi and ask them nicely to fix this? (support@imangistudios.com)

Hallelujah it's fixed now

i hate windows phone,i hate windows os....i will sell my stupid l620 ,if it wasn't a nokia phone i would never buy it ,but now microsoft own it and i do not have any reason to stay on those phones...temple run 2 is a stupid low demand game not like modern combat or ashpalt 8 (works on 512mb)....that's why i can't understand this,i'm sick of waiting ,first for temple run 1 ,then to fix the crushing bug(still no fixed),now never ending wait for tr2....candy crush will come in 2-3 years,subway surfers again waiting,almost all apps are in beta version with many glitches and bugs (fb,youtube etc...) ....there are not 10 games or apps that fully work without any problem ...i think that nokia ovi store has better apps and games than this windows store,even blackberry store is better than this shit......i regret buying windows phone,i won't buy any 1gb ram or 2gb windows phone again beacuse if i buy it now ,the next year wp9 will come and again i need to upgrade .....nexus 4 ,5 or moto g are the solutions ....

Bye , thank you for visiting wpcentral.you act like a kid,crying for such games candy crush I never played this game.

He/she probably is actually a kid. I don't think there is a minimum age requirement for wpcentral.

Kind of wish we had one sometimes.

What a Shame, Go Run Away with your illegaly downloaded apps and virus infected lagdroid :P

The only thing I don't like about Windows Phone getting a lot of new users is that WPCentral is getting full of people like this.

I so don't care about this game. We already have Minion Rush.

The unable save bug is not fixed! -_-

Yeah, my progress still won't save. Not that I care though, I already have 200/200 GS so I'll uninstall it again.

It just goes to show you that 512mb devices are not for gaming.... Not even sure why MS did that, did they really save that much money by going 512mb over 1gb ? THey should of cut elsewhere, this just seems like it causes fragmentation...

I'm pretty sure both Nokia and Microsoft know full well that 512 mb devices aren't for gaming.

Still refuses to save my progress. Gr8 job with the update...

This update solves the bug asking you to rate the game every time you die...

I emailed them regarding the save issue and got a (really quick) response: Thank you for contacting us in regards to this issue. We are currently aware of this issue and we are working with Microsoft to get this issue fixed as well. Please keep a lookout for any updates in regards to fixes for this device. Contact us back if you have any further questions. Thanks!

Minion Rush also updated.

The review bug was super annoying...I can now peacefully waste my time with Temple Run 2 again :P

Progress saving works for me when I change the regional format to United States (English) which sux but at least works. Hope those guys think about the rest 95% of the world which lives outside USA and fix it to work with other Regional formats.

Its poor test coverage that leads to this. And a perfect example if how certification does not help one iota.

I know guys that worked in Gameloft, they don't do code coverage, I think their religion forbids it.

Strange that the article does not mention the bugs still present...

The articles hardly ever go deeper than this when it comes to bugs. I still got the progress bug... Thanks, Temple Run, but no thanks.

This (Xbox) Game Is a shame... We have so much great games on WP (all type), even for the 512... They can't fix all the bugs in one month ? omg... Maybe they have to spend less time on Twitter... Work is the solution...

Didn't fix anything for me

Still can not bro and not yet available for 512 of RAM although has been updated.. Maybe soon I hope as time and quickly create RAM 512 thanks bro WPCentral

I was hoping for good news when I saw that there was an update for Temple Run 2. But sadly, I'm still getting the review bug after every run.

Gameloft rocks..imangi flop developer

Oh goody. I can now skip the reviewing part. I must have written at least 300 reviews since I installed the game. Joking aside. Glad to see this is finally fixed.

What i don't get is how a game whose installation file is about 40mbs needs more than 80mb to run!!
The math doesn't fit.. I get compression in installation files but over 70% is really high compression ratio!

Played it on my 520 dev unlocked phone it lags a bit but its better than temple run 1.Still don't expect this game to run smoothly on 512 devices coz it will end up the same as temple run 1
i.e. Fucking non responsive and laggy and no updates to cover up.

Nokia uses a lot of only-1GB-memory apps to promote its' devices, have you seen nokia lumia 525 commercials? On the home screen there is a bunch of only-1GB-support memory apps, they do it on purpose. I think, but I have no evidence.

The review bug is gone now on my 925. Also going screen to screen is much smoother.

928 and still have the review bug.

Plz update for 512mb devices

Your chance has come and gone. Going over those initial instructions every freaking time and an obsessive rating syndrome lead to a quick uninstall.

The problem of saving the game is resolved, changing the regional format settings. Settings - language Region. Regional format. Change to United States, any language

Ok guys in next update will come for 512 ram but what time the update will come pls tell me

Ohhhh come on... I need this for 512 mb ram...