Tencent is launching a Windows 10-based game console in China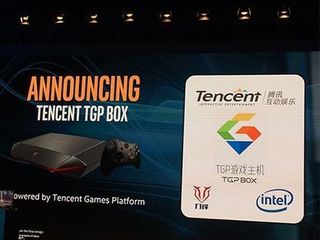 Tencent, the publisher of popular games like League of Legends, has announced the Tencent Games Platform (TGP) BOX for a release in its home country of China. It's a Windows 10-based game console that can download games and can also live stream gameplay sessions.
The console uses Intel's current sixth generation Core processors, but there's no other information on its hardware specs. AllChinaTech states:
There's no word on a price for the TGP Box, nor is there word on a release date for the console. There's also no indication on if it will be released outside of China.
This is pretty neat. Never thought about Game based off of W10 besides MS own. Posted from my 1520 running Windows 10

Its a computer that basically (should) run steam... Which is all it is...

Is runing Windows 10, not Steam.

Didn't you read the article. It said: "The console uses Intel's current sixth generation Core processors, but there's no other information on its hardware specs."

It was a super long article...

Do you have to be dick about it?

It's the internet and everyone here are probably 11. You'll get used to it.

Would like to know how this is different than a Windows 10 computer? Looks similar to an AlienWare or Steam Machine designed to be hooked up to a TV or something. But those are still computers running normal computer stuff (well not sure about steam machines, haven't messed with them at all) Posted via the Windows Central App for Android

It's not different. It's the exact same thing.

SteamOS, used for Steam Machines, is based on Debian. I guess it's possible to go to the desktop on it, so that means it would be possible, albeit a bit complicated, to do regular computer stuff on them.

I believe it runs on their own gaming platform which is like steam.

Hmmm interesting. Sort of like a steam machine but still running windows, so I guess not really like a steam machine :P

Wouldn't be surprised as dell stopped production/selling them a while ago

Producing alienware? Just saw an add for a console-like PC from them. Unless Dell no longer owns them anymore, which would be interesting.

Maybe they would bring LOL to xBox?

Really wish they would bring the Monster Hunter MMO over to the west. Still pretty cool that they are making a Windows 10 console.

I think that's more Capcom's fault, than Tencent... Hey, I'm still waiting Frontier (but at least Cross/Generation will be released in the West)

EDIT: Whoops, sorry, double post

Yeah, really looking forward to Generations in July and you're right about Capcom, they are pretty picky about what they bring over, albeit not as bad as Sega. Still think that MH is a prime series to play in an MMO format.

They should care releasing proper WeChat and QQ apps for W10M first which is an easier task than this.

But probably less profitable

Hold on. So it is a steam competitor?

Haha! Was about to say. Debian, SteamOS? Article clearly states Windows 10

Will thing than have its own Store? Or....?

You can have your own Store on a regular Windows 10 PC, so it will be easy to have its own Store.

There'll be no stopping the Windows 10 juggernaut folks!

Maybe this console will bring a console version of League of Legends. :v
Windows Central Newsletter
Get the best of Windows Central in in your inbox, every day!
Thank you for signing up to Windows Central. You will receive a verification email shortly.
There was a problem. Please refresh the page and try again.