Terraria finally arrives on Windows Phone with Xbox Live support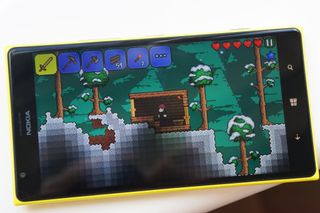 Terraria has just arrived on Windows Phone and it's Xbox Live enabled! The critically-acclaimed sandbox adventure PC game has made its rounds across to mobile platforms and today is Windows Phone's turn. Players will be able to pick up their favorite mobile device, boot up Terraria and explore numerous biomes, as well as travel to the edges of the world and destroy enraged bosses. There's a lot to do here.
Coming across from the PC and excited to know what's included in the mobile port? Check out this list:
300+ CRAFTING RECIPES - weapons, armor, potions, and more!
25+ BLOCK TYPES to build anything you can imagine!
80+ MONSTERS!
8+ BOSSES!
Over a DOZEN environments to explore!
Dynamic water & lava, day/night cycles!
10+ NPCs to meet and recruit to your home!
Kill the Wall of Flesh and change your world to Hard Mode! experience new enemies and biomes
Use the Pwnhammer to destroy Demon Altars and create new ores
XBOX Live leaderboards & achievements!
On a personal level, can I recommend this game? Yes. Having played the original PC version since its release back in 2011 (it's difficult to believe it has been three years already), Terraria is an exciting adventure game, mixed with some RPG elements, action and even some teamplay and simulation through building (think, Minecraft). For $4.99 on Windows Phone, it's a steal even if it is a solid mobile port.
As an added bonus, 505 Games have made it so Terraria will run on 512MB RAM sporting hardware!
Also, grab it on Steam when next on a PC. It's a superb game if you're into these kinds of genres. Thanks to everyone who tipped us!
Windows Central Newsletter
Get the best of Windows Central in in your inbox, every day!
Rich Edmonds was formerly a Senior Editor of PC hardware at Windows Central, covering everything related to PC components and NAS. He's been involved in technology for more than a decade and knows a thing or two about the magic inside a PC chassis. You can follow him on Twitter at @RichEdmonds.
Looks like you wanted to be the first one to comment

Hmmm, don't behave like a ..... I said good because its Xbox live.

Everytime, I click on the 'Download App' option, my eyes go straight to the 'Buy' or 'Download' button before the app info loads. I seen that I had to buy it and was like "Damn!".

I have this on my Kindle and will probably get it on my phone. It's well worth it!

Xbox games are coming back:D
And no trail version:(

No trial? Must be a bad game.

This game needs no trial, trust me. Just watch some videos of gameplay, and you'll either love it or hate it. Personally I have it on nearly all platforms, this makes the 5th..

It most definitely needs a trial. Why? The controls. Terraria was not originally made for touch-screen input and whether the controls make or break the game will vary massively from person to person.
The best way to see whether it works for you? A trial. GTASA taught me so well that even the best of games can be ruined by poor touchscreen controls. That was also £5 and no trial. Deja vu? I'm not taking the plunge to find out.

This is my one concern too: how are the controls? I already bought a Windows Phone game that was designed for a controller (Sonic the Hedgehog 4, Episode 1) thinking it would be awesome, but the controls were awful. I'd like confirmation that Terraria on WP has transitioned better from PC/consoles, especially since it is coming to Xbox One in a few months. I'd like to get it on WP between the two, but if the controls on the mobile version aren't good, I'd get it on X1 instead.

The touch screen controls are excellent! I also had Sonic, that was atrocious. I bought Terraria right away. Not a single regret.

Bought it and the controls seem fine and easy to me now :)

Yeah same here. No try, no buy. I need to test the controls before deciding if I'm gonna buy it.

Every game should have a trial. Watching other people play is absolutely no substitute for trying it out first hand.

are you confident enought to put a bet on that?

:D awesome finally!
Edit: Controls are tight and smooth! And the performance is perfect! YOU HAVE TO BUY THIS GAME!

Is this game worth a buy? I mean... I never played or watched the gameplay of this....but after reading all the comments here I feel like purchasing this game!? What's the reviews for this game? (please don't suggest googling it coz I want suggestions from those who paid for this)

This game is perfect, but of course it depends on if you like the genre! It doesn't matter if this game is perfect what's important is if you like this kind of game. You don't have to worry about reviews, I'm sure it gets good reviews everywhere. This game is the best mobile port I have ever seen btw, the controls work great and are intuitive and the performance is just as good as on my gaming pc. So I recommend you watch some videos on this game to see if you like the gameplay. Personally I love it but idk maybe you don't like this type of game.

I actually like such types of games!

50K+ Rupiah, actually that's decent based on the comments it's definitely worth it.

Downloading it now! :D Never played it before but if it's similar to Minecraft and with 8 bit 2D graphics,it's sold to me :D

It is completely different to minecraft

Yeah terrarria is more about combat, loot and exploration. Whereas Minecraft is more about building and the exploring in minecraft is way less diverse than in terrarria.

Survivalcraft doesn't have this issue. IMO it's better than Minecraft.

This is expensive and no trial come on add a trial or make free

Do u say the same when u see new food in ur supermarket

I hate it when people keep crying for a game to be free... Don't developers need to eat?

I think he's just asking for a way to try the game without committing all the money up front. Yes, the dev needs to eat, but is he getting any money from this customer? No. A trial might convince him to purchase or an ad based option may have the same effect. There's been way too many examples of mobile games that didn't live up to the expectations for one reason or the other.

Actually, everyone wants to buy it even it's more $10 but what if he/she and also me don't have credit card? I would buy it with SMS paying but there's no choice. I know you will say go to get a credit card but I can't, I'm 15 and I don't know where my parents hide their cards.

You can buy visa gift cards... No ID, no credit checks, no job required. You just buy it for a set amount ($20-50 usually) and it works like a normal credit card.

Set up Bing rewards and get gift cards. Your lack of research is not the fault of Microsofts app store. There is always more than one way to pay.

Bing rewards isn't available outside the US

Use a proxy. Do a Bing search on how to use Bing rewards outside the US.

Still doesn't work :)
I've ~450 point and can't redeem a thing, it keeps saying I have to write my address (doesn't say it's wrong or not) and I tried a lot of them ! Even tried setting my vpn/proxy's place as my address with no luck :/

Buy Xbox gift cards from your local store and apply to your account online. Not sure if you need a credit card on file to buy though.

No one wants it to be free. I'm hesitant to drop my lunch money on a game that may or may not be good. Controls for games ported from PC or other consoles sometimes implement touch controls horribly. I rather have a one level trial to see if I enjoy it and then proceed to buy it. $5 isn't worth my life but I'm sure not going to take a chance with it....

Dang, those are two expensive sodas

It's like we are becoming reverse old people. Mt dad user to tell me stories of cutting two ice cream cones for a quarter and getting change back. We will be telling our kids about the days when we use to pay over 5 dollars for a game. But our kids will be asking us what games are, because no developers will be able to afford to keep building them...

Really? In Australia a 375mL can of coke is like $2.20 in a shop or vending machine. Cheaper in bulk obviously. A 2L bottle is approximately $4.50. So basically this game is almost the same price as a 2 litre soft drink.

I don't buy too much soda, but I think a 2L bottle is less than 2 bucks at a grocery store here in the states. Conversely, at a convenience store a 20oz (I think around 600mL) is a buck and a half or more. Posted via the WPC App for Android!

No, it's not a city in Punjab :P

What $4.99!!!??? Yeah I think worth the price :D downloading now

Yeah what was the multiplayer reference all about?

I wish we had carrier billing.

Why most developers don't add carrier billing to their apps where is it is available is beyond me. Or is there something am missing?

Because it has absolutely NOTHING to do with the developer.

@Shikhar just buy a Visa gift card. You don't need a job, credit check, or even a bank account

But I'm trying to pay $5 not $25

Obviously you would use the rest of the money towards buying other games. If you set the limit at $20 you have a whole year to spend it

Sounds cool ;) thanks for the suggestion:)

How come I can't charge this to my phone bill like all the other apps??

Trial? :D no need for that. Game is awesome.

I'm one of those trial fetishists, too, and will wait for an added trial before I buy the game.

It's highly unlikely a trial will ever be added.

I've never known an Xbox game on Windows Phone to launch without a trial and then get one later on. It's a lot of work for the developer to do that and a lot of developers don't think it's worth it, particularly for games with name cachet like this one, which is probably why Ubisoft never releases trials for their games (Rayman, Rabbids, Assassin's Creed, etc).

But there is already a trial version for android

Any idea if this will come to WinRT as xbox also?

That would be great, as a universal app.

I was wondering the same. Maybe with Threshold and the unification of Windows we'll be able to play terraria on WP, RT and Windows.
I'll wait to buy the game.

I love the game and I bought it on PC but at that time the v1.1 lagged horribly. Without a trial, I wouldn't want to risk purchasing a poor port of the game.

Sounds like your PC sucks... It's always been buttery smooth for me on PC. I put so many hours into this game it's not funny :P

Yeah right. If you check the change logs, you will see it was a known issue. Even I played for hours but gradually lost interest. I would love to play it again but without a trial, it's hard to know how good it runs on a mobile.

How long ago did you play it? Posted via the Windows Phone Central App for Android

I played it from 1.1 onwards. It always ran like a dream. Only time I had issues was when the server sucked. Playing locally was always great. I checked my Steam log and I've put 180 hours into it!

Hands-on video is cool...sad to see that this awesome game has no trial or free version...Does myappfree app offers paid xbox game as free download???!!?

money money..... there are no free xbox games (limited) in windows store then no one buy windows phones in india Who's Buy this stupid game "O H GOD PLZ GIVE THE CRACK OR LOADER WINDOWS PHONE"

Do you work for free? not everyone as stingy as you

Sorry, but that makes you an idiot.

u never work free in ur life ? some time's work free for other's

no but it's too much price ₹260/ max 55 ₹ only

It's paid on ios and android too. You do that much coding and design a game yourself and u should come to know. I know it should be around 150. But don't ask for a cracked version. We

You that mad bro? No offense! But 4.99$ is not that much!

I can give you one Euro, if you want. You just need to ask for 3 more. That's ok, it's not even tip worth material. Seriously, and I'm not playing the rich role, which I'm not. Come one. 5 Euro is expensive for a 50 hours game of this quality?!
Anyway, the free games crowd have plenty of titles, don't whine when us, people who like old skool gaming (play something to its full) have title, once in a while.

Love it.. especially with Xbox Live.. Gotta support them :D

Yes, sir! #SaveXboxWP, baby. Details here.

Does it have a tutorial? I bought it for PC but have up since there wasn't an explanation for the controls.

You are supposed to talk to the characters at the beginning. They explain everything

yes it does and its pretty easy to get! Hope i can hook my gf on it =)

I don't know if this helps, but there seems to be an unofficial Terraria Encyclopedia app on Windows Phone.

Downloading now. Finally waiting for this game to come :)

Cant multiplayer until i install it on friends game but just tried the solo and works great the controls are really comfy to me. Weeeeeeeeeeeee 8 bitorgsm

translation in german store says
200+ items,
75+ monsters and
5+ bosses

Looking awesome! I still need to find a way to buy it straight from the Store though, been having a problem with the purchasing for weeks. :-(

Great game. Played it for a bit on here and the controls feel nice; take time to get used to, as does any game, and it's a nice addition to WP. Well worth the price :).

505 games may need to replace the Android part in the store. I mean wow.

in Argentinian store doesnt, but on US store its like a copy paste of android store, hurts my heart lol its like blehhh =P

It looks like maybe they fixed it. I don't see any references to Android now.

I have tested it and it works very well, good controls also :-)

I'm so glad to pay for quality games like that !

Good job to MS and 505 Games to not only port a popular game to WP but also continue to support the amazing XBOX brand with all the benefits (Achievements,leaderboards,etc.)

Etc? That's all dude. Achievements and leaderboards lol

Good game ... But ₹260/- is too much... :/

Why is multiplayer not mentioned in the product description and only drive-by style mentioned in this article? Surely that's a big deal and something to speak about?

I agree, it's quite weird.

Now they've edited it out. Very professional -.-

Uhm, it's €4.99 = $6.5 in Europe why exactly is that?

It is £3.49 in the UK, not too shabby :P.

These bytes don't deliver themselves y'know.

no try and too expensive :(

5 euros? That's expensive! And not even a trial to check out the controls on toughen if they are our piece of cake! You have sold so many copies and you put a no trial and 5 euros for mobile? Come on...

I love this game on my PC! But I paid less for it than the mobile app's current price... -_-

Why!!! U have to be a paid app

Why!!! U have to be cheap

It's not I am really that but I font have my own debit card and in India parents don't give for these stuff

Buy a Visa gift card, or xbox cards

Xbox Live and not free. Insta buy! Hate free games with passion ( read adds, and micro transactions)

Yep. Free-to-play is the worst thing to ever happen to gaming. I support paid games that eschew that crap whenever possible.

Can't wait for it to go red stripe deal. Any comments on controls?

Yeah, that is the only thing that could kill it for me. Because otherwise this is a dream come true.

Speaking of the Red Stripe Deal, this week's is Plants vs. Zombies at 60% off! First time it's been a Red Stripe since 2012.

Respect to the developers for Xbox ❤

I'd have paid $20 for it! Midnight came and I was literally. Wait 1 min and refresh, Wait 1 min and refresh, Wait 1 min and refresh, Sweeeeeetttt. There it is! Never been happier for a mobile game.

lol, I was also doing the refreshing thing. #SaveXboxWP, baby.

How many times do we buy things that are five dollars on a whim? All the damn time. It is so unusual that we are the generation that grew up paying thirty to fifty dollars for video games, and a silly five dollar portable game is questionable? No way. I am buying this (as soon as I actually have five dollars in my account).

I've bought a $90 game (Spore) on a whim and it was the shittest game ever. $80-90 was normal for AAA games... Cheaper now, but not much e.g. Destiny launched at $69. I just buy on Steam now and $20 is my upper limit. I have too many unplayed games, so there's no point paying more than that for it to rot on the shelf.

This is nitpicking, and I don't blame Rich either, but the blurb for terraria that says there are 8+ bosses is super weird. Is there 9 bosses? At that rate just tell us the number. =/
Sadly though I won't have time to pick up and play this game in the near future. Looks fun, and I'm glad it's a nee Xbox for WP game though.

Great price, I was expecting it to be more in line with the XBLA version. To anyone that's played the WP version, what are the controls like? Not being able to try them myself is putting me off from buying the game. And to any game devs out there, please include trials for your games!

A trial would be nice, last game I bought (monty python) said 512 supported but doesn't work on my 625.

For me the controls are perfect, right and left stick as usual, inventory bar touching the the bar itself... its a good combination i think!

Even tho i never heard of it or will likely not play it much. I still bought it for the achievements & support for the developers

Are there any idiotic IAPs? Deal breaker for us. We will gladly pay more for a game if it doesn't include IAPs. For the life of me, we can't figure out why people accept this business model, say'NO' to IAPs and watch the model change. $5.00 is not expensive, most people pay more for a cup of coffee.

I can't think of any way they would be able to use IAPs in Terraria.

IAPs are fine if it means that the game will get more content. I'd rather pay for IAPs (or not pay) than buy a whole new game every year. Terraria is IAP free

We'll disagree. IAPs are a terrible model,a cash grab that ruins the gaming experience. Games listed as free are not. Give me a purchase price or a trial with a purchase any day of the week. Want more content? That's what expansion packs are for. Glad to know this game doesn't have any, thanks for the info to both of you.

Why would anyone play this? Or minecraft for that matter. These 8 bit graphics make my eyes bleed and I don't see any apeal.


So, tell me more about what I should like. I need to know what to make for dinner? Can I have fish ?

Graphics don't make a game.

Graphics are meaningless. The best game of the year so far--on any console--is the 8-bit masterpiece, Super Time Force on Xbox One.

In your opinion. Yes. I tried it and didn't have much fun. Although the concept was cool.

Mr. Dance, for the umpteenth time, you don't need to reply to people just to tell them that their opinion is their opinion. Everyone understands what opinions are already. People don't preface everything they say or write with "In my opinion" because it's superflous. That's too bad that you didn't enjoy Super Time Force. It really is quite a brilliant game with an amusing story to boot.

Sorry but some games should just not be made for a phone. Phones games are generally horrible as it is, I myself can only get into card games, word games, or tower defense games. I played Terraria a lot on my Vita and some on PC.... there is so much menu navigation that it just seems silly to have on a touch only device. And that's not even counting trying to avoid the damn zombies at night.

I'll buy this for my Icon and hope that Universal app support comes to it with xbox controller support so I can play on my Surface 2!

Terraria is a great game, getting this now

+928 http://i.imgur.com/MQDEtLL.jpg 12 Achievements
There is no 10 items inventory bar like on tablet.
You can join/host game like iOS/Android but not cross platform :/. Touch controller is good.

Rich I'll have to disagree about PC version. After playing 360 version, PC was nearly unplayable. The controls were terrible. Way too much clicking.

I WAS FIRST TO DOWNLOAD! LOL

probably first game which I will buy

OMG it's finally here!!!!!!

No. I will not grab it on Steam. However I may get it on Xbox One later. Plan to get in WP within next couple days.

Good point. I think all apps should be universal, especially to preempt msft moving to a unified ecosystem a la ios.

Also want to know why they didnt release a Windows Store version.

Superb game. Getting this on my 1520!

So i made the work table... how do i deploy it on the map so i can use it? or the walls or the floor? hmmmmmmmmmmmm

Same way you use tools. In the inventory, press and hold it and move it to the top row to put it on the toolbar, then use it like any tool. Try the tutorial first if you don't know how it works

Why not release this on the Windows Appstore?

Fantastic game!! Great controls, if only it didn't drain my battery in like 90 minutes on my L920 :(

Also, please stop asking about a trial. Read the other dozen comments whining about it first. The game is really well worth the $5 spent.

well its about time! you guys reported on this game coming to Windows Phone on June 3rd... OF 2013. i swear to you i was beyond excited, as i used to play the game on PC nearly all the time. August 29th, 2013 you guys reported all platforms were to be getting the game. iOS got it. Android next. and where is Windows Phone? The one the game was originally announced for, FIRST? dude, i waited MONTHS, and then it just seemed like everyone stopped caring, since it sure as hell didnt look like it was coming out for our platform. A year and four months later, it just pops up like, "Oh heres your stinkin' game." i just dont know what to say. As excited as i was, now im just... angry? I did my research and checked in on the game every so often, but the devs offered no updates, no news, nothing. and then for it to still cost $5 after we waited so long while the android has a free version, and iOS got it first? I dont know, man.

Chin up! It's here now! Go play it and enjoy it.

Yes! Finally!!! Got it on pc but I need this on my 1320 too!

I think I played 25 cents for a copy of this on steam. You're paying for the Xbox integration. Posted via the Windows Phone Central App for Android

Worth it. Xbox rulz. Steam can only dream.

Well I took my chances on this game and wasn't disappointed. Controls are surprisingly convenient, didn't know what to expect but I'm happy with the purchase, game is running smooth no crashes so far tried it for a day and controls don't make you want to destroy the phone

Dosent work at Nokia lumia 625

Dosent work at Nokia lumia 625

I dont like the touch controls, Terraria should be played on pc.

Does anyone know if work nice on Lumia 520 ?I want to buy it.

Did anyone get multiplayer working, I bought the game on 2 phones but it doesn't see the session on neither phone, I had the same issue with NBA jam never got it to connect in multiplayer,

I haven't tested Terraria, but I just wanted to add in that I had the same problem with NBA Jam as well.

Tell me if u make it work!

Fantastic game. Makes my 920 warm, and drains the battery so damn fast. But it is great!
Windows Central Newsletter
Thank you for signing up to Windows Central. You will receive a verification email shortly.
There was a problem. Please refresh the page and try again.