There are now 1.2 billion Office users and 60 million Office 365 commercial customers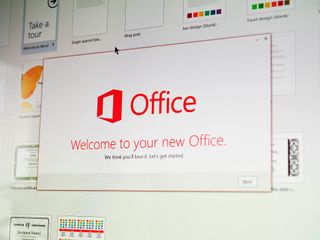 (Image credit: Windows Central)
Microsoft offered some updates on its Office products during its Build 2016 day 2 keynote. Microsoft says there are now 1.2 billion users worldwide that use some kind of Office product or service.
Microsoft also revealed there are now 60 million monthly active Office 365 commercial customers and that it has seen 50,000 small business customers added to Office 365 each month. It has also seen 340 million downloads of its Office Mobile apps, compared to 100 million downloads six months ago.
Windows Central Newsletter
Get the best of Windows Central in in your inbox, every day!
Nice. Keep rocking Microsoft.

Does that make us "officers"? Posted via the Windows Central App for Android

"340 million downloads of its Office Mobile apps" -- lots of iOS and Android users. They could have at least ONCE update office apps on WP8 (7-7.8 is dead anyway). They're pretty much useless

Yeah they are on 8. But they can't since it's system app. Can't update through store

8 dead as is 8.1... 10 all the way.... Oh that's rights.. See yesterdays report

You also see yesterdays report. WM10 might be dying too, they didn't mention anything about mobile yesterday

That's equal to India's population

At the lowest rate which is what? $6? MS is bringing in $360 Million a month in revenue from Office 365. Probably more depending on subscription sizes. That is an impressive chunk of change.

Depends how they define commercial customer.

Here in Hungary, all student get free office 365 pro plus subscription if they register, as long as they are students. From elementary school to the university. (With parental permission if he/she is under 14). I wonder if they count as "commercial users" or not. Posted with the Windows Central app for Windows 10 on HP 250 G1 notebook. It is a scary old monster, I think :D

That's some pretty deep penetration (that's what she said). 1.5 billionish Windows users, 1.2 billion of them using Office in some way. That's the kind of cross-sell ratio all companies strive for.

This and 270 million Windows 10 users are why they're not worried about Windows Phone market share.

best office usite i ever used. ms rocks!

I would like to recommend you a professional site I purchased my product key there before. www.Microsoftkeystores.com . Well-equipped product key, considerate purchasing experience for customer and low price!

Go to http://www.MicrosoftStoreinc.com . I must thank them! My Windows 8.1 activation key just activated and worked well, they do provide the warmest customer service i ever met.
because of employees like http://www.MicrosoftStoreinc.com , i will refer everyone to this site.
Windows Central Newsletter
Thank you for signing up to Windows Central. You will receive a verification email shortly.
There was a problem. Please refresh the page and try again.