Thermaltake's Core P5 case looks gorgeous in green
Thermaltake's Core family of PC cases offer high levels of customization matched with superb water-cooling support. Here's a look at the Core P5 in eye-catching green.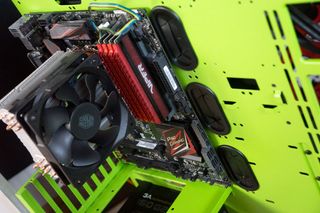 (Image credit: Rich Edmonds / Windows Central)
The Core P5 by Thermaltake (opens in new tab) is the company's PC case for system builders who wish to show off the insides without compromising on style, performance, and cooling. It's the size of a full tower chassis, so you'll need to ensure there's enough space to accommodate such a large presence. Interestingly, even though the case is large, the style and design make it appear less so.
Just like the smaller Core P3 sibling, the Core P5 is fully modular, coming flat-packed as though it was IKEA that shipped the case. It takes less than an hour to put everything together, including the glass panel, but that's without packing all your equipment inside. Some tasks like installing the SSDs and managing cables can take some time to perfect, but the ending result is stunning.
For those seeking exact dimensions, once assembled the case will measure in at 608mm x 333mm x 570mm. That's a lot of volume that you can fill with a lot of computer, including multiple GPUs, custom water-cooling with up to a 480mm radiator, ample space for cable management, full ATX support, and the ability to wall mount the case itself.
The front of the main panel sports not only power and reset switches, but also two USB 2.0 and USB 3.0 ports. There are also a front-mounted ports for your microphone and headset, should you wish to not stretch a cable all the way to the rear of the motherboard. In fact, after you have everything squared away, any cables attached to the front ports are actually more untidy looking than the exposed innards of the PC itself.
So just where is everything located on the Core P5? Hard drives and SSDs are actually hidden away within the panel itself with necessary cables. Up to 3 drives can be installed using available brackets, with a fourth available that can be installed between the motherboard and radiator. GPUs and other PCI cards can be installed as normal, or if you're like me and have a heavy GTX 1070 that needs to be inserted it may be worth using the optional mounting bracket to have it sit upright (plus making use of the included extension cable).
Lastly, the power supply unit is attached to the Core P5 at the bottom of the case. A pump and reservoir combination can be placed between the PSU and radiator at the designated slot, which makes planning out a water-cooling solution an absolute breeze. When it comes to implementing custom tubing and mounting options, all that needs to be done to open up access to the case is to detach the window panel from its four connection points. This makes the P5 (and P3) ideal for test benches too.
I recommend that anybody that buys this case also have a can or two of compressed air on standby. This is to combat the inevitable layer of dust that will accumulate across the exposed platform and components. A single dust filter is pre-installed for the radiator. It's worth using some incense smoke to determine airflow behind the window panel, as you'll want get as much air drawn in through the dust filter and radiator as possible.
Image 1 of 8
You can order the Core P5 in three colors: black, green, and white. It's costly, but worth the investment if you're after a premium case that will adequately showcase all your PC internals. Just make sure you budget funds for optional purchases like water cooling, custom sleeved cables, and other case mods. Should you not require something this large but love the design, take a look at the smaller Core P3 (opens in new tab).
See at Amazon (opens in new tab)
Windows Central Newsletter
Get the best of Windows Central in in your inbox, every day!