Thimbleweed Park now available on Windows 10 with Xbox Play Anywhere support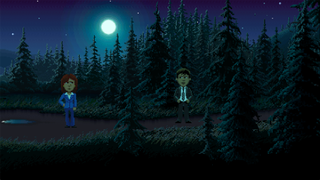 Thimbleweed Park, an acclaimed point-and-click adventure game, has finally made its way to Windows 10. After its release on Xbox One back in March, this version of the game also brings Play Anywhere support between the two platforms.
From the creators of Maniac Mansion and Monkey Island, Thimbleweed Park tells the tale of a mysterious world packed with bizarre events. Following five protagonists over the course of the game, a simple murder case spirals into a much more complex but thrilling adventure.
For those who already picked up the game on Xbox One, the inclusion of Play Anywhere support means you can download the Windows 10 version for free. Otherwise, by purchasing the game today, you'll be getting access to both Xbox One and Windows 10 digital versions for a single price. You can find Thimbleweed Park on the Windows Store and Xbox One for $19.99.
Download Thimbleweed Park from the Windows Store (opens in new tab)
Windows Central Newsletter
Get the best of Windows Central in your inbox, every day!
Matt Brown was formerly a Windows Central's Senior Editor, Xbox & PC, at Future. Following over seven years of professional consumer technology and gaming coverage, he's focused on the world of Microsoft's gaming efforts. You can follow him on Twitter @mattjbrown.
This is the best news of 2017 so far for me. I've been asking the dev on Twitter when it was coming to no avail. Awesome news :)

Seems like a good game to play on my Surface. Play Anywhere is a huge perk.

That's exactly what I'll be doing.

Thanks for the tip, downloading now

Can someone try to explain the appeal of the game to me? It seems like the type of game that I would either absolutely love or absolutely hate. I hope it would be the former!

It's got a very strong nostalgia feel for those of us who grew up on traditional point and click adventures.

Hard to explain. It's a point and click adventure by one of the best studios ever at those type of games.

Well, not really.This wasn't made by LucasArts but by a studio called Terrible Toybox. 3 of the members of that team were part of LucasArts the team that made so many great point and click adventure games in the late 80s and 90s.

You know the team that made those games was around 5 people back in the early 90s? The people that thought up and designed them were these guys.

LucasArts had 5 people in the 90s? lol ok

We'll only Windows 10 devices.

So the Alcatel Idol "with Windows 10" doesn't fall into that category. Gotta love semantics.

Looks fun, and the best part is that even low end PCs can play this game.

One of my biggest issues with people calling Play Anywhere a reason for a digital game to cost more than disc. Not all of us have PCs that can handle the games that currently support it.

Yeah, looks fun. I'll get it on steam...

If you already had it on X1, would be free..

I don't have an XB1.
I prefer to play this type of games on my PC.

Fair enough. But the point is the PC crowd is relatively small. And alot game on console also. So being able to save this on their pc and continue on an Xbox is a massive plus. And makes the windows 10 version much better value than the Steam one.

Well, I have more then one PC. Only my gaming PC is on Windows 10, others are not. If I want to play on my laptop for example, I can't if I buy this version. Which version being much better remains subjective. I prefer using features like family sharing, and refund. I can even try to play it using my steam controller even though I think a point and click game is generally made for keyboard + mouse.

The PC crowd is far from small. Would love to know where you get this from. I think the real point is that if a person owns an XB1, Play Anywhere is extremely useful. If they do not then Steam or GOG would be of far more value especially if a person has a mix of devices with different Operating Systems. Different people with different situations and preferences.

From sales. Take any PC game vs its Console space counterpart. The Witcher 3 sold more than 7 million more than PC version. COD, Elder Scrolls, Halo Wars 2, etc etc etc. The list is endless. PC titles are lucky if they hit 2 million sales. The only games that sell big are Loot based Gambling games like Wow, Hearthstone or Counter Strike GO.

"The Witcher 3 sold more than 7 million more than PC version."
What?! When will you stop lying Richard?
gamingbolt. com /the-witcher-3-wild-hunt-has-sold-more-copies-on-pc-than-consoles-combined-developer COD is mainly a console game. Halo wars 2? Seriously? Endless list? Where do you get these numbers? Please post the links or are you lying once again? But all this doesn't say that PC crowd is small.
In 2015, there were 125m active users. How many XB1 owners are there now? We are talking about point and click. And more specifically PC gamers vs XB1 owners. Please don't tell me there are more point and click players on consoles... LOL


Sales do not represent the population of a platform. The Witcher 3 did not sell 7 million more on XB1 than PC and if you have to include PS4, then that shows your argument is invalid. All 3 platforms are doing fine and quite populated. COD has not been popular on PC for a long time. (Right now everyone appears to be playing Playerunknown's Battlegrounds, H1Z1: King of the Hill or Overwatch) Why would you choose Elder Scrolls as an example? Skyrim alone sold over 10 million copies. You are grasping at straws here and it is baffling how you find logic in your claim at all.

**** already got it on Steam. It's a great game. I would have preferred the UWP version.

Looks like a fun one, been waiting for a good moneky island type point and click. Telltales don't have enough puzzle elements, even though I enjoy them.