Tile Me, Instafont and Surfy all pick up impressive updates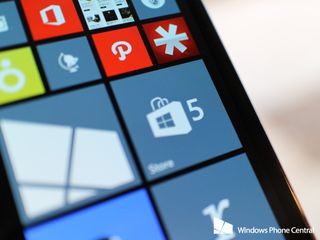 We love updating our apps, even though we don't manually do it anymore in Windows Phone 8.1. Now apps can automatically be downloaded and updated in the background. That means you're going to need to pay extra attention to when there's new features in your favorite apps. Today we're looking at updates for Tile Me!, Instafont and Surfy.
Tile Me!
Today's update for Tile Me! is a pretty big one. The paid version of the app is now at version 3.0, while the free version hits 2.0. In the free version of Tile Me you'll find an updated UI. You'll also find an updated UI in version 3.0 of the paid version, but with the extra features added as well:
You can now upload a Twitter Header from the background creator
You can now choose any image for the background creator and not just screenshots
All references to SkyDrive have been changed to OneDrive
Fixed app crashes when uploading PNGs
Added red Lumia 822 to the background creator
Minor bug fixes
Download the free version of Tile Me! in the Windows Phone Store. The paid version includes GIF support, no ads, and background outputs and can also be found in the Windows Phone Store for $0.99.
Instafont
Instafont is one of our favorite apps for adding text and weather information to our photos. Today's update, version 4.0, introduces the following new features:
6 new filters (included 4 Instagram's filters - Earlybird, Lo-Fi, Valencia and X-Pro II)
Rotate text
Add animal sticker (you can also rotate sticker)
Other improvements and bug fixes
You can download Instafont for free from the Windows Phone Store.
Surfy
We're digging all the new changes to IE11 on Windows Phone 8.1, but a lot of you like using alternative browsers. Today's update for Surfy, version 3.9, brings more features that a lot of you with SD cards will like. Here's what's new:
Export downloaded files to SD Card
Export any file to Media Library
Improvements to password and form cache
Numerous bug fixes and enhancements
Download Surfy for free from the Windows Phone Store. Or grab the paid version from the Windows Phone Store to get more tabs and a few extra features.
Thanks for the tips everyone!
We don't need these apps anymore. Thanks to Windows 8.1 :)

*Windows Phone 8.1, but you'll still want to know what's new in them ;)

Yes, but we're not going to tell you...ever... Of course if we news we'd share. Duh :p

This windows phone 8.1 update have made me so impatient. :P

I have a problem with Cortana. I can't add my interests. It says "i am not turning up any suggestions. Try back later". Does anyone have this problem?

I see no one have this kind is problem ;) I'm unlucky :(

no eMIN616 ...I am sure there are other people having the same problem...it may be better if you went to the forums and posted your question there..... ITs pretty easy and you would be surprised how many people have problems just like you :) I originally hated using the forums....just because forum anywhere are sometimes so massive to go through that it may be a little undaunting but ..the forums are easy to search for your specific question....give it a try :) Just go up to the top of the screen....and click on Forums...check it out !!! :)

Maybe she just doesn't like you... xD

Okay i will try it)i hope it will be helpful!)) thank you very much for your attention :) by the way, i loved swype keyboard))

It's WordFlow. Get it right!

I hope Instagram Beta gets an update soon..

Lukasz Ciastko, supposedly that's right))
Windows Central Newsletter
Get the best of Windows Central in in your inbox, every day!
Thank you for signing up to Windows Central. You will receive a verification email shortly.
There was a problem. Please refresh the page and try again.