Tiles for Outlook lets you get creative with custom Calendar Live Tiles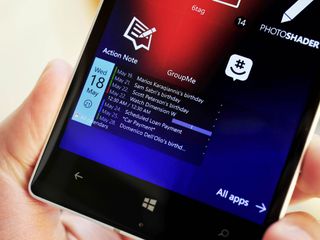 If you've ever wished you could create ultra-customized Live Tiles for Outlook Calendar, then a new app called Tiles for Outlook is definitely worth checking out.
Available for both Windows 10 PC and Mobile, Tiles for Outlook does essentially what is says on the tin. Once installed, you'll be able to customize Live Tiles for Outlook Calendar with a slew of variables. Option include a number of secondary color options, background type, toggles to hide duplicate events or show the week number, and much more. You can get a full look at the options on PC in the screenshot below.
Interested? If so, Tiles for Outlook is available at the Windows Store link below for 99 cents. And if you decide to give the app a shot, let us know what you think in the comments!
Download Tiles for Outlook on the Windows Store (opens in new tab)
Windows Central Newsletter
Get the best of Windows Central in in your inbox, every day!
Dan Thorp-Lancaster is the former Editor-in-Chief of Windows Central. He began working with Windows Central, Android Central, and iMore as a news writer in 2014 and is obsessed with tech of all sorts. You can follow Dan on Twitter @DthorpL and Instagram @heyitsdtl.
I am thrilled that we have another calendar app.

It isn't another calender app, as far as I could gather from the article. It seems to be a Live Tile customisation app for the existing Outlook Calender app.

To be fare, I didn't read the article! Posted from PornHub

******* lol "posted from pornhub"

Hope the fare wasn't too high. Posted via the Windows Central App for Android

It's "fair", not "fare"... signed, grammar & spelling ****

No worse than all of you outcast hillbillies with your use of "loose" and "lose" Posted from PornHub

No worse than all of you outcast hillbillies with your use of "loose" and "lose" Posted from PornHub

I don't usually confuse the two, & if I do, well; I definitely don't attack the person highlighting the mistake, so long as it's done tactfully or light-heartedly (which I clearly meant to be with my last post), not sure what the crass response is all about, says a lot really.

1. I did not mention anyone.
2. I did not reply to you, I replied to myself, you simply received a notification of a new comment. Thanks for playing hero. - notice no-one else has, you're being vain and presumptuous assuming I would even speak to you at all. It is difficult for me to crain my neck to look down from my high horse upon your lower caste and correct you, but I digress.
3. I also, was being facetious, still am, but you fail to realize it - says alot about you too. Posted from PornHub

1. Well, clearly it was directed at 1 of 2 posters, or a blanket statement at the only 2 posters who made light hearted correction. 2. Riiight... 3. You may have been, & if you were, sorry for the misinterpreted intent, easy to do, maybe you'll do the same for my post that started this. But you in no way are now, as is evidenced by the slings levelled in your latest post.

I am just warming up.
..
Truly, I was not speaking to you, I was making a blanket statement as a joke which others comprehend - well, all but you anyway.
That being said, it is you who had begun all of this by proffering a grammar correction that no one asked for because we understand that most of us are typing on a phone and the keyboard corrects itself for better or worse.
..
Don't forget, you claim your post was playful and expect me to take it that way, but you do not recognize mine as such. You want your cake and to eat it too.
..
You stepped it up, and now wither under mild insults that were not even originally directed at you to begin with. Now, you whine and cry like a wee lad who cannot handle his business when I pay attention to you. Go away. Posted from PornHub

Truly, I was not speaking to you, I was making a blanket statement. mild insults that were not even originally directed at you to begin with.

Oh but ofc you were, in the context of where your post was made & what you said, you can't turn around claim it wasn't directed at me, it was patently directed at me or both of the spelling correctors. Lets start-off with what you said:

No worse than all of you outcast hillbillies with your use of "loose" and "lose"

(notice the use of hillbillies, a pural of the word hillbilly) Let recap what I said:

It's "fair", not "fare"... Signed, grammar & spelling N4zi

That being said, it is you who had begun all of this by proffering a grammar correction that no one asked for because we understand that most of us are typing on a phone and the keyboard corrects itself for better or worse.

And, it was a correction, not a slight, you made it personal, I was willing to accept otherwise, not so sure now after your latest, post.

Don't forget, you claim your post was playful and expect me to take it that way, but you do not recognize mine as such. You want your cake and to eat it too.

I don't actually, try re-reading my last post, maybe you didn't read it before it was edited, I was willing to accept your claim that it as all meant in jest, seriously doubting that now though.

Now, you whine and cry like a wee lad who cannot handle his business when I pay attention to you. Go away.

No withering here buddy, still not resorting to the heavy barrage of insults, though.

Look, your poor grammar, incoherent thoughts, and discombobulated arguments are shining through - you must be upset.
..
I am rolling on the floor laughing. My colleagues are reading over my shoulder egging me on. Your falling to pieces.
..
For your sake, I'm done.
..
Oh, I love you and have a great day - kisses! Posted from PornHub

Nice way to ungracefully exit from what may well have been no more than a double-ended misunderstanding (NTM pointless/time-wasting exercise), you're all class buddy, all class. We had an opportunity to move on respectfully by both saying "My bad for not getting you here & there etc" (which I already initiated a few posts back) but nah, seems like that's beyond you. Best.

I have no time for pests like you. It is you who was wrong first. I do not need to agree with you that we both made an interpretive mistake - its you who screwed up and you know it. You were the fool who even edited your comments because you know you appeared the fool - and you want me to accept your afterthought of an edit. Get out. You are weak, ill mannered, and sad. We don't need someone who wants to be friends we need strong people - not cowards- stand up for yourself. You screwed up, so what, say your sorry. Don't try and make me agree I screwed up, I didn't.
..
By the way, your mom needs her basement back. Go into the sunlight and burn that mold off of you. Posted from PornHub

its you who screwed up and you know it. You were the fool who even edited your comments because you know you appeared the fool - and you want me to accept your afterthought of an edit.

No, I was willing to accept your claim that you were being facetious, that's still not great in the context in which is was posted, but it's close enough to speaking in jest. I was showing strength by being willing to accept your line, rather than continuing with mine, you're the one who continues to show weakness. Your argument that me editing at the last minute (before your subsequent post came through) means something more sinister than just taking your word at face value, is just fail & shows your immaturity & inability to negotiate disagreements in a rational/reasonable manner. I'm done here, you won't get any more bites from me, unsubscribing from this thread, you can "win" you little war on the Internet & continue the slights. The record's there for all to see, I've nothing to worry about, not that I do for such a petty thing, hence walking away & not trying to get the "last word". Much more going on in life than to waste one more second on this, despite your rude insinuations.

I was right, you are weak. You don't even practice what you preach - all that soft nonsense about amicably backing out, talking down to me for exiting abruptly and so on.
WOW
..
Btw, your mom said to take the trash out and clean the litter boxes for your 12 cats. Posted from PornHub

Does the 4x4 tile work on Mobile?

OMG I see you have many fans here. Posted from my NoteBook.
Keep Calm Because P.A.O.K. you are...

If you are replying to me, well, we are like family and family judges the most. As for down votes, they mean nothing just like those that cast them. Posted from PornHub

I have read many times your post's and I agree with you.I don't understand why people downvote so easy others opinions.
p.s.
LMAO that signature.
Posted from my NoteBook.
Keep Calm Because P.A.O.K. you are...

Your like a Marine, only a few of you. We need more like you. I am proud of my signature too. I'm surprised no one has complained. Well, I did not break an community rules...but that never stops anyone around here. Posted from PornHub

Maybe this way I could actually get the date to always show... Am I the only one who's calendar live tile will show the current date for only a day or two after an event, and then it goes back to being just the name?

It works well for me. It just breaks itself after an update or smth like that, and then I just do a soft reset and it works again.

Trial installed and pinned.
Let's see if it works after 14 days
or if the "Live" Tile is Dead...

Dev note: I hope it will ;-)

Are you the actual dev? Cause I've got some things to report: first of all a nice about page with means to contact you would be nice; that'll make all the difference with bad reviews... ;-)
​On Insider 14342 PC edition it ain't working... app hangs on changing the tile. And please let the app follow the culture that's set on the phone, because now I get AM/PM on my tile, even though I use UK settings.

Hi Alkaziel, loving your work ☺ Is there any way we can "brighten up" the tile so that it is the same brightness as all the other tiles? It has a dull look to it at the moment like it's got a slightly black transparent layer over the top of it? That's the only issue I have with it though, the rest is great.

Had this issue on fast ring and RS builds, on the release version it works without issues.

Does the live tile actually take you to the calendar app?

That's cool. A lot of these cool tiles are for different calendar apps entirely.

This is a great idea. Maybe MS can adopt this in a future release.

Dev note: Thank you very much!!!!

Need more **** like this.

Mario karagiannis ... GREEECEEEE BABYYY

Wish they would update simple calendar with more options for the live tile.

Since my L930 updated to W10M, Simple Calendar isn't working like it used to. I used to be able to fully edit all calendar entries in Simple Calendar - eg I can no longer delete an entry. It's annoying because their live tile, albeit one that I paid for, is the best that I've found.

I want that extra huge tile for Groove Music!

Same, I think its a shame that they removed large tile from starting mobile builds.

Sam Sabri, nice to see his name back on this site :D HB in advance..

...and I'm now learning that Sam and I have the same birthday! :)

That's looks awesome! Posted via the Windows Central App for Android

It's a good start. My calendars seem a bit gray and it doesn't list all my calendars. Font can be smallish. My tiles are not as vibrant as the sample with the article. But generally like it. Want ability to group calendars say Yankees and Giants in a sport Calendar, etc

Dev note: Calendar grouping (instead of all/single) is a planned feature :-)

Does Outlook on windows phone have the ability to set default notification times (at time, 5 min early ...) and set re-occurring events? I only ask because I have the android version lacks both of those features.

It's called "the Feature gap"! ;-)
- Lollipop sucks -

I have Marshmallow, but the lack of features have nothing to do with OS. Just an uncommon but good example of an MS app
having better features for their own platform.

and they say Microsoft apps are better on competitive platforms ... smh

Are you sure? Because in W10M the option is hidden under three-dots menu. Maybe you can check some hidden items in the app because I think that fx is quite basic.

Going to check with my mum android tablet later. I have installed almost all MS apps just because I'm MS biased.XD

Downloaded and bought. I like the look of it.

Dev note: Thank you for your support!!

This is what I have been waiting for, downloaded the trial, it's a must but imo

Three years with Windows phone and now I am getting want I wanted.

Dev note: That's the spirit, I needed this for too long so decided to create it. I hope you'll enjoy it!

Nice app, but no 24h clock format as far as I can see. I mean, how many hours in one day ? That's right, 24. Then why use 2x12.

Even your dial clock only has 12 hours. I get it...you are used to one way, it doesn't mean that the other way is "wrong".

Dev note: depends on your regional settings... My phone is in french, so I get those 24 hours :-) I'll add the option anyway.

My phone is in Czech, I have 24h, but sttill can see only 12n with AM or PM. Would like to have it in 24hours... thx:) And already bought...

Nope...it doesn't ... Mine is on UK settings (where they absolutely use 24h format) and it still gives me AM/PM time format.

Because that is what people in some countries use almost exclusively. Granted the option should be there on all apps with time.

I've only waited for this since the release of WP7.

Great idea but not a fan of the looks and how crowded it is. Hopefully it improves.

Bought. It works. It was one of the annoying things with the live tile only showing the next appointment. For work I need more info than that. The huge tile would be superb for this app. Ms, make that happen please... And bring back fm radio too!

Micrsoft should make a deal with Workhan solutions and hire them to fix live tile personalizations for all live tiles on windows 10 before the anniversary update arrives. There's still time. And then hopefully they will also unlock the customizability of the native app tiles such as money, news, sports, calculator, recorder, and all versions of office and office file tiles.

Dev note: wow, thank you!! I doubt they would be interested though, and I hope they could come up with something even better ;-)

I've been using Week View 8.1 by Hannes Biribaur for about 3 years, though I see he now offers Live Tile Calendar 10 and Lockscreen Calendar apps

I've read a review on the Store and someone posted what he wanted more from this app as in features. I'll sum it up here too, cause I want the exact same things (hope the developers also read this): * Ability to exclude calendars. Now it's all or one.
* Secondary color: transparent
* Font type change
* Font color change
* When chosen to not use a title, use that space instead for an extra event line.

Dev note: I do read your comments :-) The transparent secondary color is here but in a rather stupid way (my bad), since it's transparent you cannot see it (last row). :-P Will change that.
And OK for all other requests, thanks!!!

Ah oke, will check that transparency out, thanks so much for looking into the other features! Keep up the good work!

That's quite funny. After your comment I found the transparent secondary color. :-) I purchased and am enjoying the app, thank you!

The only reason I ever bought other calendar apps was to get a better Live Tile. Now I'll uninstall those apps and just use this to complement Outlook Calendar! ACES!! I'm on the Free Trial, but about to buy it!

Dev note: Thank you for your support!

I hear ya! But I still had to have the calendar tile to open the Outlook calendar app, which I preferred using. This one is great!

Never understood why MS still wont implement color picker so that user can choose any color of HIS choise.

Thank you everybody! And a big thank you to Dan and the Windows Central team as well for this article! I'm the developer of this little app, be sure I'm reading all your comments and will add features according to your feedback asap! Thank you again !!! :-)

It's good but still needs quite a lot of development. The font for events is too small and, despite the settings menu, doesn't seem to get bigger. For my taste the date bit in the left needs to take up a little more space so that the date can be larger. The tile is lightly shaded, so its appearance is not as vibrant and the entries are a little harder to read.
The app is basically a tile which gives more information than the native app tile (shame on Microsoft for STILL only showing one event) and provides a conduit to the native app.

....and I'm not convinced that the bars on the live tile - which, I'm guessing, are meant to show when in the day the event is and how much of the day out the up - are off much use.

Dev note: Thanks for your feedback! The date area is not that wide to allow for more free space on the events descriptions side. I'll check that anyway. The font size should be alright (and customizable) but maybe is there some rendering issue on some devices. What phone are you using?
Regarding the bars, I'll make them optional (and improve their layout) as its useful to me but probably annoying for some :-)

Alkaziel, I'm also having issues with font rendering being too small and not able to change the size. Settings change, but there is no difference between the sizes when actually used. Also, when showing "times" for an event below the description, the bottom few pixels of the font for the description gets cut off for the entire description line. It could be a "display scaling" issue. For your information and to assist you in troubleshooting, I am using a Lumia 640, but have the Display settings under "Size of text, apps, and items on this display" set to 150% instead of the "recommended" 200%. That way, I get the 4 tiles instead of 3, and am able to get more on the screen. Fonts are smaller as well. Still, the font sizes don't change on the tile for me, and seem smaller than text on other tiles. Hope this information helps you track it down. Looks like this is an app I will love, once the issues that AJE1 mentioned are resolved. I've got to second his motion on fixing those things. I would love for the bars to be optional as well, as I generally hate that view in any calendar app. I prefer an "agenda" view, as my appointments are generally "staggered" quite a bit.

I'd second making the bars optional. The biggest annoyance to me in an otherwise great app. Looking forward to your continued work on it. :-)

I hope someone will build an app for contact tiles that are not round like the default ones. I'll even buy it just not to have those circles on my screen.

I never like the "live tile" feature for the People app myself. I don't like all the faces blinking in and out whether square or circles. There are numerous apps in the store that give you a shortcut to many settings and 3rd party apps, and not a single one that allows you to pin a tile as a shortcut to the people app. That's what we need. Something we can make a "custom tile" to replace the People app's tile that will open the People App. Shouldn't be that hard, and I bet a lot of people would buy that one. I know I would. Something with Transparent background and the People App icon, with no flipping people on it. Like what it is when "small" size, but make it like that when bigger. If Microsoft would just add the option to "Turn off the live tile" in the settings for People, it would make a LOT of people happier.

Hmmm. Another app that errors out when I try to download it. The store is a giant mess right now.

Tap on getting details for that error, and it will tell you it has to be installed on internal storage. Tap OK to override settings to store on SD card, and you're good to go. Previously the store would give you an alert it needed to be installed on internal storage, but no more. It gives an error and you have to tap it to see.

I don't like it! It looks very unprofesional

Dev note: I'll try to create more "professional-looking" themes then. But what makes you feel this way?

It would be more helpful to make suggestions on what it should look like. Statements like that aren't useful to improve an app. The Dev is reading the comments, so being helpful can make a better app.

Very nice app! But font for events is too small.

Looks great, now downloading the trial, fingers crossed it's as good as it looks

This I bloody brilliant. This is what MS hasn't been able to deliver!
The text is a bit blurry both on PC and phone and I wish I could choose the colour if the text. Other than that I can now delete TrueCalendar8 and use this

Dev note: Thanks!!!! I got the blurry text as well on my computer (fixing it soon... Hopefully), but it looks fine on my phone. What device do you have?

I have a 950 XL. I've just done a good stare at the text again, and it isn't blurry after all, its really hard to read. The text is really small and faded

Hi Alkaziel, I have the same on my phone, bit blurry text, it seems a bit "dimmed". I have a Lumia 830, W10M production build. Thanks for the app, I will purchase it now I've read that your doing to make a bunch of improvements! Keep it up!

Seems like android widgets ... Great Job!!

Hey Alkaziel, please post a way to contact you (or update the app with a means to do so) because I've got plenty issues/wishes to report :)

Sure, I forgot to add my twitter handle in the app, I hope I won't go against the site rules: you can contact me on @wokhansoft. For those without a twitter account, I'll prepare another way!

Please do Alkaziel! It would be handy if we could give feedback from within the app (in an "about" section for instance).

anyway to adjust the font not as large as previous calendar live tile *edit* item size but the format on text doesn't look as nice.

Just downloaded the trial on my L950. First impression is good and will see how it is. Would love there to be a 24hr clock option

Excellent application! I was desparate to find an app with these features for a long while on Windows Mobile to replicate features from a similar app on Android called Smooth Calendar. Whilst the Outlook Calendar app is getting good, its Live tile is pretty useless, and has utterly no configuration settings. I would say the presentation of timed events is not the best it could be yet. I personally would like the option for a "compact view" to show the Date and Start Times aligned on the left and the event name, without the info-graphic to show the event position and timing. Something like... 19 May All Day Fred's Birthday
19 May 19:00 Dinner with partner
20 May All Day Work from home
20 May 11:00 Team Meeting
20 May 13:00 Conference Call

Dev note: Thank you! Will check that.

Really good, trailing it at the moment. I think it would be awesome if it went from today to tomorrow and then next week in the live tile. I think it zooms through a bit too quickly on the live tile. But this is much better than current Outlook live tile.

Really like it as it is (and indeed have bought it), but a couple of changes will make it amazing:
- 24 hour clock format.
- the ability to make text bigger and the lines to scale correctly - the writing is tiny on my 950xl

Dev note: Thanks! I'll add the 24h option asap, and will check those scaling issues.

Hi there, why do I see question marks and refresh symbols to the right of my events in the Live Tile?

I purchased this and installed it on my Lumia 950XL and Vaio Flip 13 computer. When I set it up on the Lumia 950XL it worked great for about 2 hours, I then decided that I wanted to change from all Calendars to Outlook Calendar only, since then the live tile stopped working on the 950Xl. I never got the live tile to work on my computer at all. I have uninstalled and reinstalled as well as shutting down and restarting both several times. Both are running the latest production updates. I will keep trying to get it to work properly again as this is a very good Calendar app with lots of potential. just wondering if anyone has had any of the problems I have.

I've been looking for something exactly like this for a while. The only reason I use Chronos+ is because the live tile is better than the default calendar's. So I downlaoded the trial last night but I'm a bit embarrased at the moment, I can't figure out how to make it work. I opened it up, chose the settings I wanted, clicked on the 'check' button at the bottom, and pinned to my home screen, but nothing shows up on the tile. I also pinned the calendar to my start screen and that's not updating either, so maybe it has to do with that? Looking for some help, thanks. L950 Redstone

I bougth it but its pretty unusable as the fonts are tiny and no contrast. Cant read my events at all and the fonts from each row overlap with the next making it even more unreadable. Nice concept but terrible executuon.
Windows Central Newsletter
Thank you for signing up to Windows Central. You will receive a verification email shortly.
There was a problem. Please refresh the page and try again.