Timing '13 CP for Windows Phone 8, allows you to track F1 races in real-time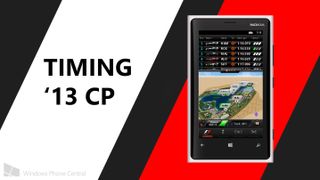 The 2013 Formula 1 season may be half over, but we're now getting some official love from the action packed sport.
An official F1 timing app has been released taken from Android/iOS and released on Windows Phone. This is Timing '13 CP, the only app for both Windows Phone and Formula 1 fans. Let's check it out.
Petrol heads should be pretty stoked to see some love come their way from Formula 1. The Timing '13 CP app for Windows Phone allows you to access live timing and track positing on timing screens and fully interactive 3D maps for any F1 face. These are the stats you can track:
Tyre (Tire in the US) Information
DRS Zones
Real-time track positioning
Live timing data
Live leaderboards
Pause live sessions
Download race packs
Follow your favorite F1 driver
Marshal News – Race control messages
Live text commentary
Event counter
Corner views
Keep up to date
Let's be up front, most of us at Windows Phone Central don't really follow or watch Formula 1. So we can't tell you whether or not this is an app we'd be using for our F1 needs. But it does look and sound cool.
For example, the real-time track positioning sounds like something pretty awesome. A dynamic and fully interactive 3D map gives you the position of every F1 driver on the track at the same time. You're able to pan, zoom, and spin the track to check out the action.
Here's the tough part to swallow if you're getting excited about this app – the price. It comes in at a whopping $26.99, which is two dollars cheaper than the Android and iOS versions. But here's the thing, the current 2013 season of F1 is half way over, but you're paying full price for the app. Plus, there isn't any guarantee this will work for next season. We've reached out to Soft Pauer, the developers of the app to see if they're planning on lowering the price or allowing the app to work for the 2014 season.
The app is only available for Windows Phone 8 at $26.99. You can get it in the Store, use the QR code below, or swipe to the right in our app.
Thanks for the tip Steven C!
I love the F1, but $26 xD?

A bit steep for an app that might only work for the rest of this season. I can't wait for SmartGlass to make apps like this irrelevant.

Well worth it for me. I've been tweeting and bugging them from day one of WP8 I am so happy right now.

Found this on Reddit, http://www.reddit.com/r/formula1/comments/143gv0/f1_documentaries_movies...
Enjoy!

Sorry, the videos in the above reddit page are all dead...This still works though, has races and a bunch of docs.
http://f1tv.fx1.nl/

That's FOCA for you. it controls the live timing and F1 rights. They put their feet to the ground about year ago with live timing and started demanding huge sums of money.
And here we are.

And you can see the live timing for free on their website. (Not on the phone, though)

The android version is excellent so i hope this is as well. Price is similar too. Too bad i already bought it for android. Hopefully enough people will buy this so that they will publish a 2014 version too.

But i think this works best on tablet sized devices. I guess a phablet would as well.

Where's the NASCAR app? Especially since Sprint has now adapted WP. WE NEED AN APP...

I'm glad my article helped to get support. http://www.1800pocketpc.com/why-are-app-developers-waiting-for-windows8-... I will be buying this! Shame there's no free/trial options like the other os' get

LIve Timing is a great app, it uses Formula1.com official live timing feed. Completely free. it also has commentary.

The offical app has additional features like a live map of the track with the position of every car.

Is it really worth so much for these additional features? Live timing lets you follow the race for free, but without the graphics

For somebody like me who watches every race, qualifying and most practices; I think it is. The app gives you additional enjoyment on 20 weekends throughout the year, so in my opinion it actually is good value for the money.

Was all over this until I saw the price

Same price as iOS and Android also they drop the price as the season goes on next year race 1 the app should be about $50 well worth it to me.

They update the app each season, so you will have to repurchase next year. It's a great app to have if you are awake for live broadcast.

It helps we u watch the race at the circuit

If they add playback like android then you will be able to use if you're watching later

That would be AMAZING! I have not been awake for a live race this season. Thank god the races are heading to the Americas in the next few months.

Not even Canadian GP? Also I just found a group in LA that watch the races together but I don't think they do live so I'm talking to a client that has a jumbo tron at his restaurant to show the races live. If I get 40+ people to go that will order food or drinks he will consider it.

Now my iPhone buddies can't make fun of me anymore.. We went to a F1 race last year and they used it

Huge F1 fan. This will be perfect for Jersey next year!

Uh huh...you mean Austria...right? LOL

Don't say such things! ;)

That's cheap! It's 24.49€ here in Finland.
The official app is similary prices across all the platform though. One of the apps I have been wanting the most on WP.

Hmmm I would prefer a Win8 app but I guess I'll buy it any way.

"An official F1 timing app has been released taken from Android/iOS and released on Windows Phone." - English is a foreign language to me, so wondering if this sentence is correctly constructed.

"An official F1 timing app has been released [, it has been] taken from droid/ios and released on WP." would be how i would say it. The comma may not be able to display as its a special html chr.
Give the guy a break! This IS news. Unlike some posts ive read.

Fan here bit at 26 i have to think it

Steep price for passion indeed...I could think of another passion that such many would buy in Tijuana ;)

If that's the price she gives you in Tijuana I wouldn't touch her ;P

The epitome of greed that man is

Just bought it. Must have for a fan stuck at work on race Sundays. Have been waiting for this for awhile.

When I emailed them earlier this year (and last year), they said there were no plans to support WP due to its small user base. Glad to see them change their stance.
Now that F1 has officially recognized WP, Nokia should look at sponsoring Kimi, since Microsoft (Dynamics) already sponsors Lotus F1.

I hope he doesnt go to Red Bull after this season and stays with Lotus.

Also F1 fans, found this on Reddit, lots of F1 videos. I recommend "the killer years"
http://www.reddit.com/r/formula1/comments/143gv0/f1_documentaries_movies...
Enjoy!

Sorry, the videos in the above reddit page are all dead...This still works though, has races and a bunch of docs.
http://f1tv.fx1.nl/

I emailed them before WP8 was released about a WP7 app they said they had plans for when WP8 is available. I email them after WP8 released and they told me the same, no plans to support it. Great that they did!

I love F1 I would absolutely LOVE an app like this. I'd even pay up to $10 for it. Not nearly $30. So disappointed!

Then you'll be really sad as its around $50 at the start of the season. That's for all OS's

Oh man I was so excited reading this article. Then I reached the end and saw the price...

Glad to see my tip made it! Definitely a worthwhile app, and one of only a handful there really weren't perfect alternatives for when ditching android and IOS.

I'm happy they released the official app for WP. I was also one of those that emailed the developer. That said, I'll keep using the Live Timing app for the rest of this year as the season is at its midpoint. On a side though, the racing schedule for this year is too disjointed.

For those that bought the app or are familiar with it, does it also have the driver interviews etc? Thanks

On The Lumia 920 The Battery wont even last a full Race lmao

Yay! Finally.. The app I have been waiting for since I got Samsung focus

I can't bring myself to give Bernie any of my money....

Pulled the trigger and totally worth it. But then I've been a fan for 3 decades. Back in the 80s I paid for a service that gave me results over the phone...

£20???!!!! As with everything F1 waaaay to expensive. Idiots.

Sooo no comments about buying it just for the sake of supporting the developer? :P

If this app was out at the beginning of the season i would of supported it not paying full price for half a season. I was using this app on the iPad last year and it had some glitches, needed to restart the app several times. Would hope there is some improvement in the current app.

I thought the price was a typo with the decimal point in the wrong place. Then I checked it out in the store :(

Finally...now also for win rt please...the live positioning needs tablet size

Look for 2013 fia formula 1 app is better, free, just don't have live timing only. $26+ for live timing, I can wait. http://www.windowsphone.com/s?appid=d8710552-9770-4627-ac68-9efd2c1c2ed8

Glad to see a Windows Phone version, I started requesting a couple of years back. Unable to test as I broke my Windows Phone and currently running an HTC One. This adds anouther reason to consider a Lumia 1020.

"Let's be up front, most of us at Windows Phone Central don't really follow or watch Formula 1." And why the hell not? WPC is all about cutting edge technology for mobile phones and F1 is the pinnacle of auto technology and of motorsports. I'm surprised you guys find mobile phones interesting and exciting but not F1. Btw...what do you guys do for entertainment and fun?

iRacing, of course! It's fun to follow Kimi, but more fun to drive. (Actually, I keep waiting for the moment when Caterham scores its first point; that's why Live Timing is cool. The cameras are never on the back teams unless something they do affects the leaders.)



I won't buy this till next. I got the iPad version already
Windows Central Newsletter
Get the best of Windows Central in in your inbox, every day!
Thank you for signing up to Windows Central. You will receive a verification email shortly.
There was a problem. Please refresh the page and try again.