Today's Xbox One Preview update brings even more bug fixes
By Matt Brown last updated
Yet another Xbox One update is rolling out to members of the Preview Program this evening.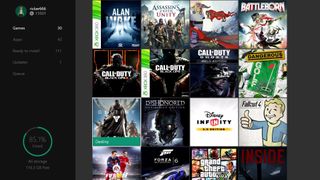 As the public release of the next major Xbox One overhaul nears, members of the Xbox One Preview Program are being treated to new updates almost daily. As with all recent builds, today's update doesn't introduce any new features but delivers a number of tweaks and bug fixes.
Today's update is named rs1_xbox_rel_1608.160720-1942 and is scheduled to hit Xbox One consoles at 6 p.m. PDT.
FIXES
Resolved an issue which could cause games with a large number of DLC (Dead or Alive 5 Last Round, Rockband 4, Rocksmith 2014) to take a long time to load.
Resolved an issue which could cause the Guide to crash while CAST is being used in the background.
Installation progress for universal apps should now always display on the Home Dashboard.
Resolved an issue which could sometimes prevent universal apps from being installed.
Resolved an issue which could sometimes cause a user in party chat to show as offline after closing the Guide.
This build contains a fix to address a Guide and party chat crash while broadcasting with Twitch.
The Guide should no longer fail to launch by navigating to the left on the dashboard or double tapping the Xbox button.
Localization fixes for universal apps.
Localization fixes for Home.
Resolved an issue which could cause the console to crash when entering connected standby.
Resolved an issue which could cause a low-resolution splash screen to display when launching universal apps.
You should now be able to purchase a Gamertag change on the console.
When using Microsoft Edge in full screen mode, saying "Hey Cortana, go to
[[ website ]] " should no longer cause Microsoft Edge to become snapped.
Parents should now be able to adjust Cortana (speech) settings for child accounts.
When launching an in-game marketplace, a progress spinner will now appear while the in-game marketplace is loading.
Resolved an issue which could prevent users from creating new game clips.
Resolved an issue which could sometimes cause Destiny to fail to launch.
CURRENT KNOWN ISSUES
You may be unable to answer calls through Skype notifications.
You may experience a "Do you own this game or app?" error when launching or using Netflix if it was installed by another user on the console. Workaround: While signed in as the primary user, uninstall Netflix, navigate to the Store, search for Netflix and select Free to download and install it.
Purchasing a Gamertag change on the console is not functioning in non-US locales at this time.
When selecting "Add new" to add a new profile, the add profile interface may take up to 30 seconds to appear.
When using a language Cortana does not support, you may still see references to Cortana in text.
If you have pins on your Home to movies, TV shows, or music, they will disappear from Home when that app takes its new app update. The pins for the apps will stay on your Home, easy to get to.
You may encounter an error when attempting to load Ready to Install with a large number of digital games and apps.
If a universal app version of an app is available, the version which is not currently installed may appear under Ready to Install (causing what appears to be the same app both installed and in Ready to Install).
Links to the Store in Community Calendar event details do not currently function.
With under two weeks remaining until the update's expected release to the public, we can anticipate further refinements over the coming days. A number of new universal apps are also expected to appear on the console, including Microsoft's reworked Groove application for the Xbox One.
Matt Brown is Windows Central's Senior Games Editor, Xbox & PC, at Future. Following over seven years of professional consumer technology and gaming coverage, he's focused on the world of Microsoft's gaming efforts. You can follow him on Twitter @mattjbrown.
awesome, we are getting close to the final build

Yeah, I can't really find any bugs lately.

Me too.. The only bug is on my Gold section, that aren't showing the games with gold, just the deals, maybe because im running Region: Brazil and Language: English.. i noticed that yesterday, still have to report it

Party chat is buggy. Reviews are buggy, you cant accept the rating and write your opinion. Cortana is slow and buggy. Guide and new my games and apps is slow as hell. Ready to install section often fail to load. Store suddenly shutting down. Tile games with gold often doesn't show gwf or dwg. Work around is to choose menu on main dashboard and choose close forcing it to restart. Dvr has messed up buttons. You have to click yes if you mean no, swapped translations. And that's not all. I'm only getting started. Have you actually reported any bugs or you in preview just to get features faster? It's far from being ready to deploy this to masses.

I'm not using Preview to get feature faster, you have to understand that different ppl have different experiences, i didn't found any bug with party chat and i don't think that the UI is slow, maybe u need to reset ur console for that... i don't use DVR so i don't know about that, thats why there is a lot of ppl testing it on preview program, ppl that uses this feature must report it, i already reported a lot of things, now in the latest build and in the past... When i find something i report, but u can't expect that i find every issue in the program, i can just report and say about my experience and from my side its getting better really fast

Anyone want to invite me to join up? My Xbox name is garygarcia. Thanks.

I have invited so many people, but I don't know if anyone got in

Yeah aren't accepting as many people anymore. Unless that changed over the past 6 months. I do remember reading that the were minimizing the number of applications accepted.

Do you not understand that there is no space left

I do not see anywhere in the article saying there is no more space left. Come better prepared next time and stop trying to be rude.

Lol who's tryna be rude, you're obviously livin under a rock because for the past few months they've stopped new commers

Preview registrations were reopened in Juni. I have successfully invites 20ppl in the past week.

Less and less known issues, lookin good!

I just wished it was more responsive. It is still sluggish at times.

The Xbox One dashboard has appalling performance at times, but it was there even before the recent previews. The delay after pressing that guide button to go home is a bit embarrassing - Double tap to bring out the mini guide menu isn't TOO bad

Xbox preview program - The DJ Khaled of software. Another One!

It's all good in the end it will rock

I have invited many people recently and all of them got preview. In some cases I had to resend my invite. Microsoft reopened preview.

Ene though the preview will be love to all in early August, I doubt Microsoft will be letting anyone else into the preview at this time. But they'll probably add more after the update has rolled out worldwide. I'm happy to add people but like I said previously in this post, you'll be lucky if you get in.

Anyone spotred that in dve if you want to delete video the buttons yes/no are swapped? To delete you have to choose no and to cancel you have to choose yes:D

Can someone invite me please DarkEvil81485 much appreciated.

There are no more spaces mate

I can't install the Netflix uwp app, it gives an error when installing. Furthermore updates for the uwp apps Groove, MSN Wheather and Films & TV keep appearing.

Oh, and changing the default location when the MSN Wheather app has rights to use your location isn't remembered.

I didn't know the Netflix UWP app is on there now - Do you have to manually download it, and does it sit alongside the old app at the moment? Haven't watched Netflix on it for a while now, mainly just Plex working my way through Curb your enthusiasm

Yes, you have to search for it in the store. Normally it can be installed alongside the old app.

I was having a hard time recording game clips. Hopefully now, not as much of a headache to record game clips.

These last few builds have been a LOT better. Especially Cortana which is coming up to scratch now
Windows Central Newsletter
Get the best of Windows Central in in your inbox, every day!
Thank you for signing up to Windows Central. You will receive a verification email shortly.
There was a problem. Please refresh the page and try again.