Tom Clancy's Rainbow Six Siege will breach and clear the Xbox One on October 13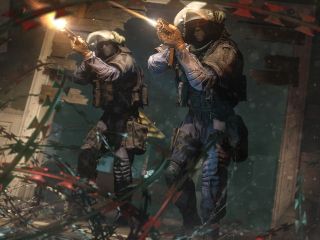 Ubisoft may have delayed the launch of Tom Clancy's The Division from 2015 to early 2016, but fans of another Clancy-branded game franchise, Rainbow Six, can look forward to playing another installment this fall. Today, Ubisoft revealed that the tactical shooter Tom Clancy's Rainbow Six Siege will be released for the Xbox One, PC and PlayStation 4 on October 13.
Developed by Ubisoft's Montreal studio, Rainbow Six Siege will concentrate on close quarters combat as players breach and clear targets with a variety of weapons, tools and tactics. Here's what potential Operators can expect:
COUNTER TERRORIST UNITS - Counter terrorist operatives are trained to handle extreme situations, such as hostage rescue, with surgical precision. As "short range" specialists, their training is concentrated on indoor environments. Operating in tight formations, they are experts of close quarter combat, demolition, and coordinated assaults.
THE SIEGE GAMEPLAY - For the first time in Rainbow Six, players will engage in sieges, a brand-new style of assault. Enemies now have the means to transform their environments into strongholds: they can trap, fortify, and create defensive systems to prevent breach by Rainbow teams. To face this challenge, players have a level of freedom unrivaled by any previous Rainbow Six game. Combining tactical maps, observation drones, and a new rappel system, Rainbow teams have more options than ever before to plan, attack, and diffuse these situations.
PROCEDURAL DESTRUCTION - Destruction is at the heart of the siege gameplay. Leveraging Ubisoft Montreal's proprietary Realblast engine, players now have the unprecedented ability to destroy environments. Walls can be shattered, opening new lines of fire, and ceiling and floors can be breached, creating new access points. Everything in the environment reacts realistically, dynamically, and uniquely based on the size and caliber of bullets you are using or the amount of explosives you have set. In Rainbow Six Siege, destruction is meaningful and mastering it is often the key to victory.
Source: Xbox (YouTube)
Windows Central Newsletter
Get the best of Windows Central in in your inbox, every day!
The dutchy pon di left hand side?

So when the beta for it, if anyone knows

Don't release a "broken" aka unfinished game like COD or BF4

I'm waiting for the division

I am as well cant wait for the division to hit but no choice early 2016. Have to find something to hold me over

"Rainbow Six Siege will concentrate on close quarters combat as players breach and clear targets with a variety of weapons, tools and tactics." This sounds like a mode instead of a full fledged game. ​

I was thinking that, a bit like BF Hardline too

Who is this Tom Clancy, if I may ask?

A guy, a writer, very famous, check Wikipedia :p

Do hope they keep split-screen co-op
Windows Central Newsletter
Thank you for signing up to Windows Central. You will receive a verification email shortly.
There was a problem. Please refresh the page and try again.