Tony Hawk's Pro Skater 1 + 2 preview: Pre-order bonus is 2 minutes of skate heaven
A new dog up to its old tricks in this pre-order bonus demo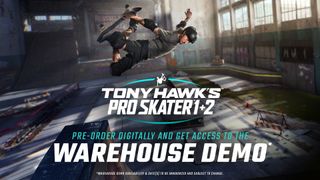 (Image credit: Activision)
Scoring highly with fans and critics alike, the immensely playable, punky, and fun Tony Hawk's Pro Skater first began nosegrinding our way into our hearts and, in some ways, our very culture, back in 1999. The warehouse level was on a Playstation demo disc many moons ago. Almost everybody I knew had it. If the pre-order bonus was going to be any level to showcase the upgrades and facelifts the game has had since then, it had to be this one.
After an initial successful release of the earlier franchise titles, each subsequent new game seemed to get worse. The games tried to force in storylines and even went so far as to include a ridiculous skateboard controller peripheral, which did not work as expected. But with Vicarious Visions remastering the cult classic Tony Hawk's Pro Skater 1 + 2, which you play with your handheld controller only, we finally get a fresh taste of the score-chasing formula that worked so well twenty years ago.
Two minutes in Heaven
Tony Hawk's Pro Skater 1 + 2 Pre-order bonus
Skate or die

Tony Hawk's Pro Skater 1 + 2 is the remake of the beloved games from the early 2000 era. This Warehouse demo is only available as a pre-order bonus, a teaser for those who just can't wait until September 4th.
Tony Hawk's Pro Skater 1 + 2: More than just a pretty face
The Warehouse Demo is a pre-order bonus for purchasing the game, and this little slice is almost everything you hoped it would be, but sadly no more. This demo almost feels like a goodwill gesture to prove that they've got it right this time.
The graphics are undeniably better. Being remade from the ground up by a new team, a lot rests on everything feeling just right and looking the same but better. This demo shows just that; no more heavy polygons or unflattering character models. Tony Hawk's Pro Skater is all grown up, looking smart, smooth, and ready to play. And the demo is straightforward — one character, one location to skate, and one mode to play in.
It's the barest of bones and not nearly enough to scratch the itch. Skating as Tony Hawk in the warehouse level will stir fond memories for only two minutes is the maddening teaser you've needed all these years. The game will be almost the same, with the same levels as the originals, the same skaters. The only difference is the music because of licensing issues, but this adds a bit of freshness to the mix.
Small quality of life changes are a welcome improvement to the flow of the game. Bailing on a trick no longer costs precious seconds when you go sprawling across the floor, as you're now digitally ported back to a standing position, allowing you to get back into it quicker.
Every second to rack up big points within the two-minute limit counts. The controls also seem tighter and more precise; however, there are modifiers you can use for assistance if you're having trouble staying upright. We can't all be a Superman.
Not everything is up for grabs in the demo
The Warehouse demo is more of a single level snapshot; the rest of the game locked off. Multiplayer mode and Create A Park are tantalizingly unselectable. But you will be able to buy and customize new skaters and skateboard decks, complete challenges to earn cash to pay for said goodies, and see your profile in the full game once it launches. I've unlocked a couple of levels and some cash, which should carry through into the final release, where I will be able to spend it on improving the skaters' skills.
A small selection of four tracks will soundtrack your skating, which is nostalgic and fun to begin with, but a little repetitive after a couple of hours. The warehouse demo is an excellent example of what to expect in terms of graphics and allows you time to get to know the controls, which can be fiddly and cause many digitally skinned knees.
But this is all you will get for now. Still, you can see everything that's coming like challenges, multiplayer games, Create a Park, and more. Depending on how badly you want it, it might make you somewhat frustrated and impatient. Skating as Tony now in this demo only provides five dollars cash each run. So, if you're happy to try to obsessively save up big stacks of cash to use in-game on one level for two minutes at a time — good luck to you!
Tony Hawk's Pro Skater 1 + 2 is looking amazing
This small chunk makes me yearn for the full release. I want to chain together big score combos, collect the SKATE icons, and challenge my friends in skating mini-games. Releasing such a small snippet of what you already know is a generous game in terms of playability is a deliberate move by Activision. Relying on a marketing method that worked twenty years ago is bold, given how much the games industry has changed as a whole over the last two decades.
For gamers who knew the originals well, this marketing tactic works beautifully. I can't wait to play the full release. For people who never played the original, these two-minute sessions in the warehouse are a great way to tease our interests. There is so much more to come.
Skate or die
Tony Hawk's Pro Skater 1 + 2 Pre-order bonus
Kickflip this

The Warehouse demo is a single level slice of Tony Hawk's Pro Skater, showing off new and improved graphics, better controls, and other small quality of life improvements. This little taste of the full release demonstrates precisely what we love about THPS, bringing the classic closer to the full release on September 4th.
Get the Windows Central Newsletter
All the latest news, reviews, and guides for Windows and Xbox diehards.
Lauren Relph is a games writer, focusing on Xbox. She doesn't like piña coladas but loves getting caught in the rain. Follow her on Twitter!