These are the top 10 phones that Windows 10 Mobile aficionados use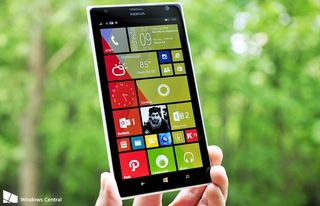 New figures collected from AdDuplex reveal how enthusiast Windows 10 Mobile users compare to regular ones. It should be of little surprise that more hardcore fans lean towards higher-end devices when compared to non-techy folks. However, we now can see how the categories directly differ by specific phone models.
The first set of data from regular users comes from AdDuplex's in-app advertising network found on Windows 10 and Mobile. To define the "enthusiast" category, AdDuplex pulled data collected from AppRaisin, which is an app that lets users vote and recommend other apps to users. The assumption here, which is likely accurate, is that only hardcore fans will take the time to vote, comment on, share, and promote apps on the Windows 10 Mobile platform.
The distribution varies dramatically between the groups especially when it comes to the Lumia 950 and Lumia 950 XL. For regular users, both phones rank #5 and #9, respectively. Those rankings shift, however, for enthusiasts. In that group, the Lumia 950 XL comes in #3, and the Lumia 950 is actually below it at #4.
So not only do fans use higher-end phones, but even within the Lumia 950/XL category they skew towards the bigger, slightly more powerful Microsoft device.
Windows 10 Mobile Distribution: Global vs. Enthusiast
Swipe to scroll horizontally
| Rank | Global | Enthusiast |
| --- | --- | --- |
| 1 | Lumia 535 | Lumia 640 |
| 2 | Lumia 640 | Lumia 640 XL |
| 3 | Lumia 550 | Lumia 950 XL |
| 4 | Lumia 640 XL | Lumia 950 |
| 5 | Lumia 950 | Lumia 535 |
| 6 | Lumia 930 | Lumia 930 |
| 7 | Lumia 650 | Lumia 730 |
| 8 | Lumia 730 | Lumia 1520 |
| 9 | Lumia 950 XL | Lumia 830 |
| 10 | Lumia 830 | Lumia 735 |
Another point of interest is the appearance in the top ten list of the Lumia 1520 (#8) for enthusiasts despite its absence for regular users.
The Lumia 1520 was at the time of its release one of the most popular 'phablets' in the Windows Phone ecosystem. With its Windows 10 Mobile update, it is still hanging on for the devoted fan.
While it is well-known aficionados of technology veer towards the more expensive experience, it is still fascinating to see exactly how the two groups differ. The Lumia 1520, like the Lumia 920, will no doubt go down as a "classic" Windows phone amongst fans.
Download AppRaisin from the Windows Store (opens in new tab)
About AdDuplex
The numbers from AdDuplex are collected through their in-app advertising that is prevalent in over 5,000 apps in the Windows Store. That data serve as an important metric within the Windows Phone ecosystem. The full AdDuplex report for July will be posted on their blog at https://blog.adduplex.com/ on Friday (July 22).
Daniel Rubino is the Editor-in-chief of Windows Central, head reviewer, podcast co-host, and analyst. He has been here covering Microsoft since 2007 when this site was called WMExperts (and later Windows Phone Central). His interests include Windows, Microsoft Surface, laptops, next-gen computing, and for some reason, watches. Before all this tech stuff, he worked on a Ph.D. in linguistics and ran the projectors at movie theaters, which has done absolutely nothing for his career.
How are the 640/XL and 535 "enthusiast" phones by the definition given? The 640 especially probably has it's position due to the firesales that saw it go for $30.

Your question makes no sense, sorry. Read how enthusiast is defined first to understand the breakdown.

Daniel you took the words out of my mouth.

Guess what guys, I'm getting a heap of "what's that phone?" When I pull out my white L925, some designs are timeless :)

@theFman - look up the term "enthusiast". You people really do reach for ****...

Simple, owners of those phones voted on AppRasin. Not all enthusiasts have the budget for the high end phones so it makes sense, too.

I consider myself a W10M (and in general Windows 10) enthusiast, but at the moment, I can't afford high end phones, and am pretty happy with my 535. So that's how it's possible. Or you think, that I can't be an enthusiast if I don't have enough money to buy a 950 / XL for example? That's just stupid...

True story... it happened to me Posted via the Windows Central App for Android

I am in a similar situation, i consider myself enthusiast but one that MS left behind, i have a 920 yet, i can't afford changing my phone every generation so i didn't bought the 930 and waited for the next one... But the "next one" never came since MS didn't released the x50 series in my country (Brazil) and now is hard to find find a x30 or x40 in the stores here...

Is it that expensive to purchase online from Brazil?

you mean import? taxes are too high here... just an example, the xbox elite controller will cost ~US$ 450 here (expensive than the X1 console itself) just because the controller is imported and not manufactured here...

Shipping costs my friend (really i don't know because i don't live in Brazil but for Dominican Republic that's a problem you have to deal with)

not just shipping.. if i go to US and buy the device myself when i come back to brazil (legally way) , paying taxes for the stuff that i bought there ... ill buy like twice the original price.. the best alternative is drop the box and come back with the phone in my pocket and try to avoid the legal way... but i wouldn't go to US just to buy a device

But you aren't buying the phone to sell at first go are you? I doubt you have to pay taxes for goods of personal use or consumption. Unless the amount / item is deemed inappropriate for personal use/consumption. For instance a six pack of beer, but if you bought 80 of those... a little too excessive. Like wise with a phone - its a singular item.

you don't need to pay for less than US$100 here

things are not fair in some countries in the world, i checked here and we don't need to pay if the amount is less than US$50 (i said 100 coz i read somewhere that this value will be raised to 100)... between US$50 and US$500 we need to pay the import tax 60% and another tax (for every international transaction) depending where u live, but it is between 17% and 19% ... in my case 18% (and this taxes are applied on product+ship value) ... there is a online calculator here that make the math... so i checked on Amazon.com and the Lumia 950 costs ~$450 it would be R$ 2862 (which is US$ 894) wihout the shipment value.. so thats the price that i would pay bringing the phone to brazil by myself without shipment costs.... i don't have any idea of the ship price US to Brazil, but if i add like $30 for it in the math, the final value would be US$ 954 (adding US$ 60 instead of just US$ 30 to the final value) ... for something expensive than US$500 it can get worst :(

That's really not fair. Here in Hungary, the 950 is "just" 563 US$, and the XL is 669 US$ (only dual sim), and I'd just have to go to the local Media Markt to pick one up. But it's still a bit pricey, considering that I just graduated at the university, and will start working at the beginning of August. Yeah, I could buy a 650 for 246 US$, or a 550 for 105$, but they're not the high end as you know. :D

Why not just import an unlocked phone from elsewhere in Europe? In NL the Lumia 950 is EUR379 from Media Markt.

That sucks!
Is even more expensive than in DR.

I'm from Caribbean,in South America Guyana,only english speaking country in South America,i usually purchase online from Microsoft US store or many other sites,i got my Lumia from the BOGO deal,shipped to uncle where my relative was staying for vacation and she brought back phone in luggage,what i normally do is buy online and ship to my courier company in NYC,who then brings here ,to bring phone is usually about 35 use,i usually buy all my Lumia from http://www.1shopmobile.com ,they 950 now for $300 including shipping

If you are a Window phone enthusiast with a limited budget, I'd suggest you pick up a second hand Lumia 930 (~EUR/$150) and update it to the latest W10M release. You'll have high end functionality for a budget price.

I hope you read and understand the definition he gave about "enthusiast" and "global". Appraisin or Adduplex will not recognize you as enthusiast or global just because you consider yourself an enthusiast or global, whatever.

Nobody was speaking about this :D I replied to theefman, and he was talking about how owners of lower end phones can't be enthusiasts. And yeah, there's no ultimate solution to isolate all enthusiasts from the general userbase for statistical reasons, but this is a good guess. Btw, I use AppRaisin on my 535, so AddDuplex recognize me :D

Ditto. Enthusiast rocking 640 Win10 Fast, 920 Win8.1, SP2 & Xbox both on Fast Insider.

1520 enthusiast Portuguese owner!

The real statistic here is Windows 10 Mobile doesn't move the needle beyond 10-12% share for the full Windows Mobile marketshare.
Microsoft can't sway their own fans to move beyond the beloved WP8.x foundations to the mess, shambles & bug fest called Windows 10 Mobile

I know... kinda makes you wonder how Google/Android gets away with it... :)

My LG G3 has Android Lollipop and more than 90% of the apps work with it. I don't need the latest N version to get Skype. Come October, my Lumia 1520 with WP8.1 will not get support in SKYPE. I'm not going to update it to the mess called Windows 10 Mobile. Skype works better in ANDROID! BTW, Marshmallow is already available for my LG G3. I don't need to update it. in fact, I will wait one year before updating because ALL MY APPS WORK AND ARE SUPPORTED in Android L. This site and the users have become worst than those isites in the fanboy level!

It's hard to get excited for most on the list once you use a 1520. The size is addictive and perfect for all that I put my phone through. However I guess I'm in that phablet category. Which means next stop is probably a Note 7. So for me at least, I'm just happy to see all my Microsoft apps get ported over and updated. Unfortunately or not It's been kind of a wait and see attitude for Windows Mobile.

You could just get a lumia 950 XL (pretty much the same same screen size as the 1520) or the Elite X3

It would just be more of the same, and I'm not so sure that's a good thing. From what I've seen and read, the Note 7 nails every feature. So we'll see if the grass is any greener. Hey it's just a phone. If Microsoft gets their mobile act together It's fairly painless to jump back in.

Lack of device choice, availability and a push in marketing also plays a role, although your agenda here is noted.

I would think its because there were so few phones that could actually upgrade to W10... Not everyone can run out and buy a brand new phone.

That's one reason Microsoft needs to work hard to get hardware to other US carriers. Most people can afford $20-30/month for a new phone. At least T-Mobile. One picture at a time -- LG V10

Figured the 1520 would have been higher, but I suppose a lot of the 950 XL and 950s could be former 1520s. I still use my original 920 as a MP3 player in my car too.

I use my 1520 for my car. My 32GB ZuneHD finally died :(

Lumia 730 is a really nice phone..I don't understand why its so far below..

I agree with you , it should be at 4 or 5..

Agreed. I was thinking about getting a 750 (except it never came) as my first windows phone, since my blackberry z30 will never see a replacement.

What OEM brand do you think will the successors to the 550, 640/650 and 735/830 be? Posted via the Windows Central App for Android

I expect a new OEM to take at least the 735/830 slot, since those two devices are a peculiar mid range that many current OEMs stay away from. Every OEM and their mothers will have potential 550/650-class phones because those phones are just that - low end with nothing special. Oh, and I'll get at least one mid-range 735-replacer when it does come out, regardless of OEM.

FWIW, I think the enthusiast category's criteria is a nice guess, but while I have heard of AppRaisin until today I never have heard what it exactly is. I really don't have that much time for it (nor do I plan on using it.. it might be my loss). That said, I hit Windows Central almost hourly looking for news. I have been doing so M-F every day since the site was known as WPCentral. I have been carrying a Windows Phone since WP7 days, and I'm also a dev who has numerous apps in the store. So, I think I do count as an "enthusiast." [BTW, until recently I had been using a Lumia 640.. right price, and the power was decent.. I don't always have to be bleading edge.. I switched to a Lumia 1520 that someone gave me]

Superset vs subset. You could be an enthusiast of Windows Phone and only use Windows Central. True. However, I'd say AppRaisin users are a subset of the readership of Windows Central, making that data more "pure" for the definition. In other words, the chances you use AppRaisin and don't read or use Windows Central is likely very low i.e. you just don't like us ;) Windows Central readers who never heard of AppRaisin > AppRaisin users who have never heard of Windows Central.

Same boat for me. Got my first WP7 at PDC and ditched when I the battery croaked and got an iPhone. That died and I needed something on the cheap, so I went for the 640 for $30. There was no way I was gonna drop a pile of cash for a device that I had not used in years. It's been an excellent trial run. I am a huge MS fanboy and got my wife onboard with a Surface Pro 4 (which she loves). So yea, I am an enthusiast -- and yes, my daily driver is a Lunia 640.

That chart really shows why the demise of "Lumia" is rather troublesome. That said, I'm surprised by 950's marketshare. Not sure if it sold well though, or everything else sold badly.

Funny, my 2 ACTIVE phones are the 950XL and 640XL

Funny how you call the 1520 one of the more popular phablets by the time it was released. How many other have been available for WP then? Yes, one. The 1320. There was no phablet market before the 1520 came out on WP. It was the only wp phablet with decent hardware and there was only one other.