Top 5 new features in the Windows 10 October 2020 Update
Get a rundown of the top biggest new features and changes in the latest version of Windows 10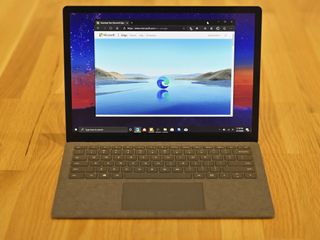 (Image credit: Daniel Rubino / Windows Central)
The Windows 10 October 2020 Update is here! It's a smaller release, but that doesn't mean there aren't new things worthy of note to talk about. Here's the top five new features and changes that are included as part of Microsoft's latest version of Windows 10, rolling out now to users on supported devices running version 1903 or higher.
If you'd prefer a more in-depth overview of everything that's new, make sure you check out our Windows 10 October 2020 Update review!
Cleaner Start menu and notifications
With this release, Microsoft has taken the time to clean up some of Windows 10's aging user interfaces. It's modernized the Start menu design by removing accent colors in the live tiles and accent boxes around logos in the apps list. This provides a clean and minimalist look to the Start menu, and isn't as noisy as it was before. In addition, Microsoft has also adjusted the notification interface, adding the app logo to the top left and adding a clear X mark to dismiss the notification.
Touch improvements for 2-in-1's
Windows 10 Tablet Posture (left) | Windows 10 Laptop Posture (right)
If you're using Windows 10 on a 2-in-1 PC, Microsoft has updated the behavior of Windows 10 so that it'll no longer ask you if you want to enter Windows 10's dedicated tablet mode, and will instead automatically enhance the desktop experience with a more touch friendly interface. These enhancements include a more spacious taskbar, larger hit boxes in the File Explorer, and the automatic popup of the Touch Keyboard when tapping into text fields in the desktop environment.
The new Microsoft Edge
If you haven't already installed the new Microsoft Edge, the October 2020 Update comes with it preinstalled, so you won't be able to avoid it for much longer. The new Microsoft Edge is a huge improvement over the old one, with better performance, faster web page rendering, a new Collections feature, and much more. The new version of Edge also integrates with the ALT+TAB interface in the October 2020 Update, so you'll be able to see your recent web pages when switching between programs.
Ehnanced settings
Also new with this release is the ability to change your display's refresh rate in the Windows 10 settings app. No longer will you be required to dig deep into a legacy Control Panel applet, as the option is now available in the advanced display settings area of the modern Windows 10 settings app. Microsoft has been slowly but surely porting legacy Control Panel settings to the modern Settings app over the last few years, and that journey continued with the October 2020 Update.
New PC improvements
If you're buying a new Windows 10 PC with the October 2020 Update preinstalled, you'll notice that the desktop is now better customized to your account when you login for the first time. For example, when logging in to your Microsoft Account during the first run setup, Windows will analyse your account and check if you have an Android phone linked or an active Office subscription, and automatically pin the Your Phone or Office app to the taskbar when you land on the desktop for the first time.
So that's it
That's our list of top five features and changes that are available with the Windows 10 October 2020 Update. What areyou most looking forward to with this release? Let us know in the comments.
Windows Central Newsletter
Get the best of Windows Central in in your inbox, every day!
Zac Bowden is a Senior Editor at Windows Central. Bringing you exclusive coverage into the world of Windows on PCs, tablets, phones, and more. Also an avid collector of rare Microsoft prototype devices! Keep in touch on Twitter: @zacbowden.
I hope they prioritize touch more. Like it or not, touch is the future.

but, majority windows users hate touch, that is why they hate innovative touch ui of Windows 8.

I am looking forward the most for the new start menu of course. Since I really like live tiles, I want to know if Microsoft managed to ruin it all right now that iOS is showing how to do it properly and that live tiles work flawlessly with Launcher 10 on Android even without app support.

Can enable it in the May 2020 update by changing a registry key. It's nice.

Launcher 10 is a godsend. Baffles me why Microsoft introduced a concept so good, and an then backtracked - but never killed it either. Current start menu tiles are half baked at best, hopefully they'll get some love in the future.

The first three "new features" are in the May 2020 update. You can enable the new start menu by changing a registry key. What a piss poor update.

Then they aren't really features for May 2020 update if you have to enable it using a registry work around. This is the official release for these features.

I only said one of these "new features" is available with a registry update. Except for the last "New Feature" the rest are already in the May 2020 update. I have them now.

I was wrong the first four are in the May 2020 update. You can already change the refresh rate from Settings. This article is plain wrong sorry guys.

It might be piss poor to you, but to others it might fix a few issues and make the experience better. I'd prefer more of that, than shiny little things to keep you interested.

Switching between Edge tabs with alt+tab!

This also isn't a new feature in the October 2002 update. It's included in the May 2020 update.

"The new Microsoft Edge is a huge improvement over the old one...". I would say the new Edge is a work in progress and not a "huge improvement". Pen input is not properly handled. When in tablet mode, you cannot swipe down from top and place on half your screen. If you use a Windows 2-in-1 in tablet mode, you get a loss of features. I used to use the old Edge to read on the Kindle web app. I used to be able to highlight text with the pen, and if I wanted to take notes in OneNote, I could put Edge on half the screen, and take notes in OneNote on the other half. This workflow is ruined with new Edge. Also, graphics rendering is much slower in new Edge. This is really noticeable with low frame rate PDF rendering. I use Edge as my PDF viewer, and when trying to pan and zoom PDF, it is choppy compared to the old Edge. The syncing of Favorites does work flawlessly on the new Edge, and I love that. I have new Edge on my iPhone, and syncing of Favorites is a great desktop to phone workflow.

Yup. I actually loved the old Edge until they broke the ability to surf on intranet sites, took them months to fix it... by that time I moved on to Firefox. The whole chromium rendering sucks, if I wanted that I would just use Chrome. I never could get syncing of favorites to work on the old edge.

"If you use a Windows 2-in-1 in tablet mode, you get a loss of features." Not exactly. Chromium has Pull Down to Refresh, Slide Back/Forward to go Back/Forward gestures and Pinch to Zoom. There was already a lot of touch input already in Chromium when MS moved to Edge.

I prefer the Old Start Menu over this new one. A lot actually. I like the solid color squares behind the icon, it is much easier and quicker to find what I'm looking for. The new look is all the same background and icons are too small and some icons have changed for the worse. Hope I have the option to stick with what I have.

Exactly my point. Color wasn't just for aesthetic, it made app identification easier and faster. Again MS catering to their haters forgetting their fans.

No it's simply an improvement you dislike it.

Not a fan of the new start menu tiles. I mean, it all looks nice and slick. But in practice, with individual app color being lost, it's just harder to find those apps that have a distinct brand color. you have to look for them. It's harder to use. Also it's ironic that the live tile content animations work flawlessly now that they're killing live tiles.

this is more like service pack.
why ms very slow improving and adding exciting features.
Windows Central Newsletter
Thank you for signing up to Windows Central. You will receive a verification email shortly.
There was a problem. Please refresh the page and try again.