Top Baseball Apps for Windows Phone
Windows Phone Central App Roundup: Baseball Apps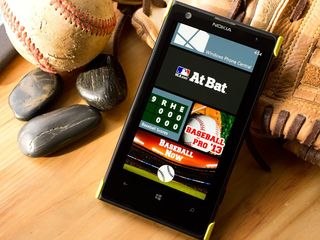 Major League Baseball opened it's 2014 Season this week and we would be remiss if we failed to present you with a roundup of the top Windows Phone apps for keeping up with America's Past-time. These are dedicated Major League Baseball apps.
We've got four of the top apps in this week's roundup that deliver stats, video highlights, player profiles, news from the baseball field and even streaming live video from games. And just to make sure all our bases are covered, we've got a short list of honorable mentions for you to consider as well.
Baseball Pro '14
Last season we had Baseball Pro '13. This season the Windows Phone app has been updated to Baseball Pro '14 (store icon is still showing '13 though). Not much has changed between seasons and Baseball Pro remains a Windows Phone app that provides a wealth of information on the current Major League Baseball season.
The main pages of Baseball Pro '14 include:
Live Scores: Scores from the latest games or those currently in progress. Tapping on a particular game will display game stats, a live feed from ESPN Gamecast, and more.
Profile Page: The profile page is where you set-up your favorite team, create live tiles, play in a Fantasy Playoff game, and listen to baseball podcasts.
Standings Page: Here is where you see the current American and National league standings.
Teams Page: A full listing of all the National and American League teams. Tapping on a particular team will give you access to player rosters, game schedules, news and more.
Information Page: Here is where you will find the app's settings, a contact link, a review link and links to other sports apps from the developer.
Live Tile support with Baseball Pro allows you to pin as many teams as you want to your Windows Phone Start Screen to keep up with their next game and scores from their current game.
While there isn't a dedicated news page, Baseball Pro does a nice job of channeling the news to the team pages. It's a nice way to do things and sends you directly to news concerning your favorite teams.
Baseball Pro '14 offers a healthy amount of baseball information in a nicely laid out package. I wouldn't mind seeing the year dropped from the app's name but the 2014 update wasn't too far behind the season's opening pitch.
Baseball Pro '14 is a free, ad-support app that is available for both Windows Phone 8 and 7.x devices. You can pick up your copy of Baseball Pro '14 here in the Windows Phone Store.
Baseball Scores
If you are looking for a simple app to keep track of the current baseball scores, Baseball Scores might be right up your alley.
The Windows Phone 8 app taps into ESPN to deliver the scores of Major League Baseball games in progress. You can tap the score to pull up ESPN's MLB Gamecast coverage of the game. The app lacks any schedule information, stats, videos or news. There's just not much meat on this bone but if all you need is scores, it does a decent job of things.
Baseball Scores does have Live Tile support, which delivers scoring summaries to your Windows Phone Start Screen. The app is a free, ad-supported Windows Phone title that is only available for Windows Phone 8. You can pick up your copy of Baseball Scores here in the Windows Phone Store.
At Bat
At Bat is the official Windows Phone app for Major League Baseball. At Bat offers live scores, news, standings and schedules for the Major League Baseball season plus premium features for MLB.TV Premium or At Bat subscribers.
At Bat main pages include:
Scoreboard: Scores and game times for today's MLB game slate. Tapping on a specific game will pull up a game preview, key match ups, team line-ups and scoring summary. You can even check out game promotions and buy tickets from the game pages.
News: A collection of the key news stories from the world of Major League Baseball.
Videos: Video highlights from the games as well as news reels.
Teams: A full listing of the Major League Baseball teams. Tapping on a specific team will send you to pages for the teams current game scoreboard, news on that baseball team, videos featuring the team, and a game schedule and standings page.
More: This catch all page has links to MLB Standings, the MLB Fan Cave, 2014 Schedules, a listing of Blackout Restrictions, a link to the MLB.com Shop and a Social Clubhouse (a list of social networking feeds for MLB).
Live Tile support allows you to pin your favorite Major League Baseball teams to your Start Screen that will reflect scores and scheduling information. Push notifications are also available to alert you on breaking news, lead changes, score changes, and more. At Bat also offers lockscreen support to display wallpapers from your favorite team and scoring information.
Signing into At Bat with your MLB.TV or At Bat account will give you access to premium features that include:
Watch every out-of-market game live (MLB.TV account required)
Access archives to watch 2014 MLB games on demand (MLB.TV account required)
Gameday pitch-by-pitch tracking that includes realistic ballpark renderings from all 30 MLB ballparks
Watch the free MLB.TV Game of the Day
Close captioning is available for MLB.TV live videos
Home and away live radio broadcasts of every game with choice of broadcast feeds
In-progress video highlights
MLB.com At Bat accounts will run you in the neighborhood of $2.99 a month or $19.99 for the 2014 season. MLB.TV accounts will cost you $19.99 a month or $109.99 for the year. You can sign up for the MLB.com account within the app or here at MLB.com's website. You'll need to go to the MLB.TV website to sign up for the video packages.
At Bat isn't too shabby without the MLB accounts but clearly shines a lot brighter with them. I could see a diehard MLB fan paying for the accounts (which are also viewable from a PC) but if you're only curious about stats and scores, At Bat will do nicely without.
At Bat is a free app that is available for Windows Phone 8 devices. You can find your copy of At Bat here in the Windows Phone Store.
Baseball Now
Baseball Now has been around for a few years now and provides you with scores, team stats, standings, news and videos from Major League Baseball. The app is laid out in Modern UI style with tiles that will take you to the various areas of coverage.
Baseball Now taps into MLB.com to provide you with up to date info on games in progress, team information, and tweets from @MLB. You do have the ability to tag a MLB team as a favorite and create a Live Tile for that team. The Live Tile will send you directly to a news page for your favorite team.
Baseball Now is a simple app that delivers a good bit of information to your Windows Phone. While the Modern UI design keeps everything on one page, I've grown a little partial to the panorama layout we see with At Bat and Baseball Pro.
Baseball Now is a free, ad-supported app that is available for both Windows Phone 8 and 7.x devices. You can find your copy of Baseball Now here in the Windows Phone Store.
Any Home Runs?
All four apps in this week's roundup do a respectable job of delivering a wealth of information from the baseball field to your Windows Phone. I reckon' if they didn't they wouldn't receive such positive reviews in the Windows Phone Store.
I believe At Bat has the highest batting average but you'll have to pay to enjoy it all. Baseball Scores is the lightest of the four and Baseball Pro '14 edges out Baseball Now on the amount of information it delivers.
While these apps will serve you well in keeping up with all the balls and strikes throughout the baseball season, there are a few alternatives out there that might be worth considering. They include:
If we've overlooked your favorite baseball Windows Phone app, feel free to toss out your recommendation in the comments below.
Windows Central Newsletter
Get the best of Windows Central in your inbox, every day!
George is the Reviews Editor at Windows Central, concentrating on Windows 10 PC and Mobile apps. He's been a supporter of the platform since the days of Windows CE and uses his current Windows 10 Mobile phone daily to keep up with life and enjoy a game during down time.
I'm an At Bat user..but a nice list of baseball apps

Can you (or anyone) actually get the live tile to work in At-Bat? Mine just sits there and ever changes. Push notifications seem to work fine though. I'd like to subscribe, but it seems to be buggy, at least according to the reviews.

If you read the reviews of AtBat in the online store, you'll see multiple complaints about its crashing and lots of other bugs. I tried installing and uninstalling and rebooting multiple times and no joy. Lumis 620 (and a horribly buggy one at that--I'd never in good conscience recommend this phone)

Ironically, the buggieness of their services saved me quite a bit of money. I was going to purchase MLB.TV Premium, but didn't bother reading the blackout restrictions beforehand. I care mostly about the Braves and live in Atlanta. I honestly just wanted it to supplement what i already have and I could watch on TVs that only have a Roku. Turns out that's not possible, because I'm in the local market. I was saved though, because on opening day, their website kept returning an "invalid token" error every time I tried to purchase (tried like 5-6 times). So their ineptness, saved my ineptness and $120! THANKS MLB!

Mine just sits as well. Wish the tile would update with the score, even if it had to be every 3 innings or something.

Pinning the app doesn't seem to do anything but pinning a team does, for me anyway.

Want bing sports. to show the live tile updates of all sports. I dont want 3rd party apps. Bing apps have the potential to do much better than 3rd party apps.

I always wondered is a .tv subscription is really worth it?

It is my one big entertainment splurge every year (I'm a cord cutter). I have a National & American League team that I root for and both are out of market so I have something to watch for a short period every day. My seven year old son likes baseball too so I feel like we really get our money's worth. The video quality is top notch. I use our Roku and WDTV Live box for watching the streams.

as a baseball fan in the UK - beyond shadow of a doubt. Access to 4860 regular season games, all of post season and most of spring training. For what works out to be 80-90 pounds a year. I don't have any Sky subscriptions or the like so I am more than happy to shell this out.

It usually goes on sale around Father's Day for $50 if you can hold out until then.

Only if you don't want to watch your local team... the blackout restrictions are ridiculous. You will basically not be able to watch your local team on it at all. Which defeated the purpose of it for me.

Had nothing but problems with At Bat with my Lumia 521. Could not figure out how to create live tile for my team, and the app crashed continuously. all attempts to uninstall and reinstall met with no success.

I miss baseball live Sadly it died off and no longer works, but I found that to be quick, simple. at bat is the replacement for me at the moment

I'm so sick of ad supported apps. Could the please just offer a $0.99 or $1.99 version to save data, battery, and general irritation of a mis-click.

At Bat is terrible. Very slow to load. Live Tile gives no info. Without paying money you don't get an in-game feed. ESPN is much better, get the Gamecast for free. Going to quickly delete this app.

Baseball Pro hands down as one of the greatest Windows Phone apps

I subscribed to At-Bat for $20 solely because it allows me to get the live radio play by play and lets me choose which game and local broadcast I want. As a Giants Fan, I don't want to listen to some generic ESPN Announcers. I want to hear the local broadcast with announcers who know something about the team. It works like a charm. I can't always watch the game live when I'm working or doing other stuff, so the big premium video subscription did not really interest me. But I can usually have the At-Bat radio broadcast on and listen to it. It's especially nice since I work in a location where both am & fm radio reception can really suck. And as an old time baseball fan, there's nothing like baseball on the radio. The in-game video highlights are handy too. It was well worth $20 for the entire season

Will never sign up for MLB.TV again. Way too many blackouts for local teams. Makes you wonder why you pay for it in the first place if they aren't going to deliver the games you want to watch. Greedy SOBs.

SO use a program that masks your ip address. I do it all the time and watch my locals.

MLB Scores and Alerts. Doesn't give tons of info except box scores and standings but Live Tiles are the best. Tiles show base runners, whose pitching and batting and update fast. Their NHL and NFL are excellent also.

Thanks - this is what I was looking for. I have been using their NBA app all season. Live Tile and Alerts work just fine. I would have to have a live tile for my team that updates with scroe information without having to select each individual game and pin it, but at least the tile works, which is more then I can say for either ESPN ScoreCenter or At Bat.

All I want is an app with a live tile that updates during the game, but doesn't require repinning every single day. The old SportsScores app was awesome. You just selected your favorite teams and it showed two games on each side of the tile, updated very frequently. All of these other apps only show updates info for one team on the reverse side of the tile, and zero of them show live scores. Even ESPN, which used to be decent, just shows "in progress" for a game that's going on. MLB's lock screen is just as useless. I know the game is "in progress," tell me what's happening. I'd be happy paying $5 for a tile that kept updated on the front side all throughout the season. We just need a developer who is a huge baseball fan.

I saw that the new Baseball Pro does that, I got my Jays game on my team tile

I've grown to love Bing Sports

I use at bat as well..... Wish they included free streaming of games like they did last year...$2.99 a month for something in my area I can get over the radio for free ? Yea, but, my crappy 928 does not have a FM radio.... I wonder if I install AT BaT 2013, Streaming games will still work....gota try that...

Too bad ESPN Scorecenter's live tile has not worked for well over a month now. Very frustrating.

MLB Score has a decent live tile but you have to pin each game for each day separately. I just want to pin a tile for my team (Red Sox) and have it update each day with game result, and show real time info when game is in progress.