Top BINGO apps for Windows 8 (or how grandma's favorite pastime went digital)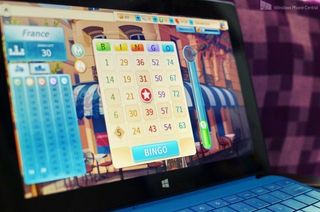 BINGO might be a great game for your grandparents to download and enjoy, but it can also be a great relaxing way to pass the time with your Windows 8 PC. Today, we will be counting down the top BINGO games available in the Windows Store and comparing the different features and methodologies between each. Let us get started and do not worry, as all of the apps mentioned are free!
Absolute BINGO
Coming in at number, three is "Absolute BINGO". This simple, yet beautiful, BINGO game is the only game on our list that plays offline without any other participants. Instead of hitting a number of winners and then calling the game, the system ends the game after a predetermined number of ball draws.
The game includes six standard locations to explore including "Aura", "Katavi", "Misty Mountains", "Magellan", "Just Beauty", and "Druids Maen" – all locations are fictional and thus deserve a good look at for full understanding. Two additional locations, "Eclipse" and "Stitches", are included, but do not operate in the standard fashion of BINGO.
Items used in the game include coins and power-ups – nothing complex here. Users use coins to purchase anywhere from 1-4 BINGO cards per round and power-ups can be used to take an edge in gameplay. Coin gifts are given every few hours, or if you really insist on a BINGO marathon – you can shell out some real world money to keep playing.
During gameplay, plays can play with up to four cards as mentioned above, and are able to see the last five called BINGO balls along with a BINGO board. The entire game is narrated by an American male voice with a four-second pause between calls.
Overall, Absolute BINGO is a great game and keeps it simple, but the lack of online support can make the game feel a bit dull at times because let us face it, you are playing BINGO against yourself.
Click here to download Absolute BINGO.
BINGO Star
Coming in at number, two is "BINGO Star". This excellent BINGO game fought bravely with our number one contender. BINGO Star is an excellent and introduces online play to BINGO fanatics around the globe. The end game is called once thirty online players have achieved BINGO status on their cards.
BINGO Star includes the lowest number of locations out of our list today, but somehow seems to operate wonderfully despite the fact. The locations include the Wild West, the jungle, a winter wonderland, and a Las Vegas casino. All the themes are done in vibrant colors and leveling up to unlock the next location in the list was always a blast.
Items used within the game include coins, cash, energy, and keys. Cash is used to purchase BINGO cards, energy is used to active in game power-ups, keys are used to open "secret boxes", and coins can be used to purchase any of the aforementioned items. You automatically receive coins, but more can be purchased if you are in a rush to play.
Secret boxes within the game contain collectibles that do not really give you anything extra, except the ability to gloat and say that you have collected everything within an available level.
While playing the game, players can have up to four cards in play at a time and BINGO calls are narrated by a British male voice. If you have a thing for British accents you may want to stop here as BINGO Star could be your game (or you can send Rich a PM and let him know that you like his accent).
BINGO balls are called every five seconds; this provides a nice amount of time to search your card for the called number. The screen will automatically display the last 10 balls called in addition to a full BINGO board.
Overall, BINGO Star is an excellent game and fought well to come in at first place, but what every other BINGO game lacked – our next competitor was able to provide.
Click here to download BINGO Star.
Microsoft BINGO
Coming in at number one is Microsoft BINGO. This game from the Redmond based company came in number one for a variety of reasons as will be stated below, but what truly brought it above the others was its ability to sync your data online.
Microsoft BINGO is the only game is support Xbox LIVE synchronization and GamerPoints. If you are not much of an Xbox user or if synchronizing your game for backup is not of interest, then the feature will go wasted on you, but continue to read on to see just how good the game can be.
Ten locations are what make up the atmosphere for this BINGO game; the game includes ten different locations including France, USA, Mexico, Germany, Brazil, Australia, Italy, Tanzania, Greece, and Thailand. While the other games produce a more cartoon feel, Microsoft BINGO creates a more sophisticated environment with real world landmarks.
Items within Microsoft BINGO include coins, keys, power-ups, and tickets. Tickets are used to purchase BINGO cards, keys can be used to unlock bags (for collectibles), power-ups can be used to active in game advantages, and coins can be used to purchase any of the aforementioned – similar to BINGO Star.
As the previous games support, you can purchase coins with real world money or earn the coins in game by playing games, visiting daily, and interacting with friends. Microsoft BINGO provides the ability for you to share and receive coins with friends on your list. Did we mention there is Facebook integration? There is, but do not worry, as you do not have to connect up to Facebook if you do not want to.
The online play in Microsoft BINGO takes a step above the other games and allows users not to choose up to four cards, but instead up to a maximum of twelve cards at once. To use these twelve cards you can either use your super-fast eyes or trade in some of your coinage for auto-daubing.
This BINGO app also allows the greatest amount of audio customization compared to the others; you can easily change the volume of the narrator, in game music, and sound effects – all separately.
Speaking of the narrator, there is not one, but two narrators to choose. You can select an American, either male or female, voice to read aloud the BINGO balls being pulled. We should note that each voice is a bit upbeat and peppy, which some users may find tiresome to listen to after a while – Oh, British man from BINGO Star… come back to us!
In addition to the standard BINGO board, players can view the last twelve balls that were called. Balls are pulled and called out in a five-second time span, just as BINGO Star.
Overall, Microsoft BINGO did receive our award for the number one Windows Store BINGO game thanks to its wonderful Xbox LIVE integration, variety of locations, and customization, but any of the above options are a great choice if you are looking to kick back and relax.
Click here to download Microsoft BINGO.
Do you love playing BINGO – which of the above apps have you tried?
Get the Windows Central Newsletter
All the latest news, reviews, and guides for Windows and Xbox diehards.