Grab some popcorn and kick back with these top movie and television apps for Windows 8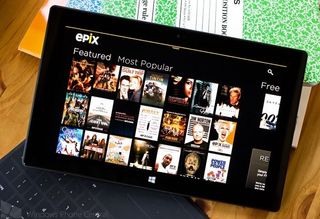 In 2014, if you are looking to watch television shows or movies, there are a plethora of different apps and services available to fulfill your need of entertainment consumption. We are going to look at what we currently consider the best TV and movie apps available in the Windows Store for Windows 8/RT devices. We will begin by noting that all of these application will work within the United States, but elsewhere your results will vary.
Netflix
Many of the apps we will be covering on are list are not exactly foreign concepts; the first being the world's leading subscription service for TV and movies – Netflix. The familiar application has a native Windows 8 application that beautifully fits in with Microsoft's modern user interface.
Using Netflix, you can gain access to a variety of television show episodes, Hollywood films, and smaller indie collections. Streaming is instantaneous and the application will automatically optimize your video quality based on your currently available network bandwidth.
Netflix is available across a wide variety of platforms, so you can start watching on your Windows PC then continue a movie or show from the same spot via your Windows Phone, Xbox 360, or Xbox One. In addition, any tiles added to your queue will be available globally.
It is worth noting that Netflix's strong point are movies, and if you are looking for the latest up to date TV shows, you should checkout our next selection – Hulu Plus.
As many of you are aware, Netflix does require a monthly subscription to stream content – it is currently priced at $7.99 a month. If you wish to try out the service free, you can do so for 14 days via the app.
To download Netflix from the Windows Store, click here (opens in new tab).
Hulu Plus
Our second pick for top television and movie applications is Hulu Plus. The Windows 8 Hulu Plus application gives you access to the latest and up to date TV shows via your PC. If you are looking to cut the cable, then Hulu Plus will be your number one stop.
Hulu is a free service that is available via their website, but if you wish to use their slew of platform apps – you are going to need a subscription. Hulu Plus is the upgraded version of standard Hulu; it costs $7.99 a month, but a one-week trial is available. Paying for the higher option will not only allow you to access applications across your Windows Phone, Xbox 360, and Xbox One, but it'll also unlock higher quality HD streams, and a larger library of content.
Content being available on Hulu Plus will depend on what television networks want to play well with the service. Most of the main networks within the United States are available including ABC, FOX, and NBC. If you are a fan of shows on CBS, you will have to download this (opens in new tab) separate, yet free, app from the Windows Store.
One of the most useful abilities of Hulu Plus is the ability to mark your favorite shows and receive notifications when new episodes are available. I have my account setup to email when new shows are added to my queue, but that option can be easily disabled.
To download Hulu Plus from the Windows Store, click here (opens in new tab).
Crackle
Not all of us have the money or want to spend the money on subscription services; for those who want to check out a collection of absolutely free (and legal) entertainment, Crackle is an excellent choice. The Crackle service provides access to hundreds of movies and TV shows in an unlimited, no subscription, on demand viewing format.
While you can use the Hulu website within a web browser to access free movies, they usually are not the latest and greatest films. Crackle has played home to a variety of great films including Pineapple Express, Resident Evil, S.W.A.T., Gattaca, Stealth, Ironman, and Spiderman. As of writing this article, the following movies are available for viewing: Talladega Nights, Tremors 1-4, Paul Blart: Mall Cop, The Rum Diary, and more.
Of course, nothing in the world is free, so you will be played host to a collection of advertisements within your movie – overall, there are still less commercial breaks than what you would get while watching a film on television.
As of now, Crackle is available within the United States, Canada, the UK, Australia, and Latin America.
To download Crackle from the Windows Store, click here (opens in new tab).
EPIX
Our next selection is one that is not going to be available to a segment of our readers, but we felt the need to include it, as if you do have access – it is quite epic. The service, accurately named EPIX, is an on demand movie service like Netflix, but gives you access to the latest blockbusters as soon as they are available. We feel the selection is much better than what Netflix offers and pairs nicely if you do have a cable subscription.
A cable subscription is where the catch is; you will need a cable subscription to the EPIX channel to access the EPIC app (similar to needing an HBO subscription to access HBO Go). As of now, Charter Communications, Cox Communications, DISH Network, EFB Fiber Optics, Hawaiian Telecom, Home Telecom, Mediacom, Suddenlink, Time Warner Cable, and Verizon FIOS support EPIX.
If you do not have EPIX, but want to try it out, you can do so for free during a two week trial period - no credit card required. It is worth noting that once the trial period ends, unless you have a supported television provider, you will not be able to continue.
Selections available on EPIC are immense, and include the likes of SkyFall, Jack Reacher, Avengers, Dictator, Mission Impossible 3, The Cabin in the Woods, and Expendables 2.
To download EPIX from the Windows Store, click here (opens in new tab).
Xbox Video
Moreover, of course, we could not complete our list of the top entertainment apps for Windows 8 without adding in Microsoft's own Xbox Video service. We cannot imagine that you are unfamiliar with the service, but we will quickly touch upon it.
The Xbox Video application is the official video service provided by your guys (and gals) up in Seattle, Washington. You can easily rent the latest hit television shows and movies, or you can purchase them outright for your collection. All of your purchases can also be accessed via your, Windows Phone, Xbox 360, and Xbox One.
If you are a hooked heavily into the Microsoft ecosystem and are looking for a great place to purchase movies and other content – Xbox Video is going to be your best choice.
To download Xbox Video from the Windows Store, click here (opens in new tab).
Windows Central Newsletter
Get the best of Windows Central in your inbox, every day!
Still waiting for VLC for Windows RT.....

If it works as poorly as it does on x86, I'd rather keep waiting.

Epix app has never worked from day one. The complaints in the store reflect all the problems it has.

The ads on hulu are so heinous they would have to pay me to watch.

That's why I quit Hulu plus.

I tried crackle the other night. Every five minutes was a Netflix commercial.

Glad someone else mentioned the ads.Tried Hulu one time and never went back. Commercial after commercial....

Ditto. I do not get the popularity of Hulu, its selection is generally trash, just what the networks have up on the web, and paying for commercials is BS. I used it for a few days, went into a blind rage, and cancelled it. Never again.

For mobile it's a good (well, the only, really, I think?) alternative though, at least if you don't have cable.

Why not just use the browser? It's Windows 8, not Windows Phone 8.

Speaking of Xbox Video: 1 - Can I download a movie to my Xbox One instead of streaming? 2 - Can I download a move to my SD card on Windows Phone via this app? It seems to be linked as app content adding to the app size instead of being separate.

Yes you can download. No idea if you cn download to an SD card tho for WP.

I dont believe that is correct for the XBox One. To date, I have not found a way to download a rented or purchased movie to my xbox one. I have even called support about it. If you know differerently I would love to know how to do it.

Where, oh where is HBOGO??? *Sigh*

Speaking of HBO Go, I wish they would make it a standalone subscription like Netflix. I don't pay for tv service and have no plans to, but I would like to have an easy way to access Game Of Thrones without either paying per episode or torrenting it.

Purchased Prometheus on XBOX video when the film debuted but it's no longer available on the store so my purchase was gone as well. Basically, I'll never buy another film using that service.

When I say "debuted" I mean debuted on bluray/digital release.

Really? Well, that's f**ked up.

Xbox Video does that a lot. if you are willing to buy from them you better be prepared to download the file.

Have had the same thing happen, latest one is Justice League Tale of Two Earths, just gives me an error now when i try to play or download and doesn't come up on any new devices I sign into. Absolutely crap service.

Happened to me on Amazon too with another movie. That's what sucks about "buying" online movies - you never really buy them, just the rights to watch it when they have the rights to let you do so (they have "blackout dates" where the movies are not allowed to be available, or at least they used to). It really is f***ed up, and I will never "buy" another movie online.

Thats odd maybe its a location thing. I own it and its still available here in the US. I had the same thing happen with another video all I did was contact Microsoft and they gave me a full refund within 12 hours.

Yeah, but who wants to put up with having to do that when you want to watch what you paid for?

That's why you download them after you buy them.

Try to 'Renew purchases' you still own it, unless it was a rental?

That's why I've never bought any Video item from any store...ever. The ones I have, have been given to me (store credits, promotions, etc.). I just buy the discs which come with that Ultra Violet thingy and use VUDU to watch them. Flixster also does this I believe.

HBO Go and Showtime Anytime! Please!

As long as I have PLEX, I'm good to go!

I too am a recent Plex convert. Its amazing.

I tried Popcorn Time on my tablet and works.

Don't forget "Qello Concerts"

Is Amazon ever going to get around to releasing an Amazon Instant Video app? That's what I'm waiting for.

Why not use the web browser?

Exactly, Amazon Prime works great through the RT IE browser.

As far as I know the Web Browser doesn't allow you to stream in HD. Don't matter much to me though, this is ma last month subscribing to Prime. Great service, just don't use enough to justify paying for it.

Where is the Amazon Instant Watch app? It is on the Xbox one. Why can I not get it on my Surface 2?

I'm going to be honest with you guys non of those apps are available in my country. How about that?

One of those places where they still go on dragon hunts... Also known as, "outside the US."

I currently can't get Xbox Video to work on my 928. Endless loading when trying to sync my seasons of GoT. Very annoying...

Cinematek has all the newest box office hits for FREE!

Media Browser 3 is a must have if you own a DVD collection.

Xbox Video is sooo expensive in the age of Redbox!

Awaiting for VLC Player for WP 8/8.1...let's get serious we don't have a real complete player w. subtitles and other options besides Moliplayers which doesn't really have support for subs. So VLC please come onto our WP OS phones.

Why are movies always 1$ more expensive on Xbox video than amazon... To make it worse xbone won't let you buy a amazon equivalent on device if Xbox video has it :|

In my experience every video/tv series streaming service has its strengths and weaknesses. I like the ease and convenience of on demand use. However the offererings of actual media is vastly different and just goes to show how fragmented things are. My greatest experiences are with netflix, xbox video and mejane.com. The experience is decent, but nothing to write home about. I currently use xbox video the most, but I noticed that the video quality and audio is not always good, a lot of moives are only offered in sd for rent. Most HD are to buy. But that's where things go wrong for me, because I do not want to own a video full price. One because the movie is still part of xbox and when the service is gone in 5-10 years, so will my purchases. I consider it a safer bet to rent a movie. Currently though the price is quite steap for a poor quality. I informed this also with mejane.com, which had similar media content offerings to xbox video. A sales representative told me that the price is high as to encourage users to buy the hd movies and series. That really changed my views of how the industry actually works. It is my preference to go for rentals or on a subscription basis. On this part the representative said that this would not be lucrative business model. I now feel pity and a bit of scepticism of how this media streaming business actually works.