Top Rated Free Games from the Windows 10 Store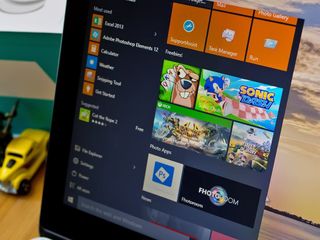 The Windows 10 Store is packed full of free games and apps, ripe for the picking. In this roundup, we are focusing some if the top rated free games in the Store. A future roundup will focus on the top-rated free apps available in the Windows 10 Store.
While there are some free games that are not worth the price of the bandwidth to install them, there are a host of entertaining games available to satisfy your gaming itch. We plucked four random gaming titles from the top-rated offerings in the Windows 10 Store for this collection.
There would be no way possible to cover all the top rated free games in the Store in one roundup and this is where you come into play. No need to be shocked that Hungry Shark Evolution or any of the other free games in the Store didn't make the list. If your favorite free game from the Windows 10 Store isn't mentioned, feel free to toss out your recommendation in the comments below.
Fairway Solitaire
Countless solitaire games dot the shelves of the Windows 10 Store. Fairway Solitaire is one of the more animated, unique and entertaining solitaire offerings to consider. The card game is influenced by the game of golf where you must strive to achieve a score of par (the number of cards left in play) or less to advance to the next levels. Levels, as you might guess, are in the forms of holes of a golf course.
The core mechanics of the game fall in line with your traditional game of solitaire. You have to pull cards from the playing field that are above or below in value from the card revealed from your base stack. A sequential match of sorts.
You have sand traps, water hazards, rough and a pesky gopher that tries to steal items from game play. You can purchase extra golf clubs with the coins you earn during game play. These golf clubs serve as extra cards when you hit a dead end with the cards in your deck.
The playing field is a mix of face-up and face-down cards that are revealed when they reach the top of that particular stack. Cards in the rough will require one match to cut down the tall grass and another card to match/remove the card from play.
Along with the extra clubs that you can pick up from the game's store, there is also an assortment of bonus items that can be purchased. These bonus items will help your chances of success such as an Iron Detector to find free clubs hidden in the cards or a Water Hazard Diuretic that removes up to three water hazard cards.
Overall, Fairway Solitaire is an enjoyable, addictive, well drawn up game of solitaire. If you are looking for a card game to install from the Windows 10 Store, this game is well worth a try. The starter game is free the first few courses included. To open up the full 350 holes of solitaire golf will cost you a $.99 in-app purchase.
Oh and if you prefer gaming from the smaller screen of your Windows Phone, Fairway Solitaire is also available in the Windows Phone Store.
Sonic Dash
Sonic Dash is an endless runner game that features Sega's iconic mascot, Sonic the Hedgehog. You also have the ability to unlock other Sonic characters such as Tails, Shadows and Knuckles as you advance through the game.
You will race Sonic across an endless supply of jumps, curves and straightaways that are full of dangers to jump, run around or slide under. Additionally, several of Sonic's foes will appear to challenge you to epic boss battles.
Game controls are simple with, depending on your device, gesture or keyboard controls. You have plenty of rings to collect and earn during game play that can be used to purchase power-ups. Power-ups that will better your chances of survival and achieving the numerous gaming goals that Sonic faces.
All in all, Sonic Dash is a fast-paced, challenging endless runner game. It is a universal game available for both Windows and Windows Phone devices (including low-memory Windows Phones).
Dungeon Hunter 5
Dungeon Hunter 5 is an action/adventure game available in the Windows Store that has you gallivanting around a fantasy world, slaying evil forces where they may hide. The Xbox gaming title is a well drawn up, challenging and addictive hack 'n slash type of game.
The game includes five realms to journey across with countless dungeons and cities to search. Some of the key features with Dungeon Hunter 5 include:
Cooperative Game Play: You can hire your friends or other players as allies to help you on your journeys.
Asynchronous Multi-player Game play: Customize your Stronghold with a variety of defenses to protect it from raids and raid opponents Strongholds to score some loot.
Craft your own gear: Dungeon Hunter 5 has 46 armor types and 150 weapons that can be fused to create new weapons.
Elemental Powers: The game takes advantage of five elemental powers - water, fire, light, nature and dark. Many of the weapons and armor will have the power of these elements for an advantage in battle.
Daily and Weekly Events: Daily dungeons will reward your battle skills with unique materials to evolve and fuse your gear. A weekly Wanted Challenge will require you to battle to the top of the leaderboard to get the best rewards.
Game play has a slight Dungeons and Dragons feel to it. You guide your hero through the Kingdom of Valenthia in arcade fashion. Keyboard or touchscreen controls are responsive and easy to use.
Graphics are impressive and the battle sequences are more "toe-to-toe" in nature than strategic. There is plenty of NPC character interaction and animated cut scenes to keep things lively, all of which can be skipped through for those who want to get to the action quicker.
In playing Dungeon Hunter 5 for a short time, I found it to be an immersive and addictive Windows role-playing game. It is available for Windows Phone (sorry, no support for low-memory phones) but I felt it played out a little better from a Windows computer or tablet. That's not to say the game sucks wind from a Windows Phone, but the larger screen pulls out the detailed scenery a touch better.
Hills of Glory 3D Free
Hills of Glory 3D Free is a tower defense game set in the European Theatre during World War II. In the game, you defend your bunker against wave upon wave of enemy attacks. You have at your disposal a wide range of weapons that include rifles, mortars, flamethrowers and even air strikes.
Hills of Glory 3D has two gaming modes. You have an endless battle mode to see how long you can survive the enemy assault and a mission based mode with 21 missions to tackle.
As you advance through game play, you will earn experience, which in turn advances you through the ranks and unlock the full arsenal of weapons.
Graphics are nicely drawn up and you have plenty of upgrades for weapons that will enhance your defensive strengths. Game controls support mouse, touchpad and multi-touch.
In playing Hills of Glory 3D for a short while, it comes across as a fun game to pass the time with. Two nits stand out though. First, you cannot scroll out for a wider point of view, which means you will be scrolling around the game screen a lot. Second, while the mortars are effective they take forever to reach their target.
Hills of Glory 3D isn't your traditional tower defense game and unique enough to give the game a nice level of appeal.
Get the Windows Central Newsletter
All the latest news, reviews, and guides for Windows and Xbox diehards.
George is the Reviews Editor at Windows Central, concentrating on Windows 10 PC and Mobile apps. He's been a supporter of the platform since the days of Windows CE and uses his current Windows 10 Mobile phone daily to keep up with life and enjoy a game during down time.