Top Rated Health and Fitness apps for our Windows Phones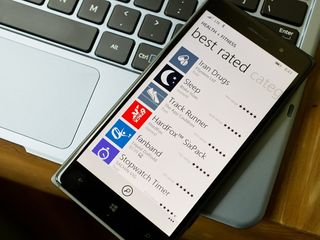 We all face the challenge to live a healthy and fit life. For some, the challenge is easier to get a handle on while others need a little help. There is a host of Windows Phone apps that can be beneficial to everyone who is pursuing a healthier and fit lifestyle.
These Windows Phone apps are diverse in coverage and can help you track your sleep, count your steps, walk you through exercise routines, count your calories and more. For this week's Windows Central Roundup, we have pulled six of the top rated apps in the Health and Fitness Category to spotlight.
We are not including apps such as Microsoft's Health, Runtastic, Fitbit. The reason being is at the time of the sampling we concentrated on the apps with five-star ratings. It's not a conspiracy to sweep anything under the rug. We understand there are plenty of great health and fitness apps beyond what we are highlighting, but we also need to avoid a 10,000-word article.
If we have overlooked your favorite Health and Fitness app from the Windows Phone Store, feel free to toss out your recommendation in the comments below.
Track Runner
There is plenty of quality running apps in the Windows Phone Store. Track Runner is one option worth considering for those looking for a straightforward, easy to use running app. The fitness app will track your run, analyze your performance and help you train smarter with adaptive interval workouts.
Some of the key features of Track Runner include:
Support for Bluetooth LE heart rate monitors
Pacer feature to help  pace your runs
Analyze your stride rate and minimize the risk of injury with the Cadence feature
Voice notifications for support and split notifications
Live Tile support
Diary to jot down notes of interest for each run
GPS mapping to chart your running routes
Works under a lockscreen
Statistics managed by Track Running includes fastest distances and laps, pace, heart rate, the number of runs, distances, calories burned, steps taken and heart rate. Stats can be viewed by the week, month, year or a custom time period.
The interface for Track Runner is very clean with a large Play Button on the main page to start your runs. One the app senses movement it will begin monitoring your run or you can hit the play button on the map view. At the conclusion of your run, the data can be saved, discarded or exported in GPX format.
Overall, Track Runner comes across as a capable running app for our Windows Phone. It easily joins the other top running apps available in the Windows Phone Store.
Download Track Runner for Windows Phone (Free)
Breathe Deeply Now
Breathe Deeply Now is an interesting Health and Fitness app that guides you through a cycle of deep breaths. These cycles can calm your stress, help you relax and increase your focus. According to the Store description, the approach is based on cognitive-behavior therapy and yogic abdominal breathing (Pranayama). In many ways, Breathe Deeply Now is an alternative to "Counting to 10" when you start to become stressed out.
The interface is uncomplicated with a breathing circle taking center screen on the app's main page. You will tap and hold the circle as you inhale deeply and when the circle flashes, you exhale slowly. By default, each cycle takes eight deep breaths to complete but you can modify this in the app's settings.
There is a mood music button in the bottom left corner of the main page that can be turned off if you prefer silence as you relax. An illustration and counter are also present on the main screen. You also have an Extras page that has links to the app's settings, tutorial, statistics as well as the About page that offers a little more detail behind the philosophy of the app.
Settings are rather extensive with Breathe Deeply Now with options for your breathing (repetitions, frequency, etc.), a schedule with Live Tile and Toast notifications and general options for the app's appearance and sounds.
While Breathe Deeply Now may not be a traditional fitness app, in using it for the past few days I have to admit the deep breath cycles can be relaxing. And getting a handle on the stress of the day can be just as important as hitting the treadmill.
Breathe Deeply Now is a free, ad-supported fitness app with the option to remove the ads through a $.99 in-app purchase.
Download Breathe Deeply Now for Windows Phone (Free)
HardFox SixPack
There are several quality Windows Phone apps designed to serve as a personal trainer. Many of these apps include shorter, intense workouts for those who cannot spend hours at the gym. HardFox SixPack is based on a 42 day training cycle to help you strengthen your abdominal muscles and improve your body sculpture.
The app has a detailed How-to section to walk you through each of the six exercises and charts your daily progress. The exercise routines include audible directions as well as a visual counter and illustration of the exercise in action.
HardFox SixPack is an appealing, simple app to get you into shape. The app does focus solely on your abdominal muscles. Should you be looking for a more comprehensive workout app, check out Trainr or 7 Minute Workout.
Download HardFox SixPack for Windows Phone (Free)
FanBand
There will be those who may be scratching their heads with the Windows Phone app FanBand making a Health and Fitness roundup but the app does appear in the Health and Fitness category.
FanBand, available for both Windows Phone and Windows 8 as a universal app, is a utility app of sorts that allows you to customize your Microsoft Band. The app has a ton of wallpaper designs and color themes to help your Band reflect your personality or interests.
There are over 1,000 themes available from FanBand that range from your favorite sports team to cartoon characters. If you don't see a theme, the developer is open to suggestions and is willing to accommodate your request where possible.
The interface is clean and easy to navigate around and you can tag themes as favorites. You can also automatically update your Band theme periodically based on your favorites.
While FanBand may not count calories, push-ups or track your runs the app will make it easy to personalize your Band and help it stand out just a little. It is an excellent fan-based theme collection and if you own a Microsoft Band, FanBand is a must have app.
Please note that the Windows 8 version requires the Windows Phone version in order to connect and update your Band.
Sleep
Part of living a healthy life is getting enough sleep and there will be times this is just as challenging as maintaining a consistent exercise routine. The stress of the day can keep your mind racing to the point you simply cannot get a sound night's sleep.
Sleep is one of the many Windows Phone apps designed to help you relax at night and increase your odds of getting a restful sleep. The Windows Phone app is a sound generator that includes a selection of fourteen calming sounds that includes such themes as a soothing clock, ocean waves, rain showers and more. You can add more sound themes through a $1.29 in-app purchase.
The user friendly interface has a thumbnail selection of your core sounds running along the bottom of the screen with a pull-out menu to the side of the screen for supplemental sounds. Supplemental sounds include wind, thunder, crickets, frogs and eight more sounds.
Your volume and sleep timer controls are at the top of the screen and each sound has a corresponding illustration that fills up the display. The timer ranges from 5 minutes to 90 minutes. Sleep will run beneath a lockscreen.
If you are in the market for a sound generator for your Windows Phone, there are plenty to choose from and Sleep is a solid option worth considering.
Download Sleep for Windows Phone (Free)
Plant Nanny
One of the many aspects of living a healthier life is making sure you stay hydrated. There are several Windows Phone apps designed to monitor your water consumption and Plant Nanny may be one of the more unique options to consider.
To illustrate your water consumption, you will be given a plant to care for. As you drink water and register the consumption in the app, the plant stays alive and grows. If you don't drink, the plant will wither away and die.
Plant Nanny will have you fill in a template with your body information where it will determine how much water you should drink during the day. For example, based on my age and body size Plant Nanny recommends I drink 117 ounces of water daily. The app does have support for toast notifications to remind you to drink.
When you are ready to register water consumption, just press and hold the water button in the lower right corner of the app's primary screen. A number will appear on the water button to indicate how many glasses you have remaining based on 6 ounce glasses. You can change the volume by tapping the bottom of the screen (just above the ad-banner) to modify the volume of your water glass.
Plant Nanny offers a nice range of plants you can "grow" along with a variety of pots and background images. Some plants and accessories will cost you seeds that can be earned as you drink or through in-app purchase.
Overall, Plant Nanny is an interesting way to track your water intake. It is a fun way to monitor your water intake Plant Nanny and worth trying. It is a free, ad supported Windows Phone app and you can remove the ads through a $.99 in-app purchase.
Download Plant Nanny for Windows Phone (Free)
Get the Windows Central Newsletter
All the latest news, reviews, and guides for Windows and Xbox diehards.
George is the Reviews Editor at Windows Central, concentrating on Windows 10 PC and Mobile apps. He's been a supporter of the platform since the days of Windows CE and uses his current Windows 10 Mobile phone daily to keep up with life and enjoy a game during down time.