Top rated New and Rising Windows Phone Games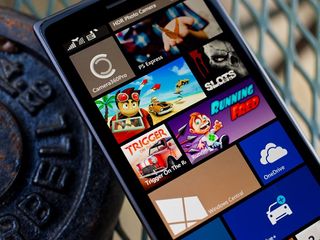 Windows Central Roundup: New and Rising Windows Phone Games
For those not familiar, the Windows Phone Store has a category of apps and games that highlights new and rising titles. If you are curious what new games and apps are on Store shelves that are gaining popularity, this is a good area of the Store to visit.
For this week's roundup, we have plucked four gaming titles from this aisle of the Store to showcase. Each title has a Store rating of at least four stars and includes a pair of racing games, an endless runner game and a casino title. There are a ton of quality titles in the New and Rising section of the Windows Phone Store and hopefully this small sampling will catch someone's eye.
A quick housekeeping note before we jump into the roundup. Each gaming title is available for low-memory devices and we have one game that is also available for Windows 8 devices.
Running Fred
Running Fred is the sequel to the mildly popular Windows Phone game Skiing Fred where Fred is trying to outrun the Grimm Reaper. The game has three modes of play that include an Adventure, Challenge and Endless Survival modes. All of which play out much like an endless runner game with Fred dodging and jumping around to avoid deadly obstacles.
The Adventure mode plays out like a multi-level platform game, the Challenge mode has a series of objectives to tackle and the Endless Survival mode sees how long you can survive all the booby-traps, spiked walls and other dangers the game has to offer.
You collect coins throughout game play to unlock additional characters, player outfits, gaming venues and power-ups.
Gaming controls are simple in that you use your Windows Phone tilt controls to move Fred from side to side and tap that lower right corner of the screen to have him jump. Game play comes across as fast paced and challenging with decent graphics to boot.
Beach Buggy Racing
Simply put, Beach Buggy Racing is a fun Windows Phone game to waste the time with. You are thrown in the middle of the world of off-road kart racing. The game includes six different gaming modes, twelve creative racetracks, tons of customizations for your buggy and plenty of power-ups to help you win the race.
The game is similar to Angry Birds Go! but with much more detailed racetracks and without the Angry Birds (except those you run over).
You steer your buggy with either your Windows Phone tilt controls or on-screen controls. Acceleration is automatic but you do have on-screen controls to brake and put your buggy in reverse.
Power-ups will appear throughout the racecourse for you to collect that include nitro boosts, fireballs (to destroy your opponent) and oil slicks. Your performance on the course doesn't have to be perfect with most objects being crushable by your buggy. So fear not if you run into a lamp post, crate of chickens, or a sidewalk café table. You're likely to smash right on through.
Graphics are nice, game play challenging and there is plenty of racing with Beach Buggy Racing to keep you entertained for a while. It knocks down a 4.5 Star rating in the Windows Phone Store, which we won't argue with one bit.
Beach Buggy Racing is available for both Windows Phones and Windows 8 devices.
Death Slots
Death Slots may very well be the most unique casino slot game in the Windows Phone Store. The game is nicely drawn up but in a slight dark tone, there are multiple betting modes, ten different slot machines and a mini-game to let you double your winnings.
The different machines are progressively unlocked as you advance in player level and to gain experience to move up the ranks, all you have to do is play the game. There is an auto play feature for the times you just lack the energy to push the button and boost to increase your odds.
Running low on coins? You have two options to replenish your change purse. First, you can wait an hour to get 300 free coins or you can pick up some coins through in-app purchase.
If you are tired of the traditional casino slot games and are looking for a version with a little more edge, Death Slots may be right up your alley. At last check, the game has almost 240 reviews in the Windows Phone Store with a rating of 4.5 Stars, which is about spot on.
Trigger on the Road
Trigger on the Road is a Windows Phone game that combines a racing game with an obstacle course. You have a need for speed, timing and a delicate touch of the steering wheel.
You have a series of racing courses that you have to negotiate through to find a golden key that will allow you to advance to the next level. You race your car across eight different course and as you complete each level, you will earn coins that can be used to unlock two additional cars in the game's garage.
Obstacles range from hairpin turns on elevated roads, narrow bridges, turnstiles, pressure plates that will raise barriers and more. Just be careful if you bang into a tree, crash into a wall or miss time a jump the game is over.
Vehicles are controlled by on-screen pedals and steering wheel. It does take a little time to get used to spinning the wheel accurately. You can collect boosts with some courses that will give your vehicle a zip in speed for jumping across obstacles.
Graphics are nice, courses are challenging and the only annoyance with Trigger on the Road is a full-page ad that pops up from time to time. I really don't like those things.
Best of the Bunch?
All four gaming titles have a certain level of across the board appeal and if I had to pick only one game to install on my Windows Phone, it would be Beach Buggy Racing. It is just a fun game with responsive controls, nice graphics and challenging courses to race.
However, that doesn't mean the other three games are pushovers.
Running Fred has its moments and does a nice job of combining an endless runner style of game play with a platformer layout. The additional gaming modes helps give the game a little more staying power.
Trigger on the Road is an enjoyable game that also has quality graphics and challenging game play. It is a game that takes patience and a steady hand (or should I say finger) at the wheel.
Death Slots may be the one game of the bunch that might have the narrowest appeal. It is a well-drawn up game of slots with an underworld feel about it. Death Slots is one of those games that will be a nice addition to someone's casino game collection or for those looking for something different to pass the time with.
There are plenty of quality games in the Windows Phone New and Rising category. This roundup merely scratches the surface on what is available and if you have a favorite gaming title that is new to the Store, feel free to toss out your recommendation in the comments below.
George is the Reviews Editor at Windows Central, concentrating on Windows 10 PC and Mobile apps. He's been a supporter of the platform since the days of Windows CE and uses his current Windows 10 Mobile phone daily to keep up with life and enjoy a game during down time.
Yes, the best action-based-puzzle so far!!!

Let me download beach buggy, looks impressive

Waiting for shadowgun deadzone

Can somebody email to madfingergames please. Just to play sg dead zone , I have use my HTC m8 android.

Back me up. Somebody. Help me out over here

Maybe I will. They do need to port it in my opinion as well

Running Fred is not a game made by the person who released it. It's a unity powered, premade project, but just altered. How do I know? I happen to create games in unity from time to time and I know the asset store content. Recognized this the second I saw it

Call me boring (and maybe a bit off-topic, I will admit), but Doodle God and Doodle Devil are the games I play most. They're just addicting. Maybe I'll check one or two of these out today.

I play Subway Surfers... :P

Lets not forget the snes emulator too in the app store so you can play all the super Nintendo games.

They're not free games, but I'm hooked on Chimpact 2 Family Tree and Chronology. Also been playing some Riptide 2!

help! I still cant download beach buggy racing. it says "pending", sometimes it says downloading all the time with no progress. and then at the Store it says installed but the game isnt installed at all. sorry bad english. mine is L620.

There is nothing wrong with your English my friend, if English is not your mother tongue then I am impressed.

Hey same here. But I downloaded it before very smoothly and it didn't run that time. Today when I wanna give it another try, I am facing the same problem.

I had that very same problem when I tried to update Translator (from previously called Bing Translator). Cancel your download, restart your phone, and retry downloading it again. I worked for me at least.

beach buggy is decent enough time killer

Anyone else notice the picture in Death Slots of the WoW warlock T5 armor? Nice way to rip off images lol.

The resemblance is uncanny.

So, does anyone play Darksiders II? Windows Central, please stop promoting games that rip off other IPs...

Beach Buggy Racing looks like fun, surprised it's free.

I wish these games had xbox live features. Does microsoft even persuade of give tools for its xbox API's?

I think it's more a matter of Microsoft DISSUADING developers with their very rigorous and onerous requirements for Xbox Live approval. Certainly doesn't look like they're interested in changing it though... been that way for years.

Beach Buggy is amazing on my 1520, and my Windows 8 PC in 24 inches! It does look lush.

Skiing Fred is way better than the running version. Why skiing Fred was only mildly popular baffles me. Great music, great action, great gaming. It's one of my favourite runners.

When will coc reach windows??

Yeah we want clash of clans

All the games suck except beach buggy

well, if someone will tell my that real racing 3 and clash of clans is coming next month... i would be happpyyyy!!!

I guess I should have jumped on the Pokemon games while they were hot #LeafGreen
Windows Central Newsletter
Get the best of Windows Central in in your inbox, every day!
Thank you for signing up to Windows Central. You will receive a verification email shortly.
There was a problem. Please refresh the page and try again.