Top Rated Puzzle Games for Windows Phone
Windows Phone Central Game Roundup: Puzzle Games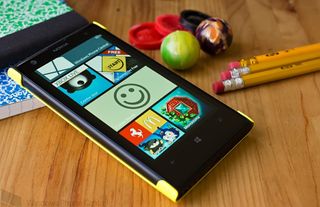 Puzzle games are a great way to pass the time and we have plenty to choose from for our Windows Phones. Puzzle games have a wide range of appeal and can be a rather addictive past time.
There are so many quality puzzle games available in the Windows Phone Store, it can be hard to pick just a few to highlight in our weekly roundup. So, we kept it simple this week and showcase the top five, best rated puzzle games from the Windows Phone Store. Each title is a quality, addictive and challenging title that would be a fine addition to your Windows Phone gaming library.
FlipSomeTiles Free (Free)
FlipSomeTiles Free is a simple, yet challenging, tile game that is available for both Windows Phone 8 and 7.x. Your goal is to trace a path between the Start and End tiles, flipping all the tiles in between from white to gold.
You cannot back trace on a tile or lift your finger from the screen. If you do either, you fail the puzzle level. Glass tiles are also present that will let you back trace your path but will shatter when you cross the tile for the second time.
Should you get stuck, there is a help button at the top of the gaming screen the will reveal the solution. Pay attention to the reveal because you will still need to solve the puzzle.
While the gaming concept for FlipSomeTiles Free sounds easy, the game has plenty of challenging puzzle levels. The only downside to the game is that it only has forty levels. You'll need to upgrade to the paid version of the game to unlock an additional 100 levels.
FlipSomeTiles Free is a free, ad-supported game that is available for Windows Phone 8 and 7.x. You can find FlipSomeTiles Free here in the Windows Phone Store. FlipSomeTile (store link) is the ad-free version that is currently running $ .99. The paid version is just like the free version, just more levels of play.
Oh, and if that wasn't enough there is a free version of FlipSomeTiles that is available for Windows 8 that is well suited for tablet play. You can find the Windows 8 version of FlipSomeTiles here in the Windows Store. (opens in new tab)
The Treasures of Montezuma (trial/$.99)
The Treasures of Montezuma is a Bejeweled styled game that is available for both Windows Phone 8 and 7.x. The game's storyline has you following Dr. Emily Jones as she solves a mystery that can transform the world. Dr. Jones needs you to solve the matching puzzles to discover artifacts that will trigger various Power Totems.
The Treasures of Montezuma has three gaming modes that include the Story Mode, an Endless Gaming Mode, and an Arcade Mode. Game play with each mode is basically the same in that you are trying to build matches of three or more of the same color/styled tokens. You swap out adjacent tokens to build the matches (much like you would with Bejeweled) and when you do, the tokens
Some of the tokens have gems embedded in the center and to complete the level, you'll need to collect a pre-set number of these gems (by including them in the match) before the timer runs out or you run out of moves.
The Treasures of Montezuma has plenty of power tokens and bonus items to help you master game play. There are nine trophies/achievements to earn and if you're not careful, The Treasures of Montezuma can be a painfully addictive puzzle game. My only nit is that if you have the game's volume turned down, a speaker pop occurs randomly throughout game play. It isn't anything mission critical but can be a little annoying.
There is a free trial version available for The Treasures of Montezuma with the full version running $.99. The puzzle game is available for both Windows Phone 8 and 7.x and you can find The Treasures of Montezuma here in the Windows Phone Store.
In addition to the Windows Phone version of The Treasures of Montezuma, you can find similar versions available for Windows 8, such as The Treasures of Montezuma 3, here in the Windows Store. (opens in new tab)
Contre Jour (trial/$2.99)
Contre Jour is a fantastic Xbox Windows Phone puzzle game that is highly addictive. You will find yourself sitting down to play just a few levels and before you know it, thirty minutes has passed by.
Contre Jour calls upon you to guide an odd little creature called Petit to the safety of a glowing light. You pull, swipe and tap on an assortment of gadgets such as tendrils, swings, and air geysers to navigate Petit to its safe harbor. Each level that introduces a new gadget or tool will begin with a tutorial screen to help you better understand game play.
Along the journey, there are plenty of dangers to avoid and overcome that keeps game play challenging. You have spikey balls that will end things for Petit as well as bottomless pits.
For the ultimate gaming experience, you'll want to play Contre Jour with headphones to appreciate the orchestrated soundtrack. Game play is a little on the dark side but it works. Overall, Contre Jour is fun and challenging puzzle game for your Windows Phone gaming library.
There is a free trial version available for Contre Jour with the full version running $2.99. The Xbox title is available for both Windows Phone 8 and 7.x and you can find Contre Jour here in the Windows Phone Store.
Logo Quiz Ninja (Free)
Logo Quiz Ninja is a puzzle game that will test your knowledge of product and corporate branding. The "ninja" aspect comes into play with the game's storyline in that as you complete each level of game play, your ninja earns a new skills belt. Your goal is to complete all the levels to earn your ninja a black belt.
Ten levels of play include hundreds of logos to identify. To make things challenging, the logos are incomplete. Tap on the logo thumbnail you would like to identify and type out the product or company it represents.
Periodically, when you correctly identify a logo your ninja's sensei will appear with words of wisdom (factual tidbits) on the product or company. Luckily, you can tap through these transition screens to jump back into game play a little quicker.
Logo Quiz Ninja is a free ad-supported game that is available for Windows Phone 8 and 7.x. In-app purchases are available to buy hints (identifies the logo) and buy the premium version ($4.99) that eliminates the ads and provides unlimited hints.
You can find Logo Quiz Ninja here in the Windows Phone Store.
7 Little Words (Free)
7 Little Words is a challenging word puzzle game that has word search and crossword puzzle elements. You are presented with seven clues and twenty letter groups. You will have to use the letter groups to create words that will answer each of the clues.
7 Little Words includes fifty levels of puzzles and four daily puzzles to tackle. Additional puzzle theme packs are available through in-app purchase ($.99 each).
If you get stumped on a word, you can shuffle the letter groups around to get a new perspective on things or tap the "Get a Hint" button to show a hint for one of the clues. You get one free hint with unlimited hints costing $2.99 through an in-app purchase.
7 Little Words is a simple puzzle game but isn't without challenge. If you only have time to solve a few of the words, fear not, 7 Little Words will save your gaming progress.
Overall, 7 Little Words is a fun, easy to play, challenging game for your Windows Phone. It is a free game that is available for Windows Phone 8. You can find 7 Little Words here in the Windows Phone Store.
If you're looking for a free Windows 8 puzzle game, 7 Little Words is also available here in the Windows Store. (opens in new tab)
Best of the Bunch?
All of the five Windows Phone puzzle games are worthy additions to the Store's gaming library. Contre Jour is wonderfully animated and full of challenging puzzle levels.
The Treasure of Montezuma is also full of challenging puzzle levels that can easily be time consuming. Logo Quiz Ninja will test your knowledge of corporate logos but the game could live without the transition screens.
I like the simplicity of FlipSomeTiles and 7 Little Words. FlipSomeTiles is a good choice for when you need some help passing short bits of time and 7 Little Words is a challenging, yet uncomplicated, word game that combines words search and crossword puzzle mechanics.
Additional puzzle games worth mentioning but falls outside the top five best rated would include:
If we have missed your favorite Windows Phone puzzle game, feel free to toss out your recommendation below in the comments.
Windows Central Newsletter
Get the best of Windows Central in in your inbox, every day!
George is the Reviews Editor at Windows Central, concentrating on Windows 10 PC and Mobile apps. He's been a supporter of the platform since the days of Windows CE and uses his current Windows 10 Mobile phone daily to keep up with life and enjoy a game during down time.
Contre Jour is the best according to me. Great music also.

I agree. I can't think of a better XBOX Live puzzle game than Glean. Althou art style might look wierd to some.

Agreed, also headphones are a must for this game.

I bought Contre Jour a while ago it but haven't gotten into it. I find the controllers a bit awkward or maybe I just don't know what I'm doing. I just can't change the shape of the terrain in the way I want so I get frustrated and stop. I think I've played two or three levels, hehe. :|

Try Raining Blobs, you might change your mind about best puzzle game on Windows Phone ;)

Glean is similar to free flow... it's really good... unfotunately id didn't take me too long to finish it... wish they would add more levels...

Yup! One of my favourites... Missed it.

Agree. Puzzle Retreat, Move, and iLoMilo are three of the most polished, well designed games in the store.

It is impossible to rate best puzzle game because this depends a lot on "what tickels your fancy". - Flow free for farely easy and fun - Match 3 for those who just like to bejewel - Candy Crush alternatives (plenty of those in phone store) for those who like match 3 with challange - Puzzle Retreat: fun but REALLY hard at some levels - "pick a stick" type of games : strata comes to mind - Sudoku? Tons of those if you like numbers , want "easy sudoku"? Take ten! (no trial) is fun but rules are bit confusing - Or how about "puzzle puppets": clear shield tiles for defense (watch for right timing) and sword tiles for offence... (Speaking of, can we get 10 000 000 on Windows Phone? I played this on Android and I loved it...) Etc etc etc... I personally like to have examples of different types and than you play what you feel like playing that day. Some days I'm in "bejewel" type of mood... other days I might play a game of sudoku or chess... etc... But personally, Flow and Flow Bridges were by far the best puzzle games I've ever played. (There is even a 3d version of flow but I didn't really like it ...) PuzzleRetreat comes close 2nd but I had to look up the solution to some levels since there are no hints in the game and level can get ridiculosly hard. Puzzle Puppets comes 3rd. It's really good...

microsoft should make AGE OF EMPIRES GAME FOR WP8 .

Shameless plug: Our word game Wordsquare ( http://www.windowsphone.com/en-us/store/app/wordsquare/11c0c9c5-1281-4c5c-9e03-2094024e7d7b ) not mentioned? We are offended! Every dev in our office is crying right now and it is all your fault!

Probably because it's just another Wordament/Boggle clone.

There must be another reason because that's not true.

Frozen Free Fall and The Path of Kara.

Free fall is good we don't need candy crush. Amazing Alex is a killer game, even crazy machines golden gears

How did you miss the Path of Kara???

there is a game i used to play; it's not so known of a game but it's challenging and not easy to finish (i only got about 50 levels out of 200 i think). called math grid, i could make use of better graphics and effects and less ads i think but it'll be fine for those who love math. there is also a game called link which is a great time killer :)

Montezuma is a very addictive game.

7 Words would be one of the best, if you didn't have to pay for all the puzzles after the first. One game free a day is a nice touch though.

From the main page under Puzzle Zones pick the Sunrise section. You get 50 free additional games, so between the daily free games and these you can play a lot of games before spending .99

Sweets Mania Space Quest- well-made, cute, addictive match three a la Candy Crush. Recent update brings 100% parity with Android version. http://www.windowsphone.com/en-us/store/app/sweets-mania-space-quest/27e1b367-34f1-4b90-92f2-7d8e1a8c29a4

The 5 best Xbox puzzle games are
1. Zuma's Revenge
2. Hexic Rush
3. Spy Mouse
4. Contre Jour
5. Throne Together

The Path of Kara is a great puzzle game, has a nice story and themed puzzles you need to get through to see the rest of the story. Really fun and should be on this list if not the top of the list.

Totally agree. Great gameplay and nice visuals as well.

I like wordament, but I get the "cannot connect to Xbox live" error every time I try to play now. Can't figure out how to fix that.

I have been waiting for 7 Little words for so long, only to find out it is not available in India either that or not for L620 ;( Am a huge fan of the of the game and play it on my brothers android all the time.

Take a look at RAINING BLOBS! It is super addictive, challenging, tetris-like puzzle game. Pure gameplay without ads and in-app payments! http://www.windowsphone.com/s?appid=2ca1825a-c015-4c08-bd20-c228cb6c4654

Thanks so much for including us! We'd just like to note that you get 15 free hints with the 7 Little Words app – and we have more exciting stuff coming! Thanks again.

My favourite puzzle game, by far, is Zuma's Revenge. Flawless game, absolutely addicting too. :)

Don't forget this awesome puzzle game for Windows Phone... it's called Tractor Crew! http://www.windowsphone.com/en-us/store/app/tractor-crew-operation-cleanup/893e709f-1af3-4d82-924d-d04025b6872a
Windows Central Newsletter
Thank you for signing up to Windows Central. You will receive a verification email shortly.
There was a problem. Please refresh the page and try again.