Top Windows 8 games for the "hardcore" gamer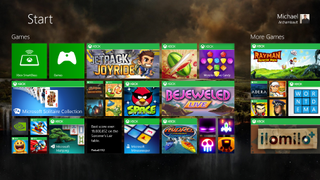 Windows Phone Central Roundup: Windows 8 Games
When people think of tablet games, they can't help but bring to mind apps like Angry Birds, Temple Run, and Bejeweled. Gaming on Windows 8 can be more than just flinging neon colored birds at green pigs though. Whether you want to blast away zombie guts or put some pedal to the medal, here are eight Windows 8 video games sure to bring out the gamer in you.
Judge Dredd vs. Zombies
Our first high packed action game is based on the 2012 British-South African Sci-Fi film – Dredd 3D. I'm going to be honest and say that I haven't seen the movie, but the game is sure a blast to play. Venture through Mega-City One acting as judge, jury, and executioner to take out zombie hordes in this top down 3rd person shooter. As you make your way through the game you can earn weapon and gear upgrades to truly become an unstoppable force for the undead to fear.
Judge Dredd vs. Zombies is free to play on your Windows 8/RT tablet, just like the Windows Phone 8 version. If it wasn't for the fact that the game is free we might complain about the short length of gameplay – hopefully we can expect some DLC content in the future to expand our zombie destroying adventure.
Download: Judge Dredd vs. Zombies (opens in new tab)
Drift Mania Championship 2
This game delivers the ultimate racing experience on Windows 8 as you slip behind the wheel of your race car and join over 15 million other players worldwide. As the title suggest, this game is all about getting your drift on and pulling that hand break around corners. The title is a blast to play and with the new online multiplayer mode, you and your friend can go head to head in a drift battle. Your car can be updated with licensed aftermarket brands including Royal Purple, Whiteline, Mishimoto, and more. You can even get down to the nitty-gritty details such as balancing the weight of your car and adjusting the suspension.
The game costs $2.99 (just like the Windows Phone 8 version) and is well worth the price. If you are feeling cheap, a "lite" version is available for Free – I can't say what you will be missing out on though.
Download: Drift Mania Championship 2 (opens in new tab)
SoulCraft
Maybe cars and zombies aren't you thing, maybe you prefer to play the part of an avenging angel fighting back demons to where they came from. If so, SoulCraft is the dungeon crawler Action RPG game for you. Humans are on the brink of discovering the secret of eternal life and for some reason, this also means that the apocalypse is upon us. Be a warrior of the heavens and help fight to keep the apocalypse at bay with powerful weapons, magical powers, and mystic enchantments. The servers behind SoulCraft will also backup you data and ensure that if you are switching between multiple devices or if you destroy your tablet – your game will always be saved and ready to go.
The game is free to play and a great download for any Windows tablet gamer. Just ask yourself if you are ready to take on the gates of hell before you start.
Download: SoulCraft (opens in new tab)
Royal Revolt
It is possible that you like to kick ass in-game, but also enjoy cuteness. If that is the case, you need to check out Royal Revolt. The game is described as a reverse tower defense style game with beautiful 3D graphics and intuitive control. For me, this was the biggest time drainer of all the games on today's list. Sure, it wasn't the most hardcore and the level where you lead a collection of rabbits seems a bit juvenile, but it is all in good fun and all boils down to a create tower defense style game. Plus the backstory for the game is all about getting revenge on your relatives and who hasn't dreamed of that before?
Pick the game up now for the great price of free in the Windows App Store. You can check out our review of the game on Windows Phone 8 here.
Download: Royal Revolt (opens in new tab)
Guns 4 Hire
Okay, enough of the cute games. We get back to high paced weaponry with Guns 4 Hire. Act out and control a squad of mercenaries to deliver pain and get paid. Your crew consist of the lieutenant, Faraday, Burns, and Boomer – and they are loaded with everything from Gatling guns to C4 explosives. The intense manly action doesn't stop there, call in air strikes and engage in supreme tank battles. Guns 4 Hire is also free and ready to be downloaded from the Windows 8 App Store.
Download: Guns 4 Hire (opens in new tab)
Hydro Thunder Hurricane
If you want to put the petal to the medal as the same time as you get wet, then Hydro Thunder Hurricane is the game for you! If the title sounds familiar it is because its sibling, Hydro Thunder, was a hit arcade game in the late 90s. The action packed sequel delivers thrilling and fast boat races through a variety of environments. We also can't forget Nitrous can we? Pick up cans of nitrous to boost your boat and fly over obstacles. The game connects to Xbox Live and should provide you with tons of fun. We were also very impressed by the graphics within the game.
Hydro Thunder Hurricane is going to cost you a whopping $9.99 in the Windows App Store – while that may sound expensive, the game is definitely worth it (otherwise we wouldn't be talking about it). You can also pick up the game on Xbox 360 for 1,200 Microsoft Points (around $15) or get the Windows Phone 7 version, Hydro Thunder GO.
Download: Hydro Thunder Hurricane (opens in new tab)
Skulls of the Shogun
The next game on our list is probably the most popular and well known to date, Skulls of the Shogun. You, the powerful General Akamoto, have just become the shogun of Japan when you are killed by one of your adversaries. Now you are in the afterlife, but that doesn't mean your control over others must end. Join forces with ghost-samurai warriors and magical monks to capture the Skulls of the Shogun and become an unstoppable force. The game is a top down turn based strategy adventure and features 20 levels of single player campaign. When you are done with that, you can hop online or on a local network to battle with four of your friends.
The game will cost you $9.99, but you can download a trial first to see if you enjoy it. You can check out our review of the game on Windows Phone 8 here.
Download: Skulls of the Shogun (opens in new tab)
Zombie HQ
Our last game is about surviving the zombie apocalypse and having a blast doing it. Zombie HQ doesn't have a deep story line, but it doesn't need one. Pick a quest from your rooftop headquarters and set out to smash in some brains. If you love gore and blood splattering all over your screen – this is your game. Make your way through the infested streets to upgrade and find new weaponry to assist in your missions.
The only aspect about the game I didn't like is that there is no way to save your data if you uninstall it – you lose your progress. That being said, the game has great replay value. Grab it for free from the Windows App Store now!
Download: Zombie HQ (opens in new tab)
Did we miss any of your favorite hardcore games, guys? What do you love to pull out and play on your Windows 8 tablet?
Get the Windows Central Newsletter
All the latest news, reviews, and guides for Windows and Xbox diehards.
"Hardcore" refers about how much you play any game, not about how complex it is. Dredd vs Zombies is pretty simple, not because its a 3d game means its for ""hardcore players only".

Love Zombie HQ. Gonna add Spartan Assault to this list soon :)

I am waiting for Spartan assault as well. That game is going to rock. I hope we only have to buy Spartan once and have it available on both Desktop and phone. No double paying please

Totally agree. I don't want to buy twice. Otherwise ill only pick up one

Sadly, it's two different stores. You'll need to buy both.

If my experience is incorrect, someone please correct me (and make my day -- I've always been a little bummed that the two stores are separate).

I kinda figured it was. We can dream it one day is lol. Guess I'll just pick one then

Galactic Reign was this way. But if you wanted achievements on both, you had to buy both. Bit, once you purchased it on one platform it was/is fully available on another...

It has already been confirmed that you will need to repurchase Spartan Assault on each platform sadly.

@hunter oh man, that sucks. That means only on the phone for me then. My PC will have to wait.

I hope they bring the "ShadowGun" ASAP

Who's making these games come on with something fun Hydro Thunder is the best tho

We could basicly have all Nintendo 64 games on here right??

Nintendo 64 games aren't sold on the Windows 8 Store, so nope.

Its good most games mentioned in the list are free to play and who doesn't love free stuff

Except when you realize that you have to pay for pretty much everything once you get hooked on to these games. Paid games > Free games

but here in india we don't use credit cards atlease not as dense as other western countries,unless windows store accepts carrier billing we depend on free stuff

It's similar in Germany.
We do have credit cards, but they are mostly seen as toys for irresponsible rich people.

Yesterday I wanted to do the Xbox Music pass trial. Turns out that you need either a credit card or Paypal to utilize this free test. That's just retarded.

can't you just buy prepaid credit cards in India? It's pretty common here in Canada and USA (and probably in Europe too). You don't need to have a real credit card with you, you buy one (comes in 25$, 50$, 100$, etc. amount) format), when you buy a game or apps from the store, you enter the details of the card as if it was a real credit card (the card number, expiration date and the security code if there is one). For the name and address, you can use anything. Then, you have an X amount on the card that you can use for buying apps and games.
I bought one today (Canada) at the post office, 25$ + 3$ for the activation, worked as a charm when I added it to my billing account on my phone. For some reason, i was not able to add my own real credit card, so I am using this method for now.
Or Microsoft is gonna release this year the Microsoft Gift card with either 25$ or 50$ amount. You can try that method too when it will become available in India.

Not in every country prepaid credit card is available. either way, have an option is nice. Here in Indonesia prepaid credit card is not available yet(I don't think it'll available anytime soon) but I still able to purchase using Visa / Mastercard Debit from some local bank. and thanks to effort from local Nokia, we also able to purchase using prepaid credit balance in some top three provider. :)

i hope the microsoft gift card will be available everywhere in the world, so people where credit card is not very common (or common but very expensive) can benefit with at least that option.

Cool..
But windows 8 can run every PC game ever created(provided, the device has the required config)!

Exactly. The idea is that these are for ALL Windows 8 devices.

"Every PC game ever created".
I dare you to get Earth 2140 in its full version to run. Yes, it runs most Windows games. But "every PC game ever created" is a fuckhuge hyperbole.

How to put that "Games" and "More Games" tabs???

I believe that is an 8.1 feature.

Thanks for your reply, but I'm not so sure cause I've already saw someone's screenshot with thoose kinda tabs before the 8.1 preview...

Mouse:
Click bottom right to zoom out (it's a minus "-" icon), then right click on the group to name
Touch:
Zoom out and drag the group down to select it and hit name group.
Keyboard:
Ctrl + "-" key to zoom out, then right click to rename.

This video shows you how http://www.youtube.com/watch?v=9tMX3FjNOMA

Awesome!!! Thank you so much man!!!

When on the Start Screen, go to the bottom right corner and click on the Minus ( - ) sign, this will zoom out to see different groups.
Right Click on selected group, Select Name Group.


I would recommend Skulls of Shogun for any hardcore strategy gamer. Nice article.

I agree. One of the best tactics games on the platform easily. Kinda surprised Galactic Reign didn't come up too though...

@bcas I have both GR and skulls. Somehow Skulls gets better press than GR. I play them equally. Although I wish GR was not so limiting

Final fantasy should be on there..

Survivalcraft doesn't get mentioned?

"Hardcore" selection indeed.

+1 for IRON SUN! That game is ADDICTIVE!!!

Don't be a noob. Go back and add Armed to your article.

'ARMED' should definitely be in the mix!

Geez yeah! That needs to be added 100%

"Petal to the medal" Haha!

samurai vs zombies? i like it, :)

+1
Um hello! SvZ is awesome! How is it not on this list?

a hardcore gamer would have a decent pc ...and probably use steam instead unless of course by Windows 8 games you mean games that are metro apps



Skulls of the Shogun is meeeeeeh.
and honestly probably the most "hardcore" game in Store is BlazBlue, since it was a great fighting game some years ago, of course it misses some features from desktop version. but its still great!. we still need a mame/fba port ;D, or i would pay for something like ggpo/supercade in win8, to get the best fighting games, snk ones in any pc and tablet, rt or x86-64!

I'll second BlazBlue. Gorgeous high-res 2d graphics plus 3d backgrounds, a great fighting engine, and requires a pad or stick to play. It was $8 if I remember correctly! Sadly, its only an arcade version, so there's no story mode. Likewise, the lack of online multiplayer is quite disappointing. Still, considering the cost of the console version, its a good price for a great game. Oddly, the game does not support ARM. The problem with W8/RT is the glacial movement of the PC market to adopt new tech. How long have 64-bit OS's been around? How many game have 64bit clients? Or require it? Or DX10 or 11? The Modern environment highlights this, whereas previous versions of Windows could hide their lack of native apps via backwards compatibility. Its a trade off... Glacier slow like we have now, or ruthless cutting of support ala OSX :|

They all look like crap..We're in second half of 2013 and from a Microsoft Laptop/tablet hybrid we expect more than games for 3gs...Seriously why Microsoft cant port the real AoE 1&2 or Halo 1? (2001 game) or Diablo II?

They're doing a new Age game which should make it to RT, but yeah. Ports of classic titles would be awesome

sigh...
because:

1. Porting games is not a press of a button and everything is ready.

2. why would you port old games that nobody play?
a. not many people were playing Halo 2, why would they play it if it was ported to WinRT? only few people with tablets... so it would be waste of money.
b. Age of Empires? really?? do you know there is an Age of Empires Online that is almost dead, and its FREE!! but nobody cares about it. they had to port Age of Empires II and say its HD. so they could recover some money from the loss of making AoEO. Age of empires is not a selling point anymore... its a forgotten name in RTS genre, even though AoEO is good... still not many people care. they even had to stop developing of it becuase it was a really waste of money.
c. Diablo II is not Microsoft game. and if Blizzard took too many years to make a boring HD version of always online Starcraft II, and a worst version of Diablo III which is really crappy crap rpg. I dont expect them to support WinRT anytime soon.

3. Developing a game takes time... and its obvious some big companies wont risk developing a game only targeted to few users (because it wouldnt include Windows 7, vista or xp). so it would be silly to make a WinRT when they can still make a desktop game and sell better, since it includes even win8. it doesnt mean they will never be developed, but it will take time, maybe it would be easier to make god games for WinRT since Xbox One is coming... you dont know that. but Also game developing, isnt a thing of a week and you can release a game so even if good games are coming they will take months for that, especially when Microsoft and other big companies have to think about Xbox One (and PS4), and I don't think big companies are thinking in Tablet users of Windows RT (because anyone with win8 can play CoD or whatever pc game is available so those games you want for WinRT would be mostly because Windows RT users cant play desktop games).

on iOS they have ports of marvel vs capcom 2, magaman 2, megaman x, crazy taxi, jet set radio, king of fighters, lots of older SNK and nintendo games stuff that is not really marketable standalone today but we love it for nostalgia and because it is a fun game! please do this to Windows phone

The games from Rebellion (Zombie HQ, Judge vs Dredd, Guns 4 Hire) feature excellent gameplay and they rank amongst the most polished games currently on Windows Phone. And they run flawlessly. I assume they're equally good on Windows 8. The problem is that they're seriously lacking in content, well, I can't speak for Guns 4 Hire. But the other games get boring after a while. You've got good enough equipment to tackle most challenges and you're stuck playing the same thing over and over again. The in-game purchases are overpriced but at least it doesn't feel like they're forced on you. This is in contrast to Royal Revolt. That game fools you into believing you making good progress, that you're characters are growing more powerful, only to hit you with enemies that scale up much more rapidly. So it doesn't take that long before your forces are getting decimated and it's this long tedious grind to the end of the map. Soulcraft has a ton of potential, but they push the in-app purchases way too hard. The levels are far too short, disrupting any sort of rhythm well before it can get established. It's not the dungeon crawler it sets itself up to be.
I really want to like Drift Mania, but the last time I played it the controls were far too twitchy. The settings weren't particularly helpful; although there was a slider it still felt like you had to choose between all or nothing. Hydro Thunder is a ton of fun. I highly recommend the game. Not much more I can say about it, but it is satisfying to play. Same with Skull of the Shoguns. It's an awesome game, dripping with personality. You can build a careful strategy, or just make a mad rush at the enemy shogun. The game gives you options which is neat. If I had a criticism it's that the campaign short. It's definitely it's one of the most underappreciated games out there.

Two things:
How many of these do not use virtual joysticks?
How many of the ones without virtual joysticks use controls that don't cause your fingers to block the screen?

Both of these aspects run counter to any notion of true hardcore gaming. That's why the best touchscreen games will always be turn-based or employ the accelerometer cleverly, as long as there's no way for the screen to provide tactile feedback.


As for extending the list, I guess Galactic Reign would not be a bad choice.
It may be a bit simplistic, but it's still far above random insanity like Angry Birds or Jetpack Joyride. And the cross-plattform feature is kickass.

What is the background with the waterfalls?

I want to see HTH on Windows phone.

i didnt bought amd hd 7850 to play mobile games on my pc. this are fine games for tablets, and phones though

Why cant we get EA and Gameloft to port their mobile games to the Windows 8 platform - Give access to millions of people - not everyone wants to pay 60$ for the latest and greatest graphics - id be perfectly happy playing similar version to what is sold on Android and IOS for 5-10$/game.

All I want is some NFS, Real Racing, Tiger Woods, FIFA, and Madden on my Surface RT.........add these, and Ill never need to pick up my ipad again.

I find this a very interesting article. I think mobile tech has started slowly moving the arrow of "gamer" games more and more towards "casual". It also brings to question what was hardcore gaming? There are people that have played so much Super Mario that they can beat the whole thing while constantly moving forward and in less time that a TV show. Is that hardcore? What about the people that are in competitions for sports games? Is the person that has every Angry Birds game 3 stared on every level without looking up how to do them hardcore? I guess the reality is closer to 'it is what you make of it.' This holds true with really any game though- board, sports, cards, video, computer, etc.

Having played a few of these games, it really points towards this notion. Guns 4 Hire- while a highly quality game (sadly that hasn't received any new levels since Windows 8 launched), There isn't much skill involved and mostly just a willingness to return when the timers are ready (Farmville anyone?). Since NFS: Underground, I haven't really played a racing game so I can't speak to those. It seems like virtually all mobile/touch games suffer from the same thing- lack of controls/input options make games less complex. This seems to ultimately make games feel more casual and also less intimidating for wide-spread use.

I tried Zombie HQ, but it doesn't seem to run under Windows 8.1 Preview :(

Every boardgame fun and a friend of Advanced Heroquest should look at Arcane Quest. A lot of dungeon crawling!

Ehm... Dredd vs. Zombies is based on the 2012 film? Wow. Please, do share your source with us. I haven't even seen Dredd (it was actually just called Dredd in the end, they dropped the 3D), and even I know Dredd is fighting a drug cartell. There is not ONE zombie in that movie.
So, you could also say it's based on the 2000 AD comic anthology that introduced Judge Dredd in 1977 or on the 1995 movie with Silvester Stallone. But it's not really based on those either.
Just because in the game they are advertising the movie, it doesn't make the game based on it.
One could say it was inspired by the story though.

yes thank you, i have been looking for some good games for my surface. thank you

I am trying to convince Telltale to bring the game The Walking Dead to the Windows Store (RT version ofcourse).
The best way i think is to ask them if they have plans to do this. If more people are interested, try to post in this topic below on their forum. The more people the more likely it gets telltale attention. it may only take 2-3 minutes. Release on Windows Store for tablets? - Telltale Games Forums I hope this whole thing is readable since english is not my native language ;)

micha a few comments above is correct... the Dredd game has NOTHING to do w/ the Dredd movie. That would be like saying Injustice is based on Batman Begins just because it has Batman.
Regardless, the game is great. Believe it or not, the movie is great too... mindless action, sure, but more in the vein of old school violent 80s action films, not the CGI fireball crapfests we get these days.
Also, I HATE 3D films, and saw Dredd in 2D... and its the one movie that I'm actually thinking I might go back and pick up on 3D blu-ray.

This post is very helpful and this gives out good selection of games for my windows phone...I found this also Top 5 Best Games For Windows Phone