Top Windows 8 games to sit back and relax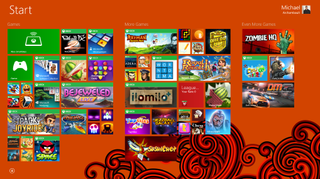 Windows Phone Central Roundup: Windows 8 Games
Last week we checked out the Top Windows 8 games for the "hardcore" gamer; this week, we are heading in the opposite direction and taking a look at the top Windows 8 games for those of you who just want to kick back. Cue the relaxing playlist on Spotify, grab a glass of California Merlot, and turn on that foot massager – we are counting off some of the Top Windows 8 games to sit back and relax.
Microsoft Mahjong
Microsoft contributes a few titles to our list today and the first is a remake of the Chinese game, Mahjong, from 500 BC. The boys in Redmond are definitely not the first to create a virtual game of Mahjong, but they sure got it right.
For the few of you who are unaware of how Mahjong is played, it is simple. A stack of tiles with various designs are laid out in front of you and your objective is to match identical tiles you see. Once you make a match, you remove the two tiles from the surface. Your goal to win is to clear the entire surface of tiles. The most important rule is that you cannot match tiles that are covered by other tiles or surrounded on both sides.
Players can choose from four relaxing surface (background) themes including "Tranquility" (a Zen garden), "Autumn Glade" (a lake in autumn), the cosmos, and underwater.
The game is simple to control via touch screen or mouse and offers a collection of Xbox Live achievements to collect. Difficulty can be selected and varies between Easy, Medium, Hard, and Expert.
A daily challenge can be played to unlock monthly badges and prizes.
Download: Microsoft Mahjong (opens in new tab) (Free)
Microsoft Taptiles
What could be more fun than Mahjong? Mahjong in 3D of course! Microsoft's new game, Taptiles, brings the fun of a 2500 year old game into the future as you tap, spin, and solve these beautiful puzzles.
Rules of Taptiles are similar to those of the original Mahjong; your goal is to match tiles until they are all cleared away. The difference with Taptiles is that you will be working with a 3D structure that must be spun to discover more matches.
Three modes of the game are available including Dash, Origins, and Relaxation. Whether you want to race the clock in Dash, follow a set of puzzles in Origins, or drink that Merlot while playing Relaxation – you are set.
Download: Microsoft Taptiles (opens in new tab) (Free)
Fruit Ninja
How can we talk about relaxing games without mentioning the game that Amazon's CEO, Jeff Bezos, stated as "therapeutic". Fruit Ninja by HalfBrick Studios brings fruit slicing action (and peace) to your Windows 8 tablet or PC.
It's quite easy to say that if you haven't heard of Fruit Ninja by now – you are living under a rock. The game features three modes including Classic, Zen, and Arcade. You can slash as much fruit as possible before hitting a bomb or dropping three pieces (classic), slash away without a care in the world (Zen), or slash as fast as your fingers can in 60 seconds (arcade).
Use your fast fingers to earn new samurai blades and backgrounds or use your hard earned real world cash to purchase fun (but not necessary) expansions for the game.
For our review of Fruit Ninja on Windows Phone, you can click here.
P.S. – Snap Fruit Ninja to the side of your tablet to review a hidden Easter egg mini game.
Download: Fruit Ninja (opens in new tab) ($1.99)
Ilomilo
Relaxing games don't have to seem as pointless as slicing fruit, SouthEnd Interactive's Ilomilo is a story of two lost friends and their never ending quest to reunite.
Ilo and Milo are two adorable characters who meet daily at a park in a strange and twisted world. Every night, the park becomes more complicated and diverse to navigate within and it is the players' job to help unite the two friends.
Within the game, players witch between controlling both Ilo and Milo. Each level is made up of cubes which must be rearranged or added upon to create paths. Once a path is created and the two friends are united, the level ends – until the next day.
Players can also take part in collecting small bonus creates called Safkas, to unlock further parts of the game and expand on its 49 levels.
Ilomlo is truly a heartwarming story, one that is easy to sit back in your couch and enjoy.
This game has been out for a while and you can check out our review of the title on Windows Phone all the way back in 2010, here.
Download: Ilomilo (opens in new tab) ($4.99)
Flow Free
Not all relaxing games need to have beautiful and relaxing backgrounds or warm hearted story lines. Some games can be praised for their simple, yet fun nature - Flow Free is one of those game.
The objective within Flow Free is to draw lines between color dots to create connections. You must work your way through the grid while not only creating those connections, but also filling in the entire board completely.
No time limit, the ability to redo a move, and grab hints makes this game one to enjoy while listening to music or catching up on your favorite episode of The X-Files (well, for me at least).
The game features 600 free boards to play on and more are available for download. If you do manage to finish the original 600 boards plus the extra 750 boards (a cost of $5) you can then move on to the company's second game – Flow Colors Bridges.
Flow Colors Bridges is essentially the same game, but implements (you guessed it) bridges into the game board for a new challenge.
Download: Flow Free (opens in new tab) (Free)
Microsoft Solitaire Collection
Sometimes classics just won't die; one of those classics is the card game, Klondike.
What's Klondike you ask? Klondike is Solitaire, but Solitaire is also Klondike. Confusing? – probably.
Solitaire is Microsoft's branding name for the popular card game officially known as Klondike. The company's Klondike game has been pushed into versions of the Redmond operating system since Windows 3.0 in 1990; since then, the word Solitaire has overpowered the official name Klondike and remains king.
Microsoft's new Solitaire collection includes five different card games that can be played in solitude (seeing where the name comes from now?). The games include Klondike (as we just discussed), Pyramid, Spider, TriPeaks, and FreeCell.
Check all the games out and see which one you like best - I fancy TriPeaks and Pyramid the most.
And yes, before you ask, you can snap Solitaire to the side of your screen so you can "work and play". It is what I do all day – just don't tell my Editor in Chief (Hi Daniel…).
Download: Microsoft Solitaire Collection (opens in new tab) (Free)
Monster Island
If you are a fan of Angry Birds or any other games in which you can fling objects across the screen than you will enjoy playing Monster Island. The objective is simple: kill all the other monsters that are not you by flinging exploding balls at them.
The game starts off simple, but advances as time moves on. Truth be told, the first few worlds may be the relaxing worlds and then it gets a bit stressful if you aren't that good – but hey, some of us will do fine.
By solving puzzles efficiently you can earn stars and coins to unlock more monsters and levels within the game. There are currently a total of four worlds to explore and more "coming soon".
Download: Monster Island (opens in new tab) ($2.49)
Shuffle Party
Lastly we end with a game of shuffle board. Wait, isn't shuffle board that game old people play at retirement communities? How does that sound fun at all? Well to start, this is a Shuffle Party!
There are various game modes, but the two main selections are bowling and standard shuffleboard.
Bowling is exactly what it sounds like, but with a shuffle puck instead. Flick your finger down the lane to knock down pins and hopefully pull in a strike or pick up that spare.
Standard shuffleboard is also exactly what it sounds like. Try to fling the puck down the lane just enough to lane in particular point zones.
The game is surprisingly fun and a great time waster. As you play and digital currency, you can upgrade you equipment and lane. A "pass and play" game mode is also available to play with a friend.
You can check out our review of the title on Windows Phone, here.
Download: Shuffle Party (opens in new tab) (Free)
As with all our roundups, if we've missed your favorite title feel free to speak up below in the comments with your recommendations.
Windows Central Newsletter
Get the best of Windows Central in your inbox, every day!
For those in to card games, check out our newest win 8 game, Card Arcade :)

Twinkle Run is pretty nice too. All the games by David Perloutka are great too (Radiant, Radiant Defense, Robotech, etc).

Would like to know something about the new Windows 8 fishing game.

Merlot? No thanks. I'll take a Pinot Noir.

Unrelated but that 1st screenshot is why I think metro breaks down aesthetically on a large screen.

Seems fine to me. I do find cornucopias a bit passé, but UI is pretty cool. Tired of icons on a grid.

Wish we had a windows phone news site...

Times are changing, it's all about ecosystems now, especially MS with its multi device approach, but you might find some smaller blogs. Here people want to know everything MS.

What else would you suggest the writers write about when Windows Phone News is limited?

Lol, was just thinking is this wpc or wc

Does it matter? They will be the same OS with 2 years.

Joking.... I own surface pro and multiple windows phones so I welcome all news especially with such a great team of editors...relax

I wish to have the game you own such as ilomilo on the Xbox, would be free on windows phone and pc

I find it interesting how Flow is the only non-XBox game. I hope someone makes a circuitry puzzle game clone...kind of similar to Flow, but not quite the same.

For more cartoony games, I would add to that list the Where's My _________ games and Cut The Rope. I will say that I ran into a level that was impossible without a touch screen though in Where's My Water (had to press two valves at the same time). For younger kids, Agent P Strikes Back is pretty cool although I have to admit I enjoy it myself...brings back memories of childhood games.

Pirates Love Daisies is a cool game very similar to Plants vs. Zombies. The graphics are certainly not cutting edge though. It's also a little on the short side (4 maps) without paying for the add on (4 extra maps). I enjoy the replay value of trying to beat your high score by using a more minimalistic "tower" strategy.

I also really enjoy playing "Hive Mind" for anyone that likes puzzle games. It's kind of a mix of Sudoku and Kakuro, but with letters to spell out words. It would be nice if Microsoft ported Sudoku and released Kakuro for both WP and W8/WRT.

I wonder why "Monsters love candy" keeps being excluded from these reviews...

If they were monsters why would they love candy?

Love that game! I don't exactly find it "relaxing" though. :)

Word game fans should check out Speedwords Arena. Gameplay is very similar to Bananagrams and it uses the Scrabble word list. Like Wordament, you can play cross platform on Windows Phone and Windows 8 and everyone currently playing is ranked at the end of each game.

Taptiles, relaxing? Ha! Things can get pretty frantic later in Dash mode, in Origin mode, and on the hard/expert daily challenges. It's a fantastic game, though... I can't tell you how many hours I've wasted on it, though some of those are due to the ridiculous grind to get the 8/10/12 medal achievements.

Lots of great games here, though. Loved Shuffle Party on WP and Win8 and I've purchased ilomilo on all three platforms.

Still waiting for a good poker game

Hello all if you have time please try out my new free game for Windows 8.
Game is called Sun Carry It. It's a shooter.
Game Trailer:
http://www.youtube.com/watch?v=cCjRVQIFCsk
Link to game: It's free
http://apps.microsoft.com/windows/app/sun-carry-it/b97496bd-c61e-49de-9d...
As the developer I would like to improve on my creations any recommendations or any feedback(good or bad) is welcomed. As a developer without a team it's kinda hard to get peoples opinions.
Thanks.

Looking for a hardcore music game ? Check out Vector Beat, now free on Windows 8 / RT ! ;-) http://apps.microsoft.com/windows/en-us/app/vector-beat-free-version/4d9869ed-c9f5-4cd9-bd92-a6cffea8780b

Ultimate Cartoon Quiz tickles my fancy. Great game for those dull days at the office - plus kids love it! www.tiny.cc/UCQ

You might like relaxing, guessing game Whats the Pic
http://apps.microsoft.com/windows/en-US/app/whats-the-pic/2e7576d1-de23-4c94-b21e-b24bdc3e43cc
Feel free to let me know if you have any feedback :)

This is a WP game http://www.windowsphone.com/en-us/store/app/worddrops/1a7f98ff-2282-4ac2-a85b-d0d9cd7b431c I find it really interesting.