Top Windows Phone and Windows 10 Apps of the Month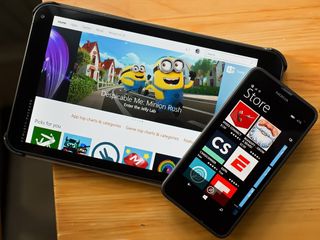 During the course of a month, I look at a lot of apps and games from the Windows Phone and Windows 10 Store. Through reviews, the AdDuplex HERO App posts, the myAppFree deals and other posts I can easily cover over thirty titles. Add what the other staff members cover and that number grows dramatically.
For this weekend's roundup, I'm pulling together a handful of apps and games that stood out from the Windows Phone and Windows 10 titles covered this month. I'll try to keep things balanced with a mixture of games and apps, but that may not be possible every month.
There is no rhyme or reason to this list beyond the fact that I found these titles to be entertaining, useful and would easily recommend them. If you have tried any of these titles, let us know in the comments below if you agree or why you disagree.
Township
There are plenty of city builders available in the Windows Phone and Windows 10 Stores. Most have a combat element that while can invade neighboring cities or territories, as well as building up your own kingdom. Township is a Windows Phone city builder that drops the combat element and focuses solely on the management and development of your community.
The core development centers around farming, where you grow crops that are in turn used to manufacture other goods (which are sometimes used to manufacture additional goods). For example, you grow wheat and corn that can be used to bake bread or create grain to feed cows that produce milk. The milk in turn can be used to produce cheese.
Your use your production resources to sell goods and trade them for items your town cannot produce. There is a train system and airport available to help you sell or trade your goods. Eventually, a harbor will become available as well.
Along with building an economy, you also have to build the communities within your town. You have a wide variety of houses, community buildings and factories to build. Add a boatload of decorations and Township offers you just about everything you could need in building a thriving, successful town. The only thing missing is a bridge for the roads.
Township is an addictive, casual game for your Windows Phone. There are time management factors involved with game play but the times to complete tasks are very reasonable. Township is just a fun game to pass the time with. The game is free but does have in-app purchase opportunities.
Download Township from the Windows Phone Store
Pocket Rally
Pocket Rally is a fast-paced gaming title that delivers a rally racing experience to your Windows Phone or Windows device. It was one of September's myAppFree Deals and has you racing a series of finely tuned racing cars across a wide assortment of tracks and surfaces.
Pocket Rally offers eight rally cars and eight tracks located in spectacular sceneries such as the mountains, coastline and ancient cities. You will also find two gaming modes that include a Challenge Mode that has sixty-five challenge events and a Single Race Mode for the occasions where you only have time for a quick gaming fix.
Pocket Rally has five controls modes with support for Bluetooth/OTG/USB gamepads. Three camera angles are available during game play and can be toggled in-game. There is even a replay mode where you can show off your driving techniques to your friends.
Pocket Rally is an appealing racing game, worth considering. While available from both the Windows Phone and Windows 10 Stores, I found game play a little more3 appealing from the smaller screen of my Windows Phone. Your results may differ and if you give Pocket Rally a try, let us know what you think of the game in the comments below.
Realarm
If you are in search for a Windows Phone alarm app that has a little more pep in its step than the native alarm, take a gander at Realarm. It was one of September's AdDuplex HERO Apps and is a staff favorite.
The Windows Phone app sports a clean, simple design and a host of options to set multiple alarms. Alarms can have alternating or custom sounds, have a customized repeat period, hourly or minutely recurrence and all your alarms can be backed up to your OneDrive account.
Please note that while you can use specific sounds for each alarms, due to OS restrictions you cannot use songs in your Windows Phone music library as an alarm sound.
Realarm also has support for voice commands that include creating quick alarms, skipping alarms, muting alarms and few more options. Quick alarms are designed for impromptu needs that come up during the day and is more like a countdown timer than a traditional alarm. The quick alarm feature is perfect for cooking, taking a nap or any other situation where you need a simple alarm to let you know time is up.
While the native Windows Phone alarm app does a nice job of things, some may need a little more. Realarm is a free, ad-supported Windows Phone app and is worth checking out. If you do not care for the ads, you can always opt out of the ad-support with a $1.99 in-app purchase.
Download Realarm from the Windows Phone Store
Instasquarer
Instasquarer is a feature rich photo editor to help you make your Windows Phone photos more Instagram ready without the need to crop. The Windows Phone photography app will add borders to your images to square them off and allow you to fine-tune the photos appearance with an assortment of editing tools.
Editing takes place in three areas. The first area is where you can choose your border color and size. This will allow you to use portrait and landscape images with the border creating the traditional 1:1 ratio Instagram has become known for.
The second editing area covers the basic editing tools (adjust brightness, saturation, contrast, etc.), add text, crop the image and adjust the orientation. Your third area includes a list of tools to customize your image's overall appearance. These tools include:
Adjust the size and color of the border
Adjust the orientation of the image
Add text to the image
Adjust the exposure variables of the image (sharpness, contrast, brightness, etc.)
Add filters and filters to the image (78 in total if my count is correct)
Blur your image
Add frames to your image (54 styles available)
Rotate your image
HDR Filter
Add bokeh filters
Swap out colors in the image
Apply distortion effects
Apply a mono-color effect that preserves one color tone while the others are converted to grayscale
Navigational icons rest at the top of the editing screen to take you to each of these editing areas. The tools are a little redundant at times but Instasquarer does provide an ample supply of photo editing tools. It may take you a little time to get used to the navigation and while it is cumbersome at first, it's not a deal breaker.
All in all, I found Instasquarer to be an appealing Windows Phone photo-editing app. If you have tried Instasquarer, let us know what you think of the app in the comments below. It is a free app, available from the Windows Phone Store.
Download InstaSquarer from the Windows Phone Store
Windows Central Newsletter
Get the best of Windows Central in in your inbox, every day!
George is the Reviews Editor at Windows Central, concentrating on Windows 10 PC and Mobile apps. He's been a supporter of the platform since the days of Windows CE and uses his current Windows 10 Mobile phone daily to keep up with life and enjoy a game during down time.
Thanks George. Will give Pocket Rally a try.. :)

Pocket rally seems interesting

Pocket Rally was available as MyAppFree deal few weeks ago.... Its too hard to control game with accelerometer

I love instasquare its the only missing feature on my Afterlight and Fantasia Painter.

Maybe the best photo editor for instagram

i have downloaded Battery Super Saver last week, it works really nice to me!:)

Pocket rally is the great, i enjoy playing it using the buttons not tilt.

He said, Take a gander...

What I wish, is really an article about the collection of new Windows 10 UWP apps. That would be great!

Would love to see that too!

You can install windows phone apps on a windows pc

Some how I got talking Ben installed on my tablet from my phone

No :( I wish I had full featured whatsapp messenger on my pc...

Really love InstaSquarer!!! All in one photo editing tool!! InstaSize is a joke compared to it

Pocket rally and games like it remind me how realistic I used to think racing games were on the playstation 1 and n64 back in the day. Isn't it nuts how fast our perception of realism changes?

Hey George, can you review
Sky Cue Club.
Check out "Sky Cue Club: 8 & ..." for Windows Phone http://www.windowsphone.com/s?appid=ea6d8d8c-1388-4e3a-8824-e30b1348a7c1

Working on it over the weekend. Look for something early in the week.

Nice little apps. Have the alarm one to be precise. Looking at the list though compared to iOS and Android. It's rather mediocre (no offense to the developers but in general) Posted via the Windows Central App for Android

Has anyone try using a game pad on the rally race ? If yes which game pad worked ?

Instagram is nt working...do something for this likewise some other apps also nt working...#windowsphone10

Lol some of these apps have been around for a year and made headlines before. Still at beginner level when it comes to apps MS. Theirs nothin new MS you maybe see one major app come to the OS every year and that too will be in beta for couple more lol

Absolutely true. It's really lame that WC has to cover old apps. That says a lot about the state of apps for Windows phone. Don't get me wrong. I think WP is a relatively good OS. But when MS is developing better versions of the same apps for other platforms ahead of theirs, that's should tell the average user something. That's not the way you grow your platform.

Sorry to post here but Intuit removed Mint from the Windows 10 store. It's gone and yet another app has disappeared. If you have it already installed, great. But if you reinstall windows or try to put it on your latest build of Windows Phone, it isn't there. Yet another indispensable Windows app has bitten the dust and this one without a whimper or even a word on the Net.

Let's see if the number grows after the release of WM10 on Oct. 6. I assume developers are now working on their Universal App version while MS is also busy with store renovations. I just hope there will be more quality apps on display to catch the passersby's attention.
Windows Central Newsletter
Thank you for signing up to Windows Central. You will receive a verification email shortly.
There was a problem. Please refresh the page and try again.