Top Windows Phone apps for Hurricane Season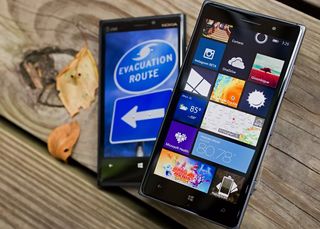 The National Oceanic and Atmospheric Administration defines the Atlantic Hurricane Season as running from June 1st to November 30th. For those living in areas that might be impacted by storms this season may spawn, keeping up on weather forecasts and storm tracks is important. There are several Windows Phone apps available in the Store to help you keep abreast of these severe weather events.
For this week's Windows Central roundup, we are going to highlight a few of top rated apps to help you keep track of hurricanes forecasts and potential tracks. Bear in mind that there is a cornucopia of weather apps available in the Windows Phone Store. This roundup is focusing on weather apps that are either specific to hurricane tracking or have features that will be helpful in keeping informed on these systems.
If we have overlooked a Windows Phone app that you have found useful during hurricane season or any other time the weather looks a little frightful, feel free to sound off with your recommendation in the comments below. The experts are saying this hurricane season's activity is likely to be below normal with very few major storms. Let us hope they are right.
Hurricane Tracker
While there are only a few Windows Phone apps that are dedicated to tracking hurricanes, Hurricane Tracker is the most current and top-rated offering available. Hurricane Tracker provides you with the latest information about hurricanes occurring in the Atlantic, Pacific and Southern Hemisphere regions.
Along with forecast and discussions from the National Hurricane Center in Miami, Florida Hurricane Tracker will also provide forecast tracks, latest position information, intensity, and satellite imagery for current storms. You can also go back to 2006 and review the historical information on past storm systems.
Settings for Hurricane Tracker allow you to turn off reports from various regions to allow the app to concentrate on your area. There is support for push notifications to alert you of newly formed storms and support for voice commands to launch key features of the app. For example, "Hurricane Tracker, show me imagery of the Northwest Pacific" or "Open Hurricane Tracker and show me all of 2010 storms".
If you are looking for a Windows Phone app dedicated to hurricane information, Hurricane Tracker is a solid option to consider. There is a trial version available with the full version running $1.29. Hurricane Tracker is a universal app, with the Windows 8 version running at the same pricing point.
The Weather Channel
The Weather Channel app (a.k.a. Weather) is a feature rich Windows Phone app that provides an abundance of weather forecast information to your phone. The Weather Channel app has changed quite a bit over the years and finds a spot in this week's hurricane app roundup for its news section.
The app will provide you will your local forecast, radar images and a social weather feature, but it also has a news section with discussion on major weather issues that are in play. The previous version of the Weather Channel app had a dedicated Severe Weather Center, which included a tropical summary. This was a great feature that provided a snapshot of the current tropical weather and information on what to expect.
The latest version of the Weather Channel app dropped this feature and relies on news posts to highlight any tropical activity. This is more or less an article that you would find on the weather.com site. While these articles provide a decent amount of information on tropical systems, you have to do a little more hunting to find it.
While the new design of the Weather Channel app is getting mixed reviews, it can still be a solid source of information on what the weather is doing or could do in your area. The Weather Channel app is a free offering, available for both Windows Phone and Windows 8 devices.
NOAA Hi-Def Radar
NOAA Hi-Def Radar – Weather Forecasts and Maps has been out for a while now and is one of the best radar apps available for your Windows Phone. It does have its limitations such as only tapping into radar sites covering the U.S., Puerto Rico and Guam but can cover the Atlantic and Pacific oceans in one screen to help you track and follow any active hurricanes or land based storms as they cross the continent.
Radar imagery includes layers for rain or cloud cover along with support for a road map or bird's eye view of the landscape. You can add a map layer to highlight any active warnings or watches.
Forecast information covers the current conditions along with a five-day forecast. You can add favorite locations for quick access to radar and forecasts or simply tap a location on the map to pull up the forecast.
Settings for NOAA Hi-Def Radar includes options for your radar layers, intervals between frames, number of frames and loop speed. Live Tile support can display a thumbnail radar image for your current location or home location on your Windows Phone Start Screen.
As far as the forecast features, NOAA Hi-Def Radar covers the basics nicely. As far as the radar images are concerned, I like the national coverage the app offers but wouldn't mind seeing the coverage extend a little further out to allow this Windows Phone app to be more of an International offering.
The app lacks a trial version and is currently running $1.99. NOAA Hi-Def Radar – Weather Forecasts and Maps is a universal app, available for Windows Phone and Windows 8, so when you buy one version you will have access to the other without additional cost.
Appy Weather
Appy Weather is another one of the quality, daily weather apps available in the Windows Phone Store. As with other daily weather apps, Appy Weather delivers your current conditions and extended forecast to your Windows Phone.
So how does Appy Weather tie into a roundup for hurricane apps? I tapped Appy Weather for this week's round for one main reason, the Live Tile support. Sure, Appy Weather is not the only Windows Phone weather app with a nice Live Tile. Amazing Weather, Weather Hound and countless others have fantastic Live Tile support but Appy's Live Tile is the only one that I can think of that turns bright red when a severe weather alert is issued for your area. You also get the toast notifications but that red tile really stands out and when you tap on it, you will be directed to the official weather statement that prompted the alert.
If you are in an area that could be impacted by a hurricane, being aware of any weather alerts is important. Appy Weather does a very good job of catching your eye that an alert has been issued.
I live about 280 miles from the U.S. Gulf Coast and while there have been exceptions, hurricanes usually fall to tropical storm levels (or lower) by the time they get to my house. This usually means I get to deal with spin off tornadoes, torrential rains and thunderstorms where the weather alerts are more important than storm tracks.
Again, Appy Weather isn't the only game in town. Regardless of your choice for a day to day weather app, if you live in an area that is impacted by hurricanes or any other form of severe weather, it really should have an alert feature (along with a weather alert radio). For me, Appy Weather's alert is one of the best available. There is a trial version available for Appy Weather with the full version running $3.99.
Download Appy Weather for Windows Phone (Trial / $3.99)
Windows Central Newsletter
Get the best of Windows Central in in your inbox, every day!
George is the Reviews Editor at Windows Central, concentrating on Windows 10 PC and Mobile apps. He's been a supporter of the platform since the days of Windows CE and uses his current Windows 10 Mobile phone daily to keep up with life and enjoy a game during down time.
When I saw the notification I thought that will be "Hololens" instead of Hurricane.
Hahaha

finally new article to read lol

Waste, who see weather now a days and plan accordingly.. Be practical guys

Hurricane initiates horrible devastation,some people protect themselves by being alert and some practical guys claim insurance or pay hospital bills later on.

Because hurricanes are nothing to sneeze at. Being informed is not a bad thing.

Because hurricane isn't your daily weather. "US Only"

As a Floridian, this is vital since I'm surrounded by water on both sides of the state. Since I don't have basic cable at my house, any one of these apps is a life saver especially during hurricane season. Wish I had these apps 11 years ago when Florida was hit by three hurricanes in the period of two months.

Not to hurt any one. I am talking about India only. Sorry friends.

What do u mean by that ?? I'm too an indian but i use weather a lot and I'm sure other guys do too.. You are not the voice of the whole nation.

My friend.. Ask your self. Do you plan accordingly with weather... Here nothing is like that u need and an app,for,weather.. Bullshit.

Weather apps are not at all
useless. Maybe for u but not for me and many others.. Different people different preferences. "Bullshit"

I use weather app. And obviously plan according to weather. If its gonna rain heavy,I won't make the plan of picnic. Weather also defines the kind of clothes and shoes I'd wear. And this is coming from an indian

Exactly bro thats all i wanted to say too.. Weather apps are very useful.. I also take a glance to know if it'll rain or not (nowadays it's raining in new delhi) .. :)

At least we don't have very bad hurricanes down here in Brazil.

We don't have any hurricanes, volcanos or earthquakes

Thumbs up for my boy Robert getting some credit! He also has a bunch of other great apps. Check them all out!

Thanks for the article. Even though hurricanes tend not to hit us directly in Central Florida, these sorts of apps are still useful here.

Yeah last hurricane we had to hit us in Central Florida were hurricanes Charley, Frances and Jeanne in 2004. Can't forget tropical storm Fay in 2008 that zigzagged across the state and flooded us.

I've been deeply impacted by hurricanes before,living in the gulf coast. Thanks for the article and recommendations guys. Means a lot.

I've been in weather for over 40 years. Besides a couple of the ones you listed, I like the following:
Chart Explorer with Hurricane Tracks, Weather Satellite, NOAA Buoy and the National Hurricane Center (NHC) app.

The article should also mention this year will be less active for cyclones than normal due to the developing el Nino in the eastern pacific.

I agree that the NOAA HD Radar app and Appy Weather are great choices. I love the radar Live Tile - it's very convenient.

NOAA isn't trustworthy, it's been made into into a political office.

While I certainly agree that NOAA has been used as a political pawn, that has little bearing on the independent developer who produced this app and tapped, what I assume, is NOAA's doppler radar API feed. For those in the States, this is as good as a radar app gets. I especially like the storm warning overlay boxes.

Things to look for when buying a smartphone

I like the MyRadar app too. Also has a dedicated hurricane feature and universal on tablet.

Appy Weather is my primary weather app; the only one I use 7x24. It's fantastic and I depend on the red alert. I also depend heavily on HurricaneTracker during hurricane season. But honorable mention goes to WeatherBug, which is also comes in handy at times. It has a really nice Hurricane Center embedded within it. The downside of WB is that the app itself hasn't been updated in quite a long time so I seldom use it. Nevertheless, it's Hurricane Center is worth a look.
Windows Central Newsletter
Thank you for signing up to Windows Central. You will receive a verification email shortly.
There was a problem. Please refresh the page and try again.