Torchlight III is unlocking its third and final act in early access on June 30
Face off against cyborg vultures and angry automatons.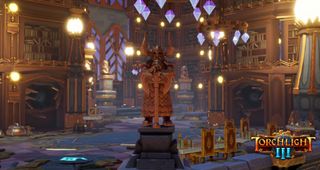 (Image credit: Perfect World Entertainment)
What you need to know
Early access players of Torchlight III will have access to a new zone June 30.
The game's third and final act takes place in Echonok, home of a fallen dwarven civilization.
The update expands the story and adds numerous new dungeons with their own bosses, enemies, and loot.
Players of Torchlight III, which is currently on early access on Steam, will have access to the game's third and final act on June 30. A trailer provides a first glimpse of Echonok, a new zone filled with dungeons with unique enemies, bosses, and loot.
Echonok's jagged peaks and steep cliffs were once home to a dwarven civilization that built marvels of engineering and left behind hostile, steam-powered automotons. A race of vulture-like scavengers called the Vultura has also moved in and used some of their technology to become cyborgs. Players will have to hack and slash their way through both to complete their quest to stop an invasion by the demonic Netherim.
Dungeon crawling
Check out the next chapter of the classic ARPG

Hack and slash your way through numerous dungeons in this steampunk fantasy game where you can collect gear and pets by fighting monsters.
Windows Central Newsletter
Get the best of Windows Central in in your inbox, every day!
Windows Central Newsletter
Thank you for signing up to Windows Central. You will receive a verification email shortly.
There was a problem. Please refresh the page and try again.